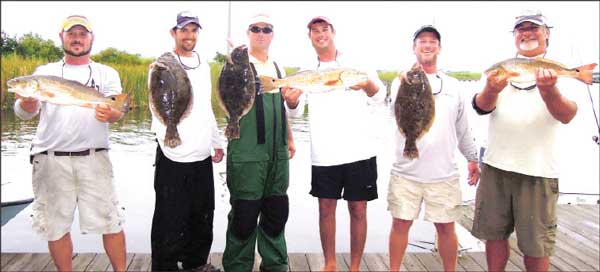 By John N. Felsher
[dropcap]T[/dropcap]eam Ugly DOA didn't win any events in the 2013 Alabama Inshore Championship Tournament Trail series, except the one that counted the most, but that one event put more than $2,000 of winnings into their pockets.
Battling horrible weather conditions with winds and rains driven by a front coming through the area, Team Ugly DOA won the final event of the four-tournament series, held Sept. 21, 2013 out of Tacky Jacks on the Mobile Causeway. The team, Adam Barker of Robertsdale, and Patric Garmeson of Spanish Fort, brought in a three-fish slam weighing 11.18 pounds. With the 3-point bonus, Team Ugly DOA won the event with 14.18 points.
According to tournament rules, each two-person team could weigh in one slot redfish between 16 and 26 inches long, one speckled trout and one flounder with one point awarded for each pound of total weight. In addition, teams that brought in all three species for a slam received a 3-point bonus.
"We mostly fished the Mobile River, but we fished a little bit in the bay and some flats south of the bay," Barker revealed. "We started shallow with live bait and topwaters, but didn't catch much. Most of our fish came out of deeper water, in the 10- to 20-foot range. We fished drops and structure."
Team Ugly DOA anchored its bag with a 4.34-pound flounder to complete the slam. The team entered the optional flounder jackpot and won another cash prize for the top flatfish.
"We caught the flounder dragging a jighead with dead shrimp over the bottom," Barker explained. "The trout hit a free-lined live shrimp. The red hit a live pogie on a split-shot rig. We caught a bunch of trout, but nothing really big. We lost a good trout at the boat. That big flounder really helped us."
The best in Bama
To cap it off, Team Ugly DOA also won the series championship, earning bragging rights as the best inshore anglers in Alabama for the next year. Angling teams accrued points in each of the four tournaments in the trail, but only their top three scores counted toward determining the champions. Before this event, Team Ugly DOA placed fifth during the June 22 event. The team also took sixth and 10th in previous tournaments.
"It really feels good to win the series championship," Barker said. "We had a really good time fishing the series. We struggled in every tournament, but we made points. We always lacked that one really good fish to make a decent creel. It's an awesome format. We've been waiting for something like this for years."
The 2012 defending champions, Team Sewer Rats, consisting of Mobilians Kevin Owens and Joe Cieutat, placed second in the overall series competition with 36.17 points. They won the June 22 event with 14.35 points. Bolstered by a third-place finish in the Aug. 17 event, the husband and wife combination of Mike and Tina Wilson of Silver Hill with Team Renegade took third in the series overall competition with a total of 35.57 points.
Second place
In second place for the fourth tournament, Team He Gone, consisting of Capt. Steve Lindsey of Mobay Charters (251-327-8546, MobayCharters.com) in Grand Bay and Capt. George Harrison of Harrison Inshore Charters & Guide Service (251) 367-7685, dauphinislandfishingguides.com) in Mobile brought in a 10.81-pound slam. With the 3-point bonus, they finished with 13.81 points. Fighting similar weather conditions, Team He Gone also won the Aug. 17 event with a slam garnering 13.15 points.
"We fished the Mobile River, just bouncing grubs and free-lining live shrimp," explained Lindsey regarding the Sept. 21 tournament. "We also fished some artificials and a few live pogies. The weather and the front coming in slowed the bite. We fished in eight to 12 feet of water, fishing the drops along the river channel."
"All of our weigh fish came off artificials," Harrison added. "We caught fish on a MirrOlure high-pitch She Dog. We caught trout, but never had a really good trout on."
Third place
In third place for the tournament, Team Mad Dog, Doug Tierce and Marty Garmeson, both of Mobile, brought in a slam weighing 9.13 pounds for 12.13 points. They started fishing the Mobile-Tensaw River Delta, working gold spoons through shallow marine grass for redfish, but soon headed to deeper water in the Mobile River.
"We caught one good red in the delta on a gold spoon, but the one we weighed hit a live shrimp on a free line," Garmeson said. "The trout also hit a free-line shrimp in the river."
"For the flounder, we fished humps and drop-offs in 10 to more than 20 feet of water in the river channel," Tierce explained. "I caught two flounder on chartreuse Gulp with curly tails. We had a really good bite right before we came in, but we never saw the fish. It just came off, but it was a lot of fun fishing this tournament."
Team Crush's Revenge, Erik Nelson and Donald Garrettson, took fourth place with a slam for 11.71 points. In fifth for the tournament, Team Slot Machine with Josh Bonds and Matt Foster, brought in a slam for 9.08 points. Team Trifecta, consisting of Jeb Mann and Rodney Nicholas, won a set of boat trailer tires from Spanish Fort Tires by bringing in the smallest slam at 5.48 pounds, during the tournament.
A portion of the proceeds from the tournament goes to Alabama Hunger Relief, an organization that helps provide food for hungry people in the state. Many anglers donated their catches. Representatives from Alabama Hunger Relief took the donated fish to the Salvation Army to feed hungry people in the Mobile area.
Not over yet!
Although the Alabama Inshore Championship Tournament Trail series ended for the year, anglers may still enter the one-day Alabama Hunger Relief Causeway Classic, slated for Oct. 12, 2013. To participate in the Causeway Classic, anglers who fished any of the Alabama Inshore Championship events receive discounts on entry fees, based upon the number of events they entered. The Classic will pay a minimum of $750 with the weigh-in also held at Tacky Jacks.
Anglers could also participate in the Redfish Spot competition. During the April tournament, Scott Gatlin with Team Artificial Intelligence landed a 1.35-pound redfish covered with 16 total spots to take the lead in that competition. The winner of the Redfish Spot competition will be determined after the AHR Causeway Classic. The spot winner will receive a Shimano Curado combo valued at about $350 from Bay N Bayou Outfitters.
For complete results and photos, see www.facebook.com/groups/241674229211222. For more information on the tournament or Alabama Hunger Relief, call Alan White, publisher of Great Days Outdoors magazine, at 800-597-6828.