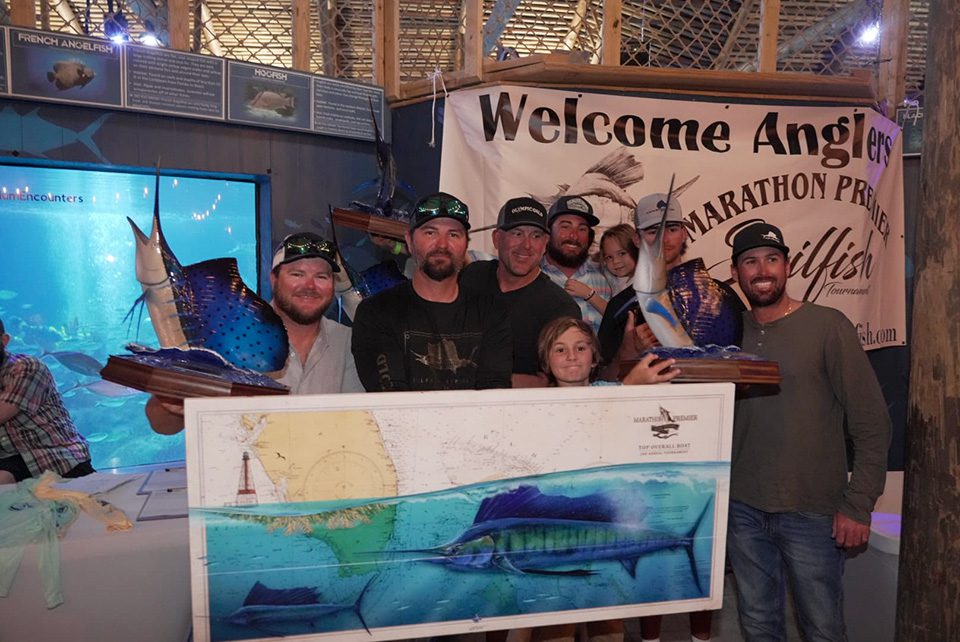 The second annual Marathon Premier Sailfish Tournament kicked off at Fairfield Inn on April 20th, 2023. Members of the registered teams showed up to pick up their tournament buckets filled to the brim with promotional items, drink tickets, and wristbands for the banquet. Each team was provided with a Gray Taxidermy tagging kit, neck gaiters, and hooded fishing shirts in their respective sizes. Excitement was in the air, there would be 83 anglers this year, and the weather starkly contrasted from the prior year. This time around, the sun was shining, and last year's thirty-mile-per-hour gusts were replaced with a light ten-mile-per- hour breeze.
While last year the rough sea conditions were a worry this year, the question everyone was asking themselves was: was it too calm? Would they be able to fly kites? Would the sailfish even bite?
Day One
On April 21st, 2023, the committee boat was set up outdoors in the sunshine to get the best radio reception. The committee consisted of Katie Lewis, the founder of the tournament, Dianne Harbaugh on the radio, Michael Rodriguez on live scoring, and Nicholas Yeager on website/tech and social media. Temperatures were in the mid-seventies with a light eight-mile-per-hour wind and quickly warming up as the morning sun rose.
In the first 17 minutes of the Tournament, four sailfish had already been hooked. The teams pulled out all the stops to have the best chance of winning the grand prize. Some teams used giant helium balloons to assist in getting their kites aloft.
By lunchtime, the Sailfish bite slowed down. The committee boat joked that the sailfish were giving them a chance to eat their lunch. At 2:07 pm, the silent hunter broke the silence with a double hook up called in by Captain Bj Meyer. Approximately 40 minutes later, team ViceVersa converted two releases on a double- hookup. No Slack's Melissa Bennet also released a fish putting her at the top of the female angler leaderboard. For the final hour of fishing, three more Sailfish would be released, including Team Executive Decision's Jill Paglia; another female on the angler leaderboard. At 4pm Dianne called lines out and day one of the tournament was officially complete. Founder Katie Lewis was thrilled that by the end of day one, every category had a leader; all her beautiful trophies would find a home.
Day Two
The weather on day two was similar to the day before. Dianne promptly called for lines-in over the radio at 8 am. Eighteen minutes later, team Killbox's Joe Marino caught the first sailfish of the day. Ten minutes later, Team ViceVersa called in a release.
The sailfish were being caught steadily but not at the pace of the day prior. By 9:15 am, Jill Paglia caught her second sailfish aboard the Executive Decision putting her at the top of the female angler leaderboard.
There would be six Sailfish caught that morning before the lunchtime slowdown returned.
After one release, a few lost fish or two, and some humorous reports of Bonitas being caught, at 2:40 pm, team ViceVersa called in a hook-up.
Five minutes later, both ViceVersa and No Slack reported successful releases. Incredibly at 2:59 pm, one minute before the end of the tournament, three boats called in hook-ups at the same time! The Big Game, Main Attraction Sails Call, and ViceVersa had all hooked Sailfish right before lines out, and according to the rules, although lines out was at 3 pm, any boat hooked up is allowed until 4 pm to tag or release their fish.
Unfortunately for all three teams, their fish escaped, but it was an exciting conclusion to the fishing portion of the tournament.
Winners
Team ViceVersa had officially won the 2nd Annual Marathon Premier Sailfish tournament with 500 points. The team consisted of Captain Sam Milazzo, Mate Tyler Rodriguez, and anglers Justin Miller, Marc Toledo, Scott Stoky, Doug Mientkiewicz, Brandon Simmons, and Trevor Finns. The team members hailed from Tavernier, Key Largo, Islamorada, Merrit Island, and Hollywood, FL.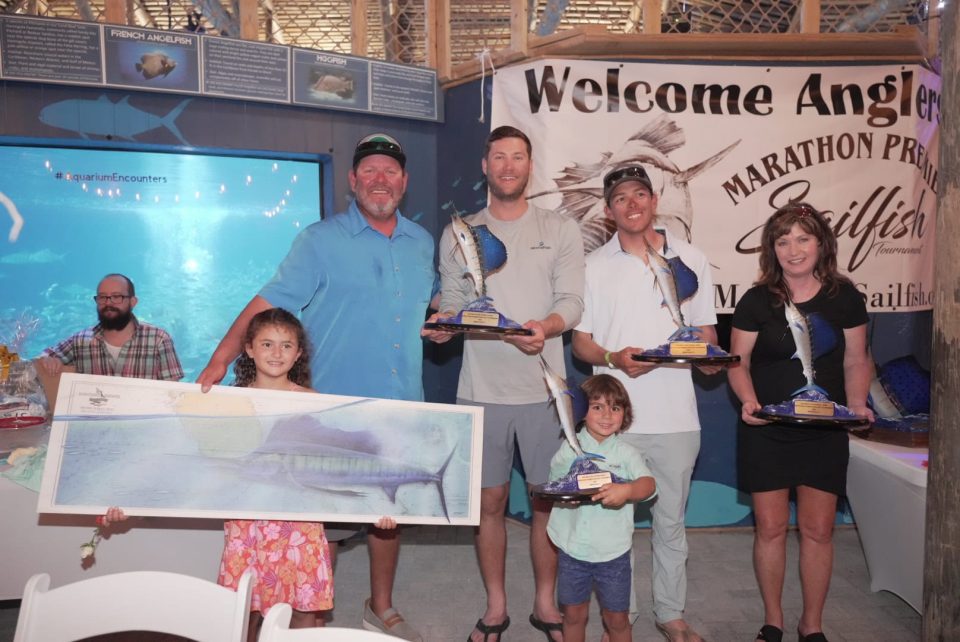 Team Big Game came in 2nd overall with 400 points. Their team members were Captain Ariel Medero, Mate Robert "Reggie" Hiro, and anglers Doug and Lorri Cwanek, Brandon Biffell, and Trace Goodwin. The team represented West Palm Beach, Duck Key, Marathon, and Chesterfield, Michigan.
Team No Slack was third overall with 300 points. Members of the team were Captain James "Bucko" Platt, Mate Ely Hernandez, and anglers Melissa Bennet, Jared Dieguez, Kavon Mehranipornejad, and James Platt III. Team No Slack is a local team from Marathon, Florida.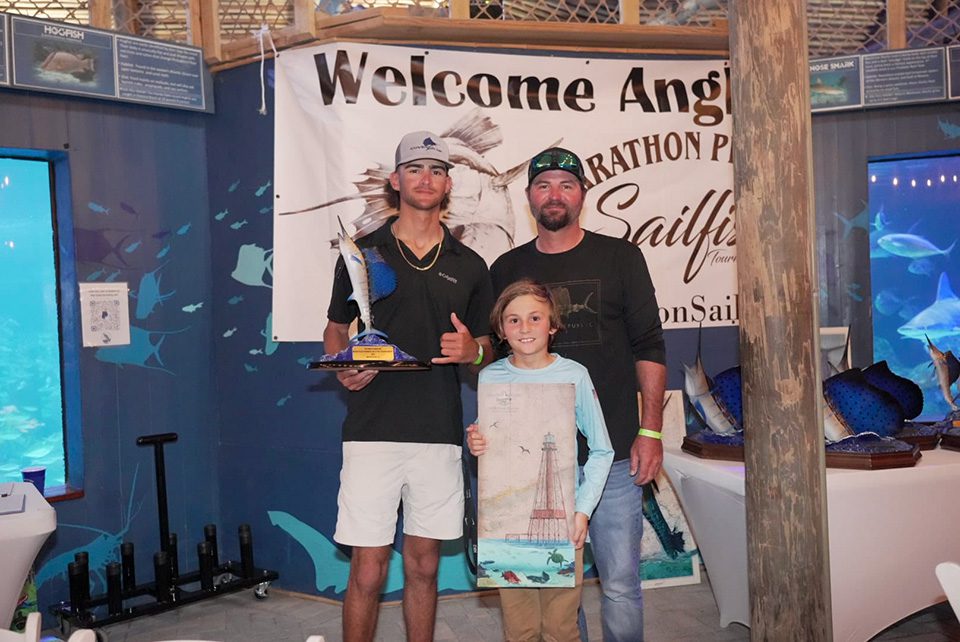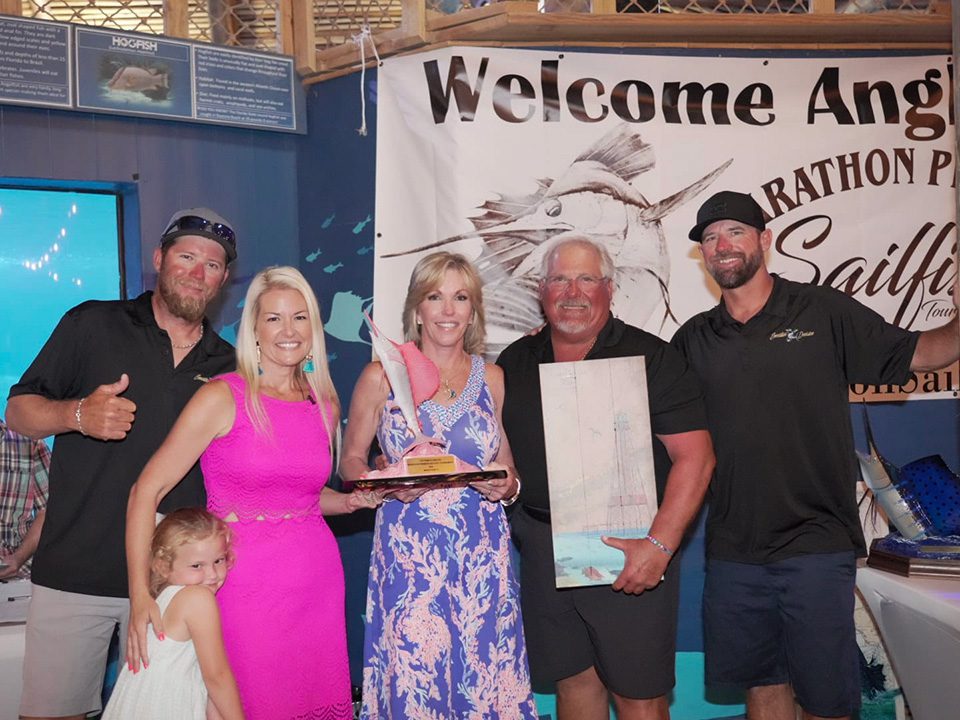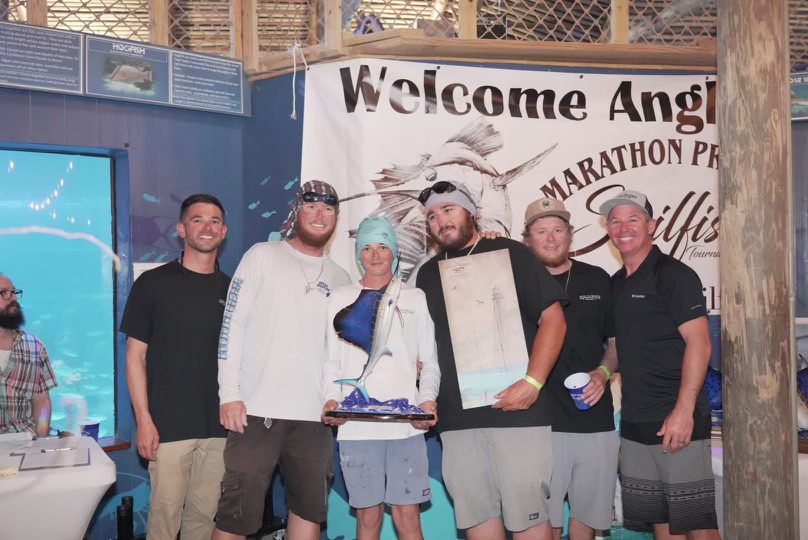 The trophy for Most Tagged Fish went to Big Game Sportfishing with four tagged sailfish.
Awards Banquet
The awards banquet was held at Aquarium Encounters in Marathon, Florida, for the second year. Katie received so much positive feedback on the previous year that she was sure only to make changes that could further enhance everyone's experience. This year they had a DJ and a better PA System. There were two bars instead of one. Brutus Restaurant & Seafood Market catered the event again this year, serving excellent fresh sushi, hand- rolled at the table, and an upscale take on a low country boil.
The Trophies made by Gray Taxidermy were a big hit. Eddie Forbes Art also provided beautiful artwork pieces with Marathon and Florida Keys Coastal themes used as prizes and raffle items for fundraising. The raffle was considerably larger than the prior year, with many fantastic prizes. Winners took home Fishing rods, reels, Costa sunglasses, Pelagic clothing, Stanz gear, marine-themed artwork, and more.
By the end of the evening, there were lots of smiles, and Katie Lewis once again accomplished her goal of being able to pay out prizes to the winners but still have enough proceeds to donate to a fantastic charity, Mission Fishin'.
Tournament director and founder Katie Lewis is already planning for the event in 2024! You can find more information about the Marathon Premier Sailfish Tournament at MarathonSailfish.com.