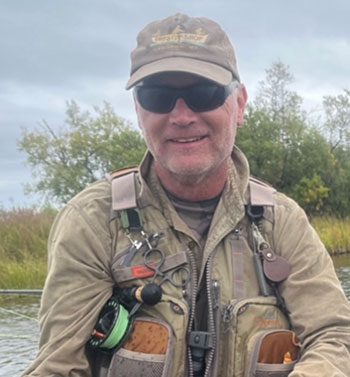 By Jim Parks
A few years ago, I took a neighbor fishing. He had recently moved next door and we talked sports. He was a huge baseball fan and baseball season was just underway. I admitted to a give or take mentality with "America's pastime". As is typical for me, I soon converted our discussion into trout fishing and the Smoky Mountains. He said he liked fishing, and he liked the Smokies, but had never fished there. His fishing background consisted of ponds and lakes. Over the next few months, I wore him down and removed any inhibitions of trying things with a fly rod in the small streams of the Great Smoky Mountains National Park (GSMNP). Learning that he liked to hike, I took that as an opportunity, so we hiked a few miles to a likely spot to catch trout.
After showing him the ins and outs of fly fishing for trout in the pocket water of the Smokies, he quickly developed a knack with a fly rod, however he was not skilled at wading, which I told him was an acquired talent mastered via many cuts and bruises. Still, he caught several trout. Thus, I finally felt comfortable to a point that I walked upstream a bit, leaving a small stack of rocks on a midstream boulder for him to fish up to, then get out of the stream and walk up to me.
After a while, I did not see him and thought I'd better go see how he was faring. As I made my way from the creek to the trail, I looked down and saw a baseball. I'm thinking, "How did a baseball get here?" But there it was and in good condition, so I put it in my back vest pocket.
After finding him, I showed him the baseball I'd found, and I asked how he'd done. He said, he caught a few more then he asked, "Did you see that bat?"
"What bat?"
"Let me show you." He walked me to the spot down on the creek where he pointed at a clump of leaves hanging from a piece of fishing line that had broken off on a tree limb.
I said, "I remember seeing that as I fished by, but I just thought it was a clump of leaves."
He said, "Yeah, I thought that too until it moved. Scared the crap outta me!" At that point, it moved again!
What I saw was a small, brown bat unfolding its wings. It had been hooked by the fly dangling at the bottom of the broken fishing line.
"What are you going to do?", he asked.
"Well, I'm not going to let it die a slow death by hanging there. I was born on Halloween, and I guess I feel something of a kinship with bats. I'm getting it free." I walked over, placed my net beneath the bat and cut the fishing line, dropping the bat into my net. I then carried it over to a rock and laid it down on its back. I borrowed a set of forceps from my buddy to use along with mine. One pair I used to open its mouth. "Man does this thing have teeth!", I said as I spread its mouth open as would a dentist.
"Well don't get bit", my friend offered.
"I don't plan on touching it", I replied as I worked. I took my pair of forceps and found the hook embedded, but not too deeply into the roof up its mouth. Fortunately, the bat was very calm and docile like it was asleep. I was able to slip the fly out with some ease. Though a bit tired and groggy the small bat seemed ok.
We walked away about 30 feet to sit on a rock and eat some peanut butter and honey sandwiches. He said, "Well, we have a baseball and a bat. Maybe we'll find a glove!"
Laughing he proudly showed me some photos of some of the trout he'd caught. He knew what a rainbow was, but he wasn't sure about some of the others. While flipping through the nine or ten photos of small trout he'd photographed I realized he had caught each of the three species of trout in the GSMNP, a rainbow, a brown, and a brook.
I looked up, smiled, and said, "Forget the glove", as I handed him the baseball I'd found. "You have a baseball, a bat, and a grand slam!" After explaining the concept of the Smoky Mountain Grand Slam of trout, we looked over at my net, and the bat was gone.
Jim Parks, a native of Newport, TN, has spent over forty-five years fly-fishing in the Great Smoky Mountains National Park, which he considers his home waters. Jim has written articles for Fly Fish American and The Angler Magazine. He works with and gives talks on fly fishing to various civic organizations. Jim is the author of "Tails of the Smokies". For copies, he can be reached via his Instagram page at "TailsoftheSmokies"