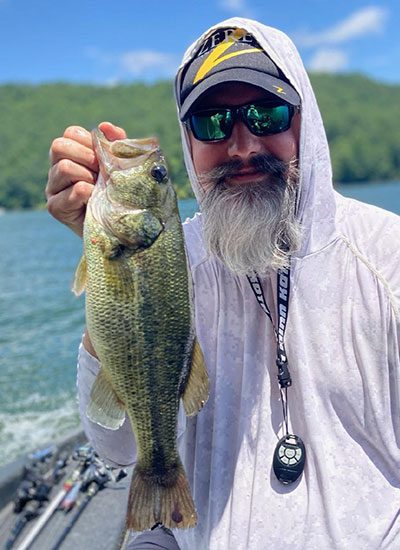 By Scott Norton
Saying goodbye to those fun nights fishing was hard to do. Fishing is forever changing, and nothing stays the same, but that's a good thing. I believe this change is what separates the beginners from the seasoned.
Beginners struggle with changing gears, and you will know when you cross that bridge and start to understand what's happening. This can only be done by putting in the hours of work and dedication it takes to pay those dues. Anglers that night fish know exactly when the bass start to transition into fall by the cool nights ending the summer patterns. This year it happened at the end of August when you feel like you need a sweater.
Bass will start to chase forage and work together to corral the masses. The places to look will be hard structure and pockets near the secondary points. Always start at the main points and work your way in so you can catch some of those late groups coming in. There will also be bass down deep in those same areas. Some will suspend just under the bait balls breaking the surface to ambush. I find that the larger sized bass will let the smaller bass run the bait and they will hang out under the bait balls to get an easy meal of injured shad. The older they get the more efficient they become.
Pay attention to the size of shad they prefer and pick the baits that are close to that size. Be sure to add some flash to your bait, like an under-spin, to stand out from the numbers of shad in the ball. Jerk baits are such a great way to catch the ones chasing or the ones looking for an easy meal. Any bait that resembles a shad will give you much success—just make sure you use it the right way. Match your rattles, flash, size, and color to either water clarity or ripple on the water. Once a beginner understands how this works, then they can start to put these puzzle pieces together so that they can make sense of what's going on.
In the higher elevations of the mountains, the bass have already hit this pattern early because of the cooler water temperatures. This is how you game your plans for better catches. These lakes started the transition this year on the first full moon of August, so they are heading into the fall pattern faster than the lower elevations.
Have some fun this season and hopefully you will set new records.
Scott Norton is a Western North Carolina native. Born in Asheville, N.C., he is a long-time hunter, angler and weekend warrior.