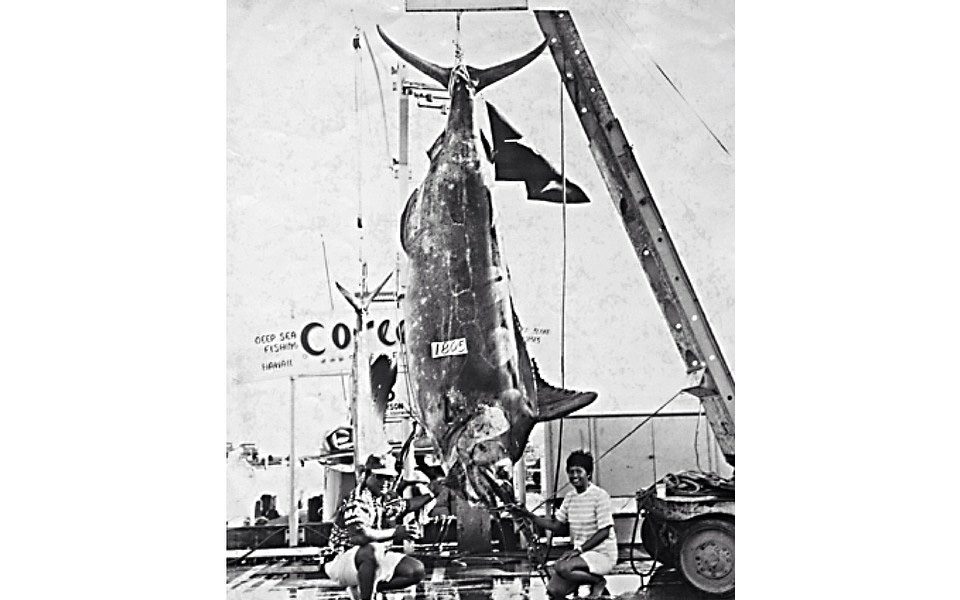 On June 10, 1970, Capt. Cornelius Choy and his daughter and deckhand, Gail Choy-Kaleiki, took a group of car salesmen from California out of Oahu on their boat the Coreene C for a day of sportfishing.
Trolling lures, they hooked into an enormous 1,805-pound blue marlin that later took the name "Choy's Monster." It is the largest marlin ever caught on rod and reel, although there is a set of circumstances that disqualified it from consideration for an IGFA all-tackle world record.
First off, through a fight that lasted less than two hours, the inexperienced anglers handed the fish off several times, which is not allowed under IGFA rules for world records. The rest is where the story of Choy's Monster gets interesting, and some might say a little fishy.
According to the writings of the late Jim Rizzuto, who interviewed Gail long after the catch, a massive ahi tuna in the big blue's stomach was a source of some controversy after the catch. If you've ever read "The Old Man and the Sea," you know a two-hour fight is not usually enough to kill a big marlin. The yellowfin might be the reason they landed Choy's Monster so quickly.
Gail told Rizzuto that the tuna, which was either 100 or 200 pounds depending on the source, was in the marlin's stomach when the big fish ate their lure. She said the marlin had essentially choked on the tuna after trying to disgorge it during the fight. This would explain why it died so quickly. It also explains why they were still able to land the fish after the hook came out and they lost the marlin after it was initially gaffed. Gail said they just circled the boat around and gaffed the big marlin which was floating on the surface.
It is a catch that remains shrouded in mystery and history, but no one denies the monster Pacific blue made it to the docks to be weighed. It's the Hawaii state record, which outweighs the IGFA world-record of 1,376 pounds. The IGFA record was caught out of Kona, Hawaii in May of 1982 by Jay de Beaubien. For what it's worth, there are marlin caught by commercial anglers that reportedly weighed more than 2,000 pounds.
To read Rizutto's account, see https://luremakingkonastyle.com/