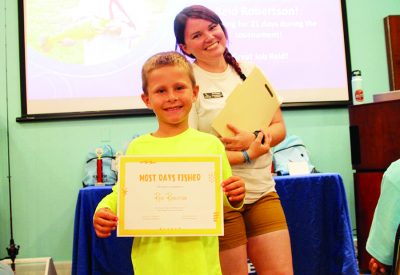 The Jr. Angler Fishing Tournament returned for its sixth year this summer with 42 anglers participating in the 5-week competition. This tournament spans multiple weeks to allow anglers time to catch as many fish as possible. Points are awarded not only for the number of fish caught, but also for the number of different species represented in the submissions. The more fish you catch and the more species you catch, the better your chances are to win!  These innovative guidelines encourage contestants to spend time throughout the summer exploring the diversity of habitats and fish species in our Palm Beach and Martin Counties, all while honing their fishing skills. Our participants reeled in over 3,000 fish!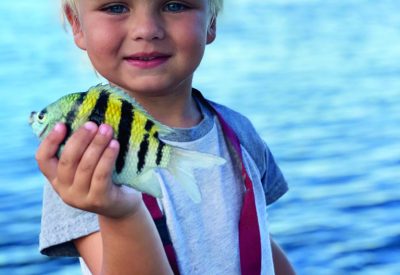 In hopes of accommodating all interested participants, both fresh and salt water photo submissions were accepted. Some kids enjoyed fishing from the lake in their backyard for a trophy bass, while others preferred heading offshore in hopes of reeling in snappers. It was important for our tournament to cater to each angler's preferences. The excitement of the tournament culminated in a family fish fry at the River Center on August 9th, where the winners were announced, and prizes awarded. A hearty congratulation goes out to the grand prize winner, Cameron Burlage who managed to reel in and photograph more than 416 fish and caught 45 different species!
With such tremendous turnout and interest in the tournament, the River Center hopes to continue building on this accomplishment.  We are already looking forward to next year's competitive and educational summer adventure. The River Center would like to thank our 2019 Sponsors for their support of our Jr. Anglers: Fishing Headquarters, Marine Industries Association of Palm Beach County, Bass Pro Shop, West Palm Beach Fishing Club, D.O.A. Lures, Dick's Sporting Goods, Florida Fish and Wildlife Conservation Commission, and the Loxahatchee River District.
The River Center is located at 805 N. US Highway 1 in Jupiter at Burt Reynolds Park.  Hours of operation: September 1st – May 31st, Tuesday and Wednesday 12pm to 4pm and Thursday through Saturday, 9am to 4pm; June 1st – August 31st, Tuesday through Saturday 9am to 4pm.  This unique environmental center presents some of the largest aquatic exhibits in the area with an interactive exploration of the river, diverse wildlife, and its majestic environmental value.  In addition, guests learn where their water comes from, how it is consumed, and recycled back into the community.  There are multi-media and live aquatic exhibits, and a touch tank teeming with aquatic life. For more information about the River Center, please call 561-743-7123 or visit www.lrdrivercenter.org.