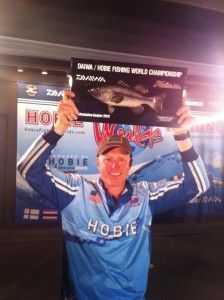 On November 4-8, 2012, 42 kayak anglers from 13 different countries assembled in Austin, Texas for the second Hobie Fishing World Championship presented by Diawa.
The competition took place on two Texas lakes well known for producing quality largemouth bass. Lake Bastrop and Fayette County Reservoir provided the venues. The World Champ was determined by the best three bass caught each day. They were measured in inches using a catch, photo and release (CPR) format to preserve the well being of the fish.
The first day on the water was dedicated to prefishing on Lake Bastrop. Tournament directors matched four International anglers with two of their counterparts from the 12 man USA team. This allowed the Internationals to gather some knowledge of techniques commonly used for large mouth here in the states. Many of the anglers from around the globe had never fished for the species before, but that did not slow down this great group. The pairings also provided the foundation for some great friendships. It is amazing how the love of kayak fishing helped bridge any cultural of language gaps that existed.
Day one of the tournament started with a great version of the national anthem followed by a shotgun start. Anglers pedaled off to get to the areas that produced best during the prefish day. NBC Sports camera boats traveled with top anglers and captured some great footage for future episodes of Hobie Outdoor Adventures. Both lakes are power plant lakes and had water temperatures pushing 80 degrees in November. This made for some very active fish. All 42 anglers were outfitted with identical Hobie Mirage Pro Angler 12's. Each boat was supplied with a fish finder, live well, anchor trolley, stakeout pole and traditional anchor. This assured no advantage to any angler other than personal skills and how much homework they did. Teams USA and Australia who placed nine anglers in the Top 10 dominated day one. Marty Mood of the US team set the pace with a three fish limit of 56.50 inches.
After the day on Bastrop, the boats were loaded up and moved to Fayette County Reservoir for days two and three. The teams moved into cabins at Oak Thicket State Park. The bunkhouse style lodging was a great bonding tool for the teams. Pictures from amazing catches on kayaks from all around the globe were shown off and many stories were exchanged. Nightly rigging parties let the different nations share information and tackle with their teammates in contention as it turned slightly into a national pride event.
Day two saw the leader board with a lot more international flare. Henna Honkanen, of Finland, one of three female anglers in the Championship, posted the top daily total with 55.75 inches. This placed her in second place overall right behind Brendan Bayard of Baton Rouge, Louisiana. Fish were being taken in a variety of different styles. Techniques ranged from flipping frogs deep into the reeds and matted hydrilla to locating bait balls in 40 feet of water and jigging them with Carolina rigs.
The final day kicked off with a rousing rendition of the national anthem sung by NFL Hall of famer, Jackie Smith. The gun sounded and anglers shot off for one last attempt at mastering the bass of Texas. The Reservoir had a bit more pressure and often the kayaks had to share hotspots with the local Texas bass boats. The locals were quite courteous and one of the local guides was kind enough to help one of the kayak anglers retrieve his rods after he lost them overboard in some deeper water. Day three saw Dave Hedge of Australia put up the best one day total with 60 inches of bass, but Marty Mood of Team USA proved too consistent to overcome. Mood was crowned World Champion followed by Gianluca Aramini of Italy and Johnson Lee of Singapore. This World Championship was run in a first class fashion and proved that kayak fishing is defiantly a bond that can unite countries from around the globe.