10000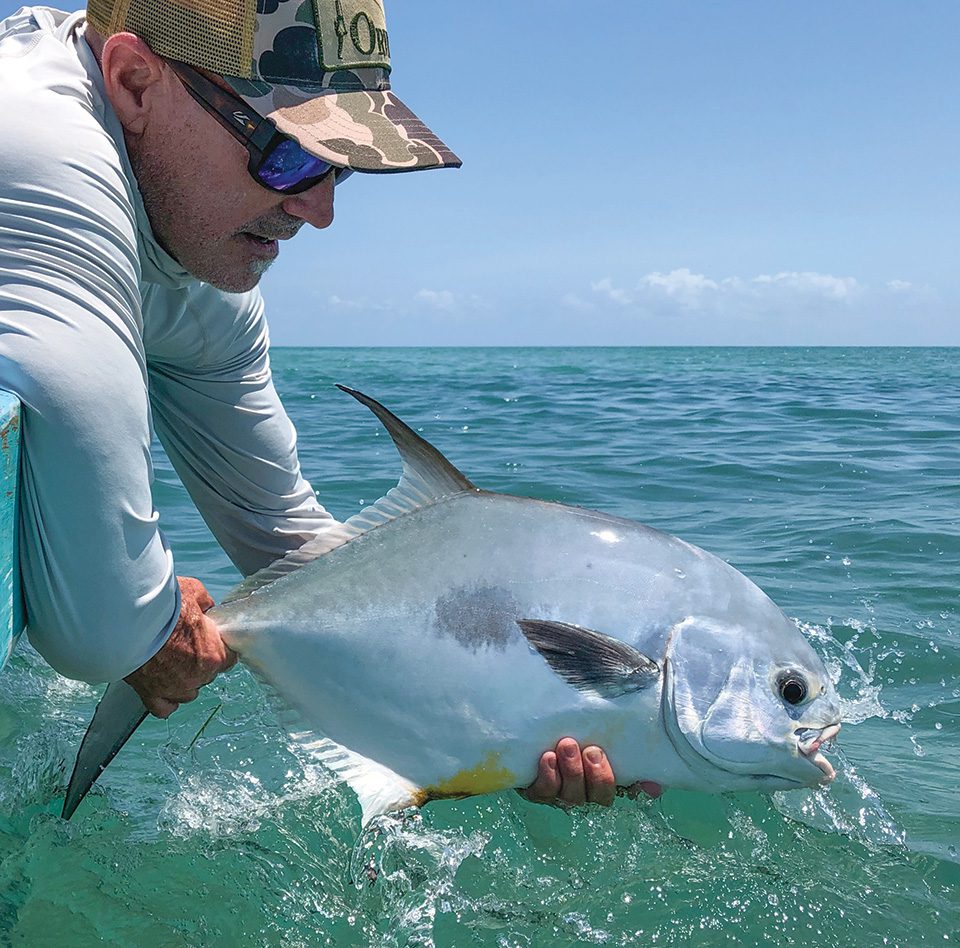 By Captain Conway Bowman
The permit is the Holy Grail for many serious saltwater fly anglers. Many, including me, have traveled and spent endless days pursuing these great gamefish with little to show for our efforts. Of course, the challenge is what's special about permit fishing, not the number of fish brought to hand.
However, there is one place where an angler can have great success catching permit on the fly; that place is the Yucatan Peninsula's Punta Allen. Here, just a few kilometers south of Tulum in the Sian Ka'an Biosphere, is the world's most fertile and diverse permit saltwater fly fishery.
The Unicorn of the Flats
Ghostlike, spooky and finicky are three words to describe permit. It is one of the most difficult saltwater fish to catch on the fly and has been the Achilles heel for many saltwater fly angers. But if there is one destination where one can successfully sight cast to large schools of permit consistently, it's the Sian Ka'an Biosphere. Because of the vast numbers of permit ranging from 2 to 20 pounds, a fly angler will have multiple shots per day. In addition, Yucatan permit are aggressive eaters, making them a great target for the less-experienced or first-time saltwater fly anglers.
Flies and Tackle
The primary food items for permit are crabs and shrimp. A good selection of these patterns will give the angler the best chance at success. For crab patterns, I like Merkins and Ragheads in sizes 4 and 6. I find the color of the fly should match the color of the habitat you're fishing. For example, if you're fishing over light colored sand then a fly pattern should be tan or even white. If you're fishing in turtle grass or a darker bottom, then a green or even a dark brown works best.
Tackle
A 9-foot, 9-weight rod matched with a large arbor reel that holds 250 yards of 30-pound Hi Viz Dacron or micron backing is the perfect combo for Yucatan permit. Since a majority of the fishing is in shallow water, I suggest only using a weight-forward tropical floating line. Keep your leaders long: 10 to 12 feet with 16- to 20-pound tippets.
Casting to Permit
It's important to be able to quickly and accurately cast 30 to 60 feet when targeting permit on the flats. Your ability to make longer casts will increase your chances of catching more fish. Of course, you can hook a permit close to the boat, but it's always to your advantage be able to make the long cast when the opportunity presents itself. The back-hand cast is another to be able to execute. Permit schools will often present themselves on the opposite side of the boat, so being able to make a quick back cast is very important.