By Capt. Casey Allen

It was late August and I still remember the phone call like it was yesterday. My pal Capt. Corey Pietraszek called me up with an invite to fish the following day. Corey runs Plug n' Play Charter Group, and since both of us are usually very busy and rarely have free time to get out on the water together I readily accepted the offer, especially since the plan was to target the bonito that had been giving his charter customers their money's worth in the preceding few days. The bonito were appearing off the east and south of Martha's Vineyard, especially from East Chop south to Cape Poge, and rumors of false albacore were now beginning to trickle in as well.
In case you're unfamiliar, bonito and false albacore are, pound for pound, some of the strongest and hardest fighting fish the Atlantic has to offer, so light-tackle and fly fishing enthusiasts in the northeast eagerly await their arrival each season. The tenacity of either species is rivaled only by their beauty, certainly making them a fine example of nature's work. Capable of reel-ruining speeds and possessing the visual acuity of a hawk, bonito and false albacore are known to be a challenge, but as the line melts off of your screeching reel you'll understand why so many anglers are willing to risk their sanity for a shot at these creatures.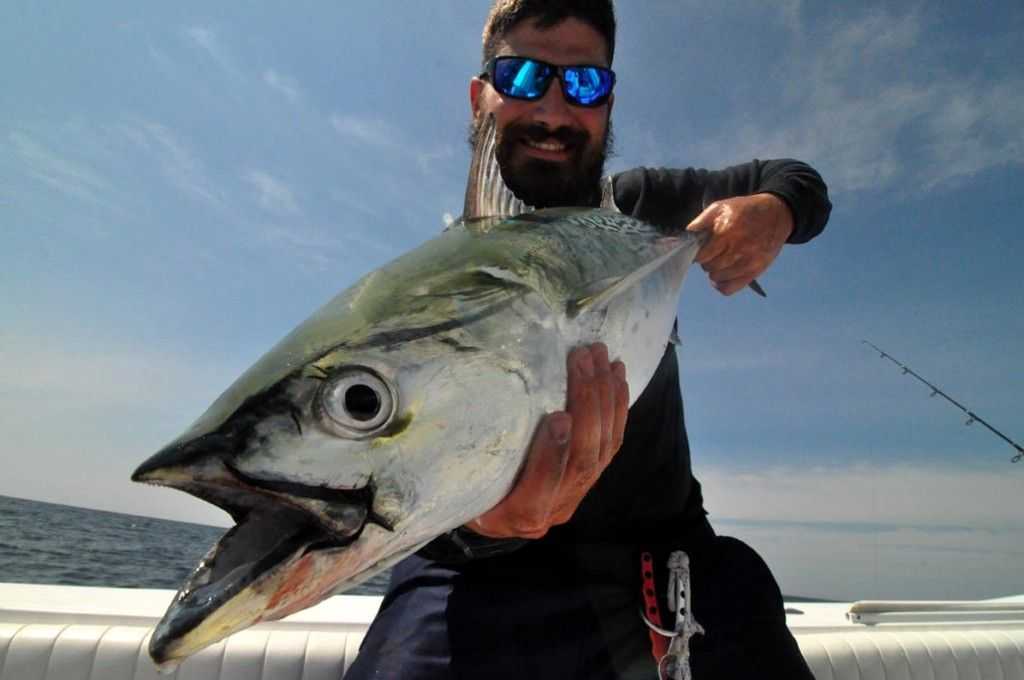 I awoke in the morning with as much gusto as a kid on Christmas, aside from the fact that I could barely sleep the night before. I pulled into the lot at Leisure Shores Marina in Mattapoisett, MA to find Corey and his good friend Joel unloading their tackle from the car. After exchanging hushed yet excited "good mornings," we proceeded to get all our gear on board and cast off. The sky began to blush on the horizon as we made our course for the east of Martha's Vineyard, and it was clear this was going to be a beautiful day to be on the water. Corey informed me that we were headed for a location south of the Vineyard and due east of Nantucket known as The Hooter, named for the hooting navigational buoy that marks its location. A veritable fish magnet, the hooter marks a shoal that abruptly ascends from over 100 to less than 20 feet of water, where the bonito, albies and even bluefin tuna feed all along its edge.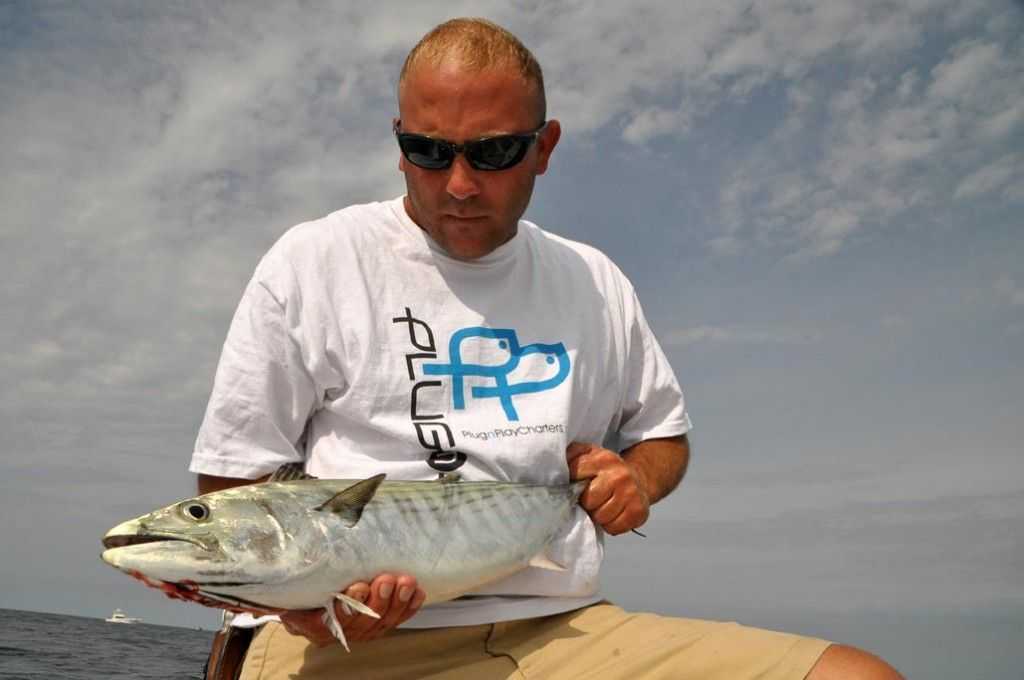 We arrived at our destination shortly after sunrise. To our delight, the wind had diminished to light and variable and there was only one other vessel out there. For the moment we nearly had the place to ourselves. Since there were no apparent signs of surface activity, we began to drift and blind cast into the rip. I don't think I even had my line in the water before Joel hooked into a fish. The thing had a foul disposition and dumped nearly 100 yards of line before the line parted at the backing knot. Each of us stood for a moment in bewilderment at what may have had the ability to pull such a maneuver. We may have found out on my next cast as a 15-pound bluefin completely cleared the water as it attempted to annihilate my Rebel "Jumpin' Minnow". I missed the fish and my heart nearly exploded, but immediately after I hooked a bonito and the fight was on! We had no other bluefin encounters that day but the bonito put on the ultimate show, leaving little else to be desired. Although my arms were like noodles, listening to the whine of my reel as a fish would rip off 50 yards of line was something I could never tire of. This was turning out to be the best day of saltwater fishing I had ever experienced, and that's saying a lot.
The chatter on the VHF radio indicated that a few lucky anglers had managed to tie into false albacore, but we had yet to land one. We began to question the validity of these claims, but on the last drift of the day we got what we wanted. I cast out my yellow/red head Tattoo "Sea Pup" and cranked it in feverishly when suddenly it disappeared in an explosion of white water. The initial run clearly indicated I had a fish of considerable strength on the end of my line, and not wanting to lose it I gingerly battled the beast to the surface. In the gin clear water I could see the fish's turquoise back and distinguishable mackerel-like striping and shouted to Corey that it was a false albacore. Finally! The fish must also have seen me because it bolted off once again, taking another 20 or 30 yards of line with it. We were holding our breaths as the fish neared the side of the boat, but Corey got his hand on the tail and hauled it aboard. That chrome beauty made an already epic day even more unforgettable.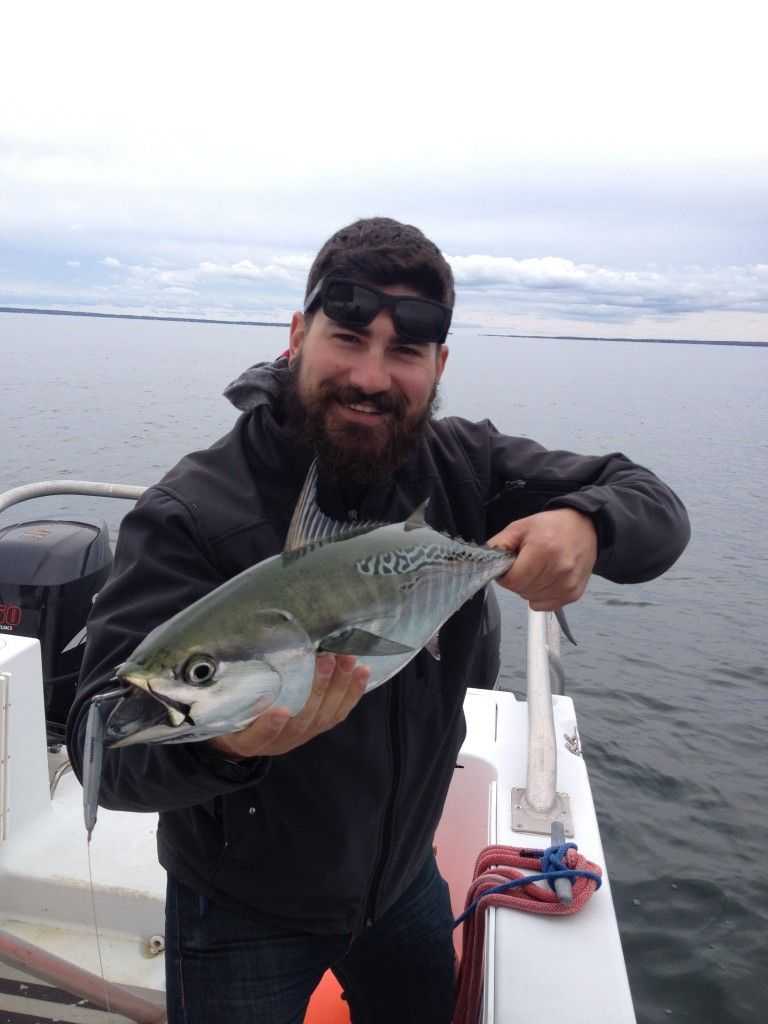 Corey, Joel and I were exhausted and the time arrived to head back to the marina. With a shared attitude of absolute satisfaction, we rambled to one another about what an unbelievable day of fishing we had. It was an idyllic summer afternoon and the ride back along the shores and bluffs of Martha's Vineyard provided the perfect backdrop as we recounted the events of the perfect day.