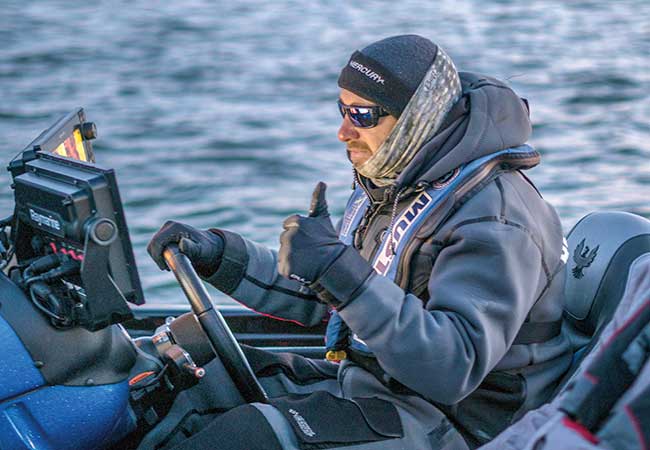 By Brandon Lester
Why Electronics Are So Important
Electronics are a very important tool in locating and catching bass, just remember to use them to look for everything underwater, not just big schools of fish.
When I launch on a new lake my GPS mapping is everything. I run Navionics Platinum in my Raymarine Axiom Pro units and it works great. Your map card should show great detail and well-defined contour lines. This helps you find new spots when you get on a pattern by simply looking at your map for similar places.
Tracks are important, also. I run tracks all the time on my map so I can tell where I've been and where I haven't. I change the color of the tracks each day when fishing multiple-day tournaments to keep track of when I was there, as well.
I run three 12-inch Axiom Pros, two units at the console and one at the bow. The reason for two units at the console is so I can have one unit strictly for mapping. I like a full 12-inch screen so I can easily see contour changes and such. So many times I've been running down the lake and seen a place that looked good on the map and pulled over and caught fish. The second unit at the console is mostly used for SideVision, DownVision and RealVision 3D. I run a split screen most of the time, but if conditions call for it, I run full screen SideVision and/or CHIRP sonar depending on bottom composition. For instance, if I'm scanning a huge flat looking for isolated cover like stumps or brushpiles, I'll just run full screen SideVision. The newest revolution from Raymarine is the RealVision 3D. It paints a 3D image of what's under the boat and is amazing for providing an underwater perspective.
Keep in mind any time you're scanning to pay attention to everything you see. We all want to find that mother lode of fish, but more times than not that's not how you find great fishing spots. Keep your eyes peeled for baitfish, grass, brushpiles, rock piles, roadbeds and anything unusual. The best places are not always obvious.
My settings for my bow unit are pretty simple. I run a split-screen 90 percent of the time, with mapping on one side and CHIRP sonar on the other. Mapping is important for following contours and lining up on waypoints. CHIRP shows everything that's going on under my boat. I find myself constantly looking at this unit because it tells so much about how fish are acting. If I see a lot of fish suspended up high, I might try a jerkbait instead of a jig, or vise-versa.
I recommend the Axiom Pro because they're easy to use, super-fast and have a touchscreen as well as a keypad with a scroll knob, which is nice for zooming in and out on the map while running.
Hit Brandon Lester up with any questions on his website at www.brandonlesterfishing.com or on social media.