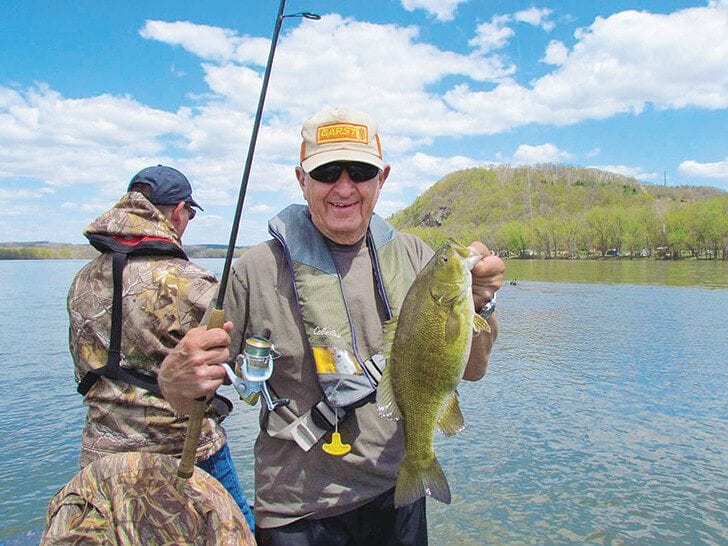 By Ben Rayner:
Whether from shore, canoe or yacht, there are basic safety tips every angler should follow. A few moments of preparation could save your life.
Consider wearing a vest, no matter what you fish from, shore or boat. There simply is no reason to put yourself or anyone else so close to potential tragedy. There are numerous styles of vests available that won't get in the way of your fun. Several brands have integrated life vests and fish vests. They are just as comfortable as a standard pocketed fishing vest. Keep in mind that your vest may save someone else's life, as well. If you have a vest it allows you to make a rescue by swimming or throwing it if another person goes in the water.
Most anglers who perish in emergencies never intended to go in the water and often succumb to the elements within moments of submersion. Water draws heat away from the body 24 to 25 times faster than air. Water temperatures in the 60's and even 70's can lead to hypothermia very rapidly.
However, most drowning victims perish long before they go hypothermic. The cold-water shock response, the involuntary human response to cold water, can lead to drowning in a matter of seconds even for experienced watermen and women and even for those who have swimming skills.
Even in warmer waters, cold-water immersion and the resulting hypothermia can be fatal and can be fatal quite quickly. Unfortunately, victims of water emergencies come from every state of the U.S. even in waters considered warm. Recent cases have sadly demonstrated that water temps in the 70's can still be deadly.
Have a float/fish plan and let someone know your schedule to ensure someone will recognize that you're missing. For folks on the shore, be aware of your surroundings. Currents and rips can knock you off your feet. Especially when wearing any style of waders, it is easy to perish in moving water.
If you are a coastal angler, and you are walking a jetty and it's wet, it's dangerous. It is very easy to slip and fall not only into the water, but to become jammed in the rocks.
Swell and waves can be deceiving. Sneaker sets can roll in that are significantly larger than the general wave state. I have seen people swept off jetties and piers when these sets hit them.
If it's wet, it's dangerous!
It is a myth that alcohol warms you up. You may feel a pleasant rush of warmth, but alcohol can actually compound the onset of hypothermia. Also, consider a personal electronic locator beacon. A beacon may be unnecessary for a shore-based angler, but if you are on the water, even in a paddle craft, it is a sound investment to make. Remember to revisit what safety means. You don't have to stop yourself from having fun, but a little bit of awareness can stop yourself from being hurt.
Ben Rayner is executive director of WET Inc, a water-safety organization. See www.wateremergencytraining.org.