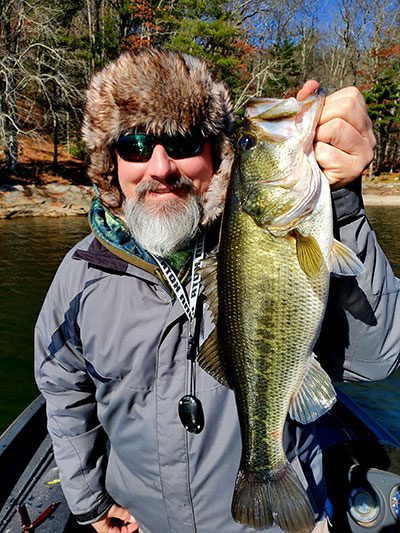 By Scott Norton
When you think of winter bass fishing, slow and meticulous retrieval speeds come to mind. If you go fishing during a cold weather trend those patterns can be the case but on a warming trend power fishing can also be the option. In some scenarios, speed cranking can be the pattern to go with. The right cranks to use will have a tight wobble while the other winter lures will have a similar look and movement. You can select silent lures with ghost colors for the clear water. The more you put your time in, the more you will pick up on this.
Most people will avoid these cold months and, that alone, can make your odds go up. Lower fishing pressure and no competition is a good thing. If you're worried about staying warm the fishing industry has already rolled out some very good warm weather gear technologies to keep you comfortable. To prepare, I like to keep my rods and reels in the warmth of my home. Most fisherman just don't have the option of putting your boat inside a warm building but keeping your gear and your batteries warm goes a long way to help you keep your mind on what you're doing. I have noticed that since I have been storing my boat inside my basement, I do not have to worry about my line and guides freezing up on me. All these little tricks can add up to a trouble-free fishing experience.
I will say that bass will be in one area and gone the next. I believe that, with the warmth of the sun, fish will relocate to the warmer areas from hour to hour. Look for wood and rock to pull these fish in. These features will absorb the radiation of the sun and stay warm throughout the end of the day. Some bass will go deep for the warmer water, while the surface temperatures drop. These are clues to where you start your work. I usually start fishing deep before the first light and then move to the sunny side of the lake. This plan has always helped my numbers go up.
Upsizing is usually not what people think about doing when you have cold water but when small bass stop biting, large bass still need calories and presenting a large easy meal will cause a big bass to pay attention. For these lager baits, I usually use an eight-to-ten inch wedge tail swim bait. The drawback is that you crawl these baits so slow on the bottom. You are not looking for a reaction, you are looking to fool them. These baits need a good natural look to pull that off.
Wintertime is the time to look for "silver linings" and out "of the box" thinking. I hope this helps for people looking for something different this time of year. It's all about gaining knowledge and getting better.
Scott Norton is a Western North Carolina native. Born in Asheville, N.C., he is a long-time hunter, angler and weekend warrior.