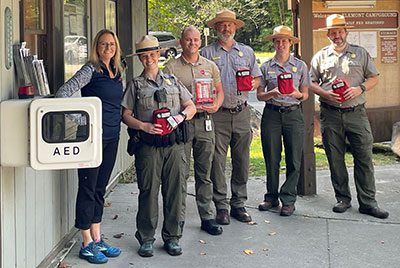 GATLINBURG, TN—The Tennessee Department of Health recently donated 20 'Stop the Bleed' kits to Great Smoky Mountains National Park. Stop the Bleed kits have all the necessary materials to treat and control bleeding injuries. The kits include tourniquets, trauma dressing, gauze, gloves and instructions for park employees and visitors to use in a traumatic injury before professional help arrives.
"Time is of the essence for traumatic injuries, and early intervention can save lives," said the park's Emergency Manager Liz Hall. "In some areas of Great Smoky Mountains National Park, where emergency response can be delayed, these kits will help rangers and visitors treat traumatic injuries early."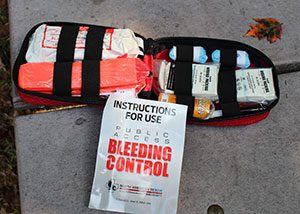 The kits will be divided up between park campgrounds, patrol vehicles and rangers to ensure faster access to the lifesaving resources.
"We are grateful for our partnership with the National Park Service," said Chase Watts, East Tennessee Regional Emergency Response Coordinator. "We are always looking for ways to work together to help reduce injuries to visitors, employees, and the community."
Watts and other members of the TN Department of Health hand-delivered the kits to park rangers at Elkmont Campground. Watts also gave a brief training about what is in the kits and how to use tourniquets.