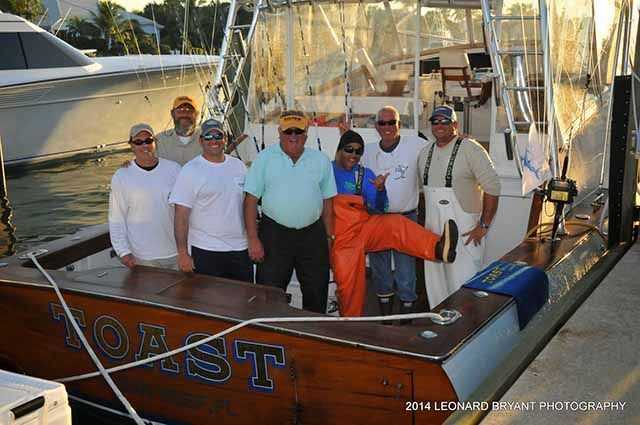 The 61st Light Tackle Sailfish Tournament wrapped up Sunday, Dec. 15, with Toast winning the team's second daily award and taking the overall title in the Traditional division with 10 total sailfish.
Capt. Ross Clark led anglers Ron Martin, Chris Martin, Jared Gillman and Michael Gillman to four sailfish releases on the final day of fishing aboard the 52' Ricky Gilligan.
Over the three-day dead-bait, light tackle tournament, the 16 boat fleet caught 93 sailfish.
The Amateur division, renewed this year and last held in 1978, had nine registered boats that were required to fish two out of three days. The Amateur fleet caught a combined total of seven fish, bringing the combined fleet of 25 boats a catch of 100 sailfish.
Tokatomist, a 61' Richie Howell, led by Capt. Butch Cox and owners Tom, Kate and Tommy Howd, and anglers Tom Mauro, Mike Gambardella, Gary Parlin, Ted Blount, John Adamiak and Dennis Longstreet won the Amateur division with five sailfish caught Friday and Saturday.
The 100 sailfish for the 25 boats was the lowest number for a Light Tackle since 2008, when 99 were caught by 20 boats. Since the inception of the annual tournament, fishing fleets have caught 100 or more sailfish 36 times.
The Light Tackle is part of the Treasure Coast Sailfish Championship, which is a three-tournament series comprised of the Pirates Cove Sailfish Classic, the Light Tackle and the Pelican Yacht Club Billfish Invitational. Five teams fishing have now completed two of the event's three legs.
Showtime!, a 62' Spencer, led by Capt. Wink Doerzbacker, leads the series with 23 sailfish, followed by  J-Hook, a 65' Weaver, led by Capt. Mike Price, with 19 fish; and Vintage, a 54' Willia, led by Capt. Hans Kraaz, with 18 fish.
The final let of the Treasure Coast Sailfish Championship begins on Jan. 6 with the Pelican Yacht Club Billfish Invitational.
To view more Light Tackle Sailfish Tournament details, visit www.stuartsailfishclub.com. For more information on the Treasure Coast Sailfish Championship, visit www.pelicanyachtclub.com.
2014 Tournament Results
Traditional Division – Overall Standings (93 releases)
Toast – 10 releases
Apava – 9 releases
J Hook – 8 releases
Floridian – 8 releases
Marlin Darlin – 7 releases
Outlaw – 7 releases
Showtime! – 6 releases
Piece O'Work – 6 releases
Tenacious – 6 releases
Challenge – 6 releases
Sea Lion – 5 releases
Intents – 4 releases
Vintage – 4 releases
Kathy Jo – 3 releases
Trust Me Too – 2 releases
Sweet Thing – 2 releases
2014 Tournament Results
Amateur Division – Final Standings (7 releases)
Tokatomist – 5 releases
Fintasim – 1 release
Class One – 1 release