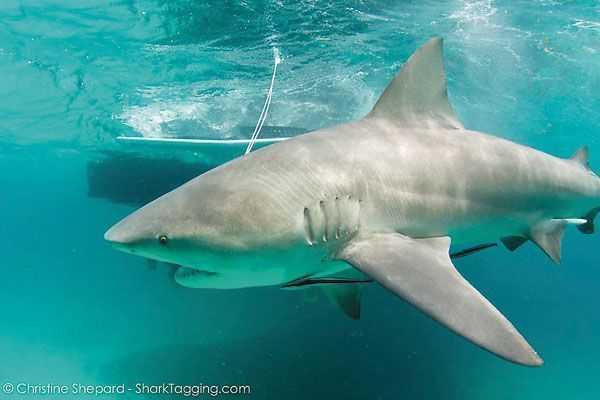 by Austin Gallagher
Nature has a way of dictating what happens to its food webs. Things are constantly in flux, fish are moving in and out, and predators follow closely. It is the best game of cat and mouse. As a scientist, I am constantly amazed and also perplexed by how nature can be resilient at times to some things (storms, human presence), and extremely sensitive to others (changes in water quality, temperature, etc). And so is the case with my study species – the sharks, which are always on the move – and my team is constantly trying to keep up with them.
As fall season nears, fishing spots begin to change in terms of productivity, and some species begin showing up for overwintering, while others take advantage of the gradual change in water temperature. Fall season – particularly October and November – are some of the 'sharkiest' months of the year for us. Our sheer numbers of animals caught and tagged (and always released) substantially decrease during this time, but our diversity (the number of different species) drops. This is actually common, as warmer waters usually support more species.
Temperature is the major controlling factor for the lives of fish, including sharks. Water temperature influences when and how far they swim, how often they eat, and their daily energetic levels. In general, warmer water has lower levels of dissolved oxygen. On the hottest weeks of the summer we catch the fewest sharks, the reason being that the oxygen-poor water makes swimming and feeding difficult for the animals. In other words, the sharks will then go to deeper water where the water is cooler and take care of business there. Some of our spots in Florida Bay really turn on in the Fall, with large numbers of blacktip, lemon, and bull sharks. Some of the larger, more apex predators like hammerheads and tigers seem to disappear during these months, presumably to find more rich feeding groups offshore, in the Bahamas, or in the Dry Tortugas.
Higher abundances of sharks means that there is even more chances to interact with them as anglers as the water cools off. As always – enjoy the resource, but let's keep our interactions in a responsible manner. Keep fight times to a minimum, keep your sharks in the water during photographs, and use circle hooks at all times! This way we will see the sharks in the winter and spring.
This column is also hosting a shark fishing survey in which anglers are able to voice their opinions on the status of sharks in Florida.
Please visit the link here to participate (you will be entered in a raffle to win fishing gear): http://sgiz.mobi/s3/sharks
Austin Gallagher is a doctoral student at the University of Miami. He is also a wildlife photographer and filmmaker and his research on sharks is supported in part by Florida Sea Grant. He is a supporter of sustainable practices and catch and release sport fishing. For questions and to reach out, contact at sharksurveyfl@gmail.com