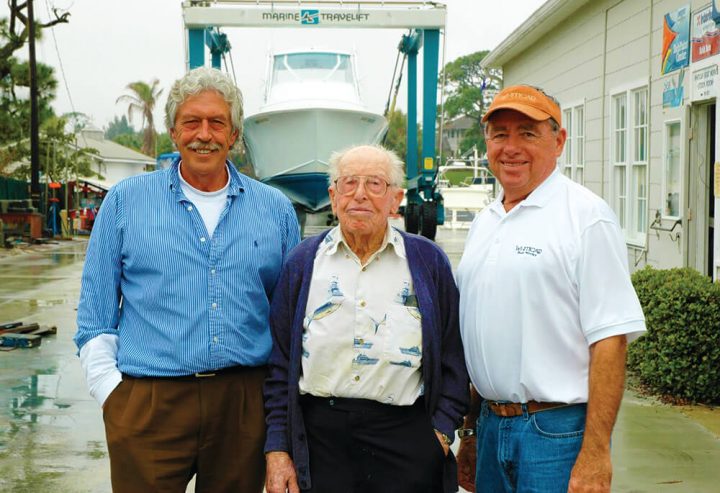 By Ed Killer, Outdoors Columnist for USA Today Network:
Over the course of a life spanning more than a century, Curt Whiticar earned quite the reputation. He was the patriarch of the Stuart family best known for building classic sport fishing boats and died March 7 of prolonged congestive heart failure and kidney issues. He was 106.

"Through his life, he touched so many people's lives," remembered his son John Whiticar, 67, of Jensen Beach. "He was one for getting things done. And he was so proficient at whatever he would set about to accomplish."
George Curtis Whiticar was born Feb. 13, 1911 to Capt. Add Whiticar, a commercial fisherman and charter captain who fished out of New Jersey. Curt Whiticar was the oldest of three brothers who all followed in their father's fishing footsteps. They took paying customers on fishing adventures through the St. Lucie Inlet. But when customers were thin, they fished commercially.
Curt Whiticar's dad first came to Stuart to scout the bluefish and Spanish mackerel commercial fishery in 1917. The family settled in Stuart full time in 1926.
Curt Whiticar built his first boat in 1921, and by the late 1930s had begun to make a name for the family with his craftsmanship. By the 1950s, his boats were in demand by anglers who wanted boats built to handle the sometimes-choppy Treasure Coast offshore waters.
Whiticar boats were known for a sharp entry bow and steep deadrise, which made them perfect for slicing into a 4- to 5-foot-high wave. More than 60 Whiticar boats have been built since Whiticar assembled his first.
Capt. V.J. Bell, of Stuart, ran the Bone Shaker, a 40-foot Whiticar, for Stuart's Joe Lehner for more than 10 years.

"It was a great headsea boat which was Whiticar Boats' claim to fame," said Bell. "It had a sharp entry, and ran really well into a sea or a chop. And once we got to where we were going, it was a fish-raising machine. It had a clean wash, small propellers. It was a very strong boat, too, overbuilt, if anything."
Bell was one of many Stuart-area captains to come to the area from the Delmarva Peninsula. Many of them came as mates working for Capt. Ray Parker, who owned a red-hulled Whiticar named Hobo. They stayed for the great sailfishing—a sport fishery pioneered by Whiticar and his family. They were among the first in the area to promote conservation of sailfish. The Whiticars were also among those who founded the Stuart Sailfish Club.
Whiticar retired from boat building in 1986 at age 75. He received a number of awards and recognition for his service as a craftsman and a leader in conservation. Last month, he was inducted into the International Game Fish Association's Captain and Crew Hall of Fame.
There will be a celebration of Whiticar's life April 9 at Indian Riverside Park in Jensen Beach. In lieu of flowers, the family asks to make contributions in his name to the Stuart Sailfish Club, the Stuart Heritage Museum or Treasure Coast Hospice.