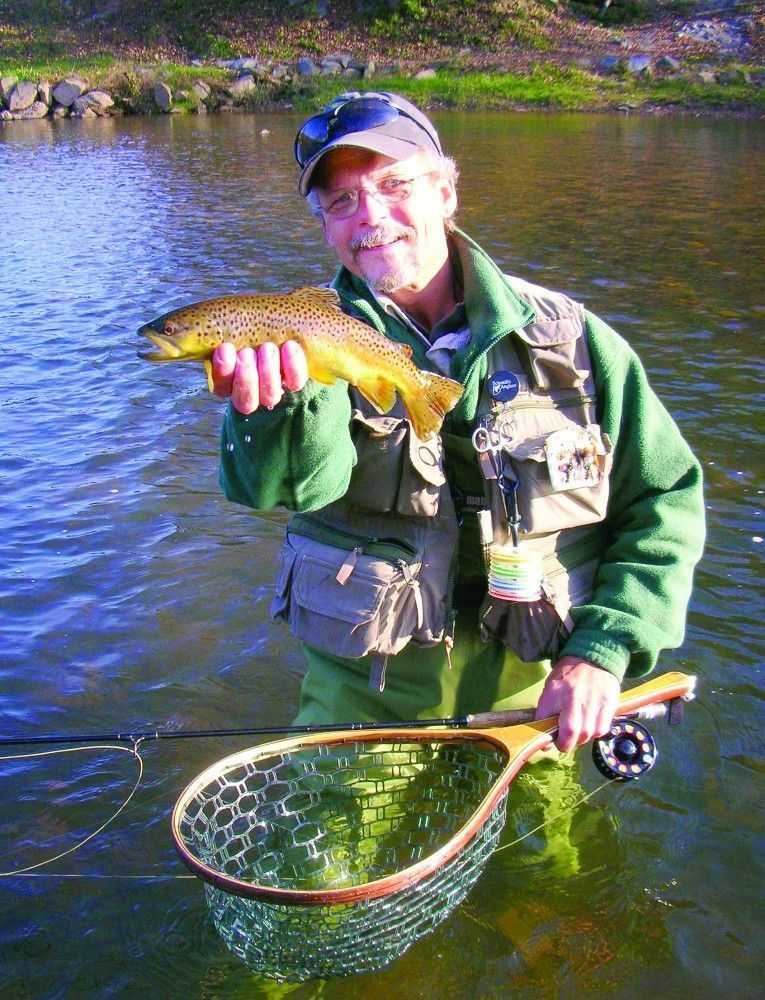 Fish Fannin County, The Trout Capital Of Georgia
By Bob Borgwat
From its highland origins to the breach of the river beneath the powerhouse gates at Blue Ridge Dam, the Toccoa River forms the spine of any trout fisherman's trek in Fannin County, the "Trout Capital of Georgia." Every creek in its watershed—and the river, itself—is labeled "trout water" by the Georgia Department of Natural Resources.
That's not to say you'll find trout everywhere groundwater flows in Fannin County. But you can fish for trout as close as the city limits of Blue Ridge, the county seat just 100 miles north of Atlanta and 80 miles east of Chattanooga. Less than 3 miles from downtown, the Toccoa River spills cold water year-round from Lake Blue Ridge. Tammen Park flanks the river's west side. Trout stockings take place weekly at the site, where bank fishermen soak baits like crickets, red worms, salmon eggs and Berkley's PowerBait. Fly-fishermen and anglers with spinning tackle wade and float this first quarter-mile of the tailwater, armed with seasonal flies and lures that resemble small baitfish.
Fifteen miles downstream, the Toccoa enters Horseshoe Bend Park at McCayesville, which shares the state border with Copperhill, Tenn. Trout are stocked here, too, on a weekly basis through June. The park is perfect for a family outing. Benches, pavilions and a playground shadow rocky shoals and long pools where anglers find action in the catch-and-keep setting.
Above Lake Blue Ridge, the Toccoa flows more than 20 miles from its origin. Along its way, the river flows through a patchwork of national forest land, where fishermen access the river on foot, by canoe/kayak, at roadside pullouts and recreation sites.
Perhaps, more anglers fish for trout on the upper Toccoa at two sites: Deep Hole National Recreation Area, off Highway 60, and at the Sandy Bottoms Canoe Access Site. Both are maintained by the National Forest Service. Deep Hole features campsites and easy access to a stocking site where hundreds of trout are released every other week through June. At Sandy Bottoms, the Toccoa is stocked monthly and managed under delayed harvest regulations. From Nov. 1 through May 15, anglers are restricted to single-hook artificial lures/flies, and trout must be released. After May 15, fishing reverts to catch-and-keep fishing under general regulations.
For many anglers, tributaries to the Toccoa River offer the most important trout fishing in Fannin County. Big Creek, Noontootla Creek, Coopers Creek, Rock Creek and Fightingtown Creek are the largest of these streams that hold stocked trout, wild trout or both. Public access is scattered across the Chattahoochee National Forest, where gravel roads often run streamside. In other cases, anglers hike to areas where lighter fishing pressure promises a more "remote" fishing experience and catches include wild rainbow, brown and indigenous brook trout.
For more information about trout fishing in Fannin County, see the Reel Angling Adventures website at www.ReelAnglingAdventures.com or call 706-838-5259. The Fannin County trout stocking schedule and fishing regulations are available online at www.GeorgiaWildlife.org.