By Chris Scalley:
With spring in the air, anglers are finally ready to shake the dust off their fly gear and hit the river to remedy that cabin fever. Anticipation of the first dry fly action of the season gets all fly fishermen fired up!
But hold your horses. Let's really think about the aquatic bug lifecycle. For advanced invertebrates like caddisflies or black flies, the sequence of stages are egg, larvae, pupae, adult. With more primitive insects like mayflies and stoneflies, the cycle goes egg, larvae (nymph) then adult.
Early spring, usually March in the South, is the starting point for most aquatic invertebrate's initial emergence. Anglers should focus on the middle stages like larvae, nymphs and pupae, which are most readily available to the trout. Even though you might see a rise here and there, you will likely catch more and bigger fish on subsurface patterns such as nymphs and wet flies.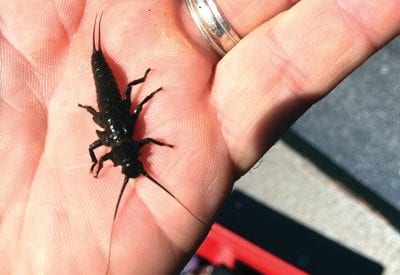 I have always agreed with my clients that one fish on a dry is worth 10 on nymphs, but at the end of the day, most folks just want to catch a lot of fish.
Over most of the southern waters, the best dry fly fishing won't begin in earnest until a little later in spring. That's when trout will key in on adult and pupal stages of hatching insects on the river. Then it will be very handy to know about rise forms created by trout and fly fishing the "surface" and "surface film" with dry flies.

Chris Scalley, of River Through Atlanta Guide Service, can be contacted through his website riverthroughatlanta.com.