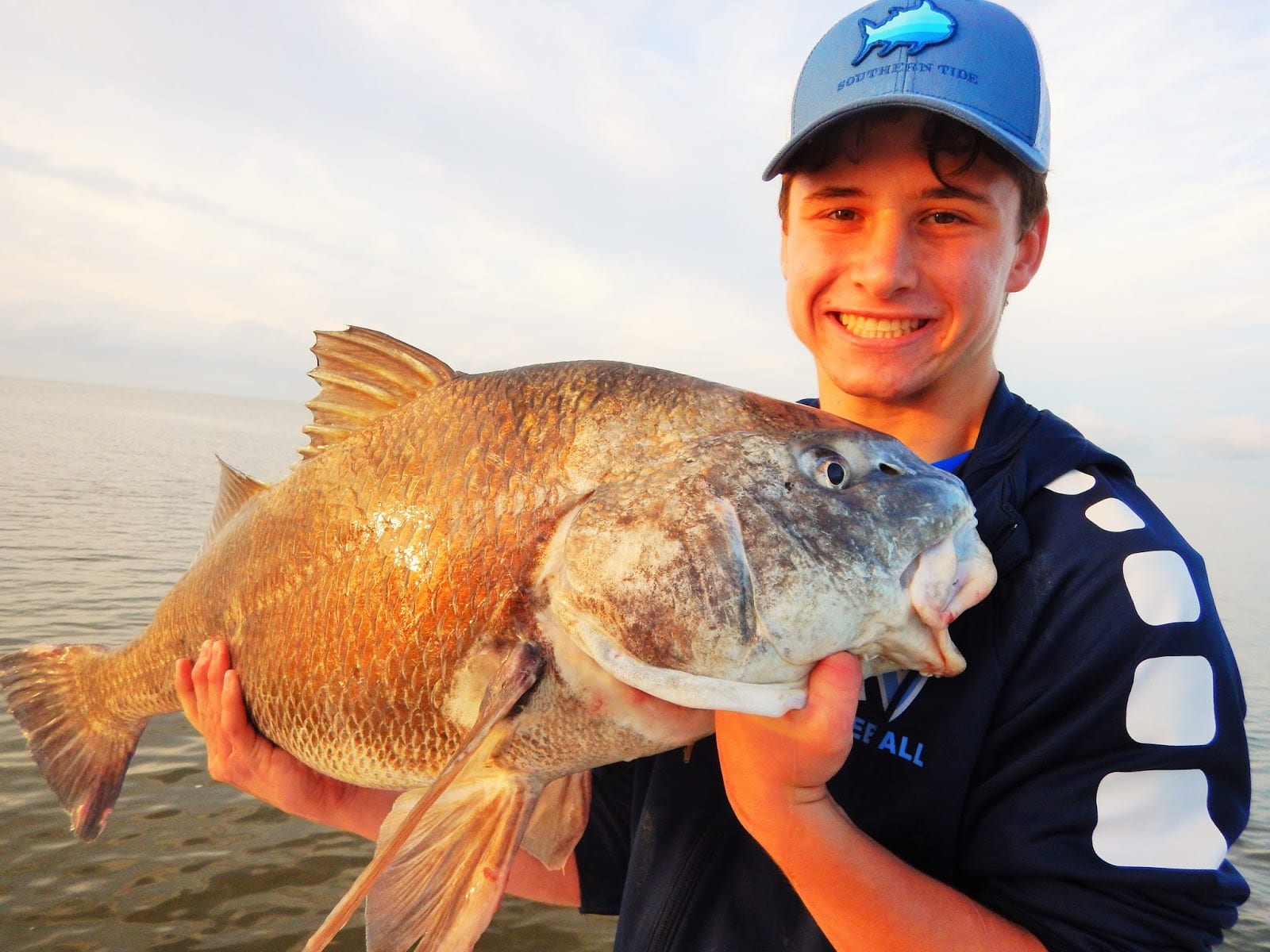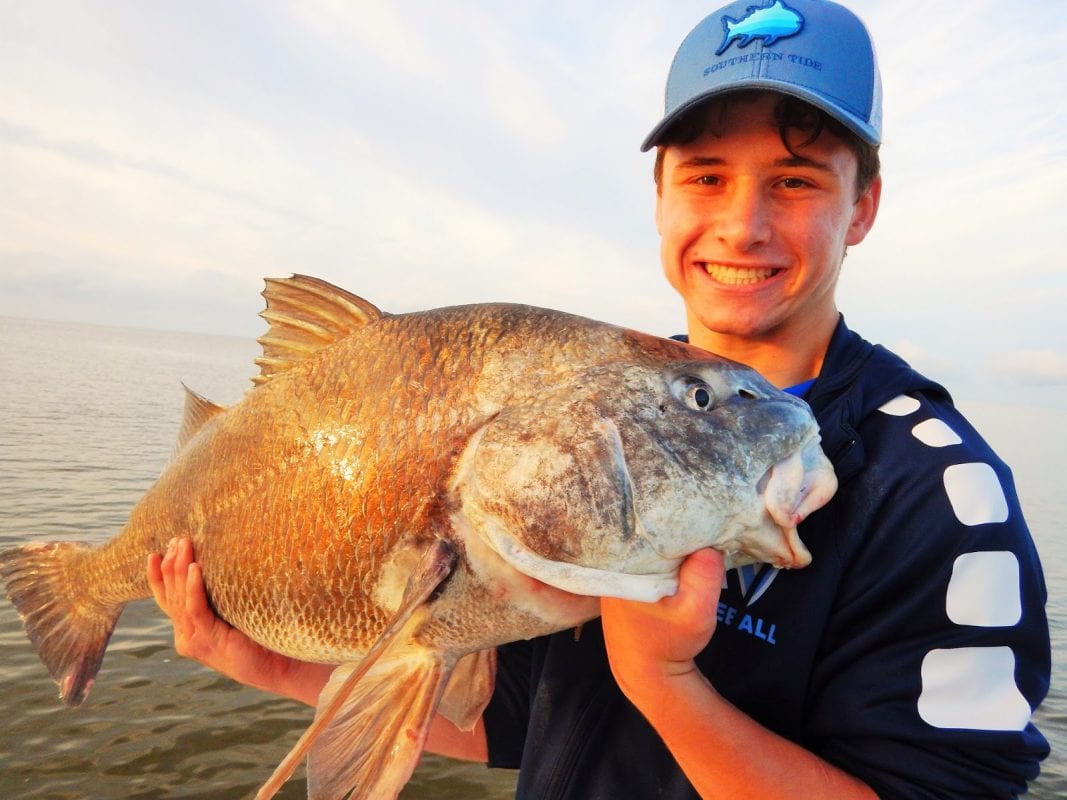 Yes the above statement is true, and both had fantastic trips this past week. With Spring Break going full throttle, we have had very little down time. Even with some off days, due to mother natures wrath. Between the fishing trips, and Spring prep work, there have been some long days and nights. The Week began with our trips with the Priests. Father Patrick Sanders(St Peters By The Sea) and Father Stephen Kidd(St Marks Episcopal Church), along with Father Pat's paw in law "The Old Man". Looking at the weather report, we knew we only about a 3 hour window to make it happen. Well, we said our prayer, and went for it. The boys had an absolute battle royal with the sheepsheads. Truth be told, we were done in about an hour an a half. We played around a little more, tucked tail and ran. Just as we were offloading our catch, the winds went to screaming, and we (wait for it… wait for it…), counted our blessings, and thanked the Lord, we made it back safely. You don't need much luck when 2 priests, and the big guy in the sky are fishing with you…
The next celebrity on the boat, was none other than "The Mayor of Cat Island", Mr Walter Gaudin. Had a fantastic day with Walter, and his family. All the way from Hernando, MS his boy Dano, daughter in law Brandi, and grand kids Baylor and Bella. I have been fishing Dano and Baylor for years, but this was the first time the gals joined us. We thought we were gonna work on the sheeps, but it seems the big drum have moved in. Every year about this time, the sea monsters just take over, and this was a welcome treat. With the lousy weather, all of the bait shops were outta live shrimp, so we had to rely on just the dead stuff. It wasn't an issue, and the big drum were all over the baits. We missed several, but still landed plenty of those big brutes. Everyone on the boat took turns with the massive sea monsters.
The majority of our trips this past week were near shore trips. Capt Matt is the one you have to watch out for, fishing in close. We had boats scattered all over the Bay one of the windier days this past week. We had Captains Kenny, Alex, Ray and myself, catching a puppy drum here, or a sheepshead there. Before we knew what was going on, Capt Matt was held up on one fertile piece of shoreline, working on the slot reds. He was just letting the Boat Monkey corks float against the grass, with live or dead shrimp underneath. He even landed several stud trout. Like I said, you gotta keep a close eye on him.
Did get make it out to Cat Island one day this past week. We have a busy busy several months ahead of us out there. The Island House looks fantastic, and is ready for plenty of fishing, food and fun. My daughter Margot helped me and Chris get a little work done, before we did a quick fishing trip. Something "record breaking" happened on that trip. We are waiting for the official stamp of approval before we tell that story. I can assure you, it is one of the coolest stories I have ever been a part of. Should know more in the next week or so.
Our boats and guides are just makin it do what it do. Getting out when we can, and trying to fish the most productive and calmest water we can. The trout and red fishing will get going as this weather stabilizes, and we will be ready. In the mean time, we will be having fun fishing when ever and where ever we can. Give us a shout if yall wanna get in on the fun. Thanks
***SHORE THING FISHING CHARTERS***
ESTABLISHED IN 2003. The Largest inshore fishing company on the Mississippi Gulf Coast. Specializing in speckled trout, redfish, flounder, tripletail, black drum and more! We fish the Louisiana Marsh, the Mississippi Barrier Islands and many other areas. Our full-time fishing guides are extremely knowledgeable, courteous, and professional. We have many boats available – small and large groups are welcome. Anglers under the age of 13 fish for FREE! All of our boats and guides are licensed to fish in Mississippi and Louisiana. We supply rods, reels, tackle, snacks, drinks, ice, fuel, bait, and fun. No charge for fish cleaning and bagging. Be sure and ask about our all inclusive overnight fishing packages to the Cat Island House. www.shorethingcharters.com or 228-342-2206.
Check out our Youtube videos:
http://www.youtube.com/watch?v=p7zPtztzBT0
https://www.youtube.com/watch?v=tiMDCa5OD6U
 http://www.youtube.com/watch?v=VdJjkK7ldsk
http://www.youtube.com/watch?v=hr0twtm3Bng
https://www.youtube.com/watch?v=RN7WxqYBly4