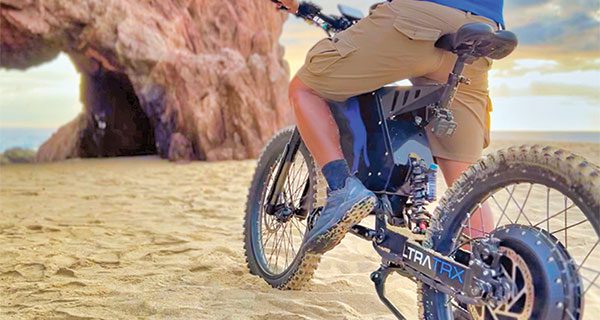 UltraTRX based out of Hilton Head, South Carolina, unveiled several groundbreaking 2023 Fat Tire Electric Bike models at the Great American Outdoor Show, February 4-12, in Harrisburg Pennsylvania. Attendees were astounded at the patent pending innovations destined to change the electric bike industry for generations, overcoming many of the disappointing aspects of traditional electric bike manufacturing.
UltraTRX innovations include:
Plug and play and retrofittable components, allowing consumers to replace parts as needed. UltraTRX bikes are easily repaired and do not require a professional shop, technician, or inconvenient shipping to the manufacturer for repair. Retrofittable components means you can get parts for all year models of…keeping your bikes operational and not an expensive paper weight.
GenerTRX Power Generation System, a patent-pending coil/disc rotor system charges the bike's battery while you cycle, creating 35-50% more distance. Perhaps the biggest concern with electric bike owners, especially bike owners who take their bikes into the wilderness, is running out of power. 35-50% more distance will give the back country fishermen piece of mind, allowing him or her to go that extra two miles and still get back to the truck.
ThermoTRX Battery Protection System, alleviates the well documented problems lithium-ion batteries have historically had in frigid temperatures. ThermoTRX utilizes heat strips inside the cells of the battery to maintain an optimal temperature of 32 F, ensuring the lithium-Ion battery will maintain a charge in cold temperatures. At 20 F your distance per charge can drop in half. You can also damage the battery if charging in sub-freezing temperatures.
UltraTRX uses only marine-grade 18-8 stainless steel nuts, screws, and bolts on all bikes. Other manufacturers use 15-5 stainless hardware, known to rusts over time. 18-8 hardware is more expensive but, demonstrates UltraTRX's commitment to building high quality long-lasting electric bikes designed to provide more torque, power, speed and distance per charge than any other manufacturer in the industry.
UltraTRX electric bikes also produce no sparks…critical while riding in drought conditions. Sparks are the main culprit in starting many fires in our more drought prone world.
Why would you get any other electric bike.