While visiting a friend of mine about 15 years ago, I noticed a book on his coffee table. It was called "Bluewater Hunting and Freediving" by Terry Maas, and it had the photo of a diver holding a bluefin tuna on the front cover. I already enjoyed hunting on scuba for groupers and snappers in my backyard, but the thought of spearing a tuna intrigued me to no end… and the thought of freediving also caught my attention.
I had a hard time finding like-minded friends to dive with at first, as freediving was not a mainstream activity in Florida at the time. After researching a bit, I found a freediving school called Performance Freediving International and signed up for a course. I also found a freedive spearfishing club, which consisted of about 10 guys and no women. To this day, I give the same advice to anyone who wants to learn: "Take a class from a freedive agency, and join a local club so you can make friends and perhaps find a mentor."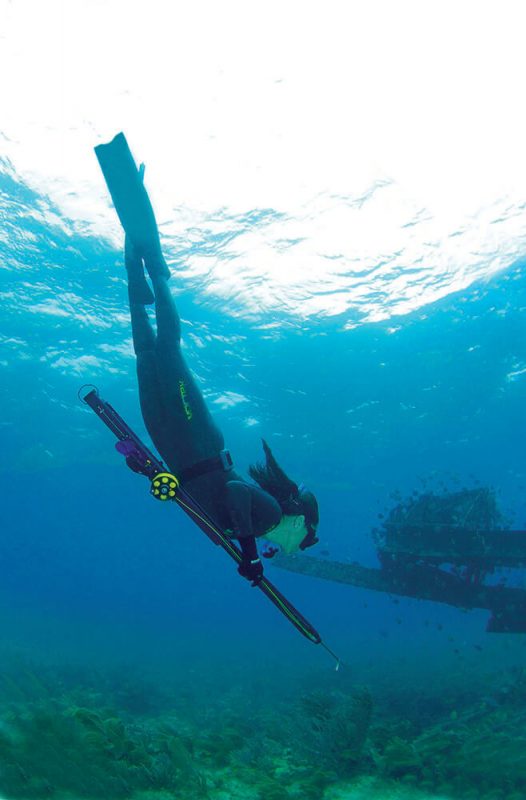 Before the class, I had never tried to hold my breath while holding still in a pool—called static apnea. I was predicting that I would be a one-minute diver, but after some instruction, I held my breath for four minutes. Most importantly, I learned how to avoid a "blackout" and how to rescue a blacked-out diver. We were taught the importance of the buddy system and one-up/one-down diving. While these classes will at least double your breath-hold time, learning the safety aspects is even more important.
Fifteen years later, I can look back and say that learning to freedive opened a whole new underwater world for me. Now that I'm an oldster in the sport, I marvel at the growth rate, the number of agencies offering classes, the number of clubs in the area, and a large number of people that are in those clubs. It's wonderful to see so many young people enjoying the sport.
Lest I give the impression that freediving is a young people's activity or something that super-athletes do, let me debunk that myth. I have met overweight smokers that were very good at it, and I've been diving with 80-year-olds who were still enjoying it. Freediving is for anyone who is willing to give it a try. Whether it's to spearfish, experience the ocean in a different way, or simply find your inner-self at the bottom of the ocean, it's an activity that anyone can enjoy.
It's a natural, satisfying and spiritual experience to hold one's breath and become one with the ocean. If you have the slightest interest, do not be intimidated; it's actually very easy. Just give it a try… you might like it!
P.S. – Terry Maas just came out with an updated digital version of the book, and I am honored that he featured my world-record yellowfin tuna. You never know what will happen when you try new things!
Sheri Daye is a world-record holder, host of Speargun Hunter, and producer of "The Blue Wild Ocean Adventure Expo" in Ft. Lauderdale, Fla. Follow "Sheri Daye" and "The Blue Wild" on Facebook and Instagram.