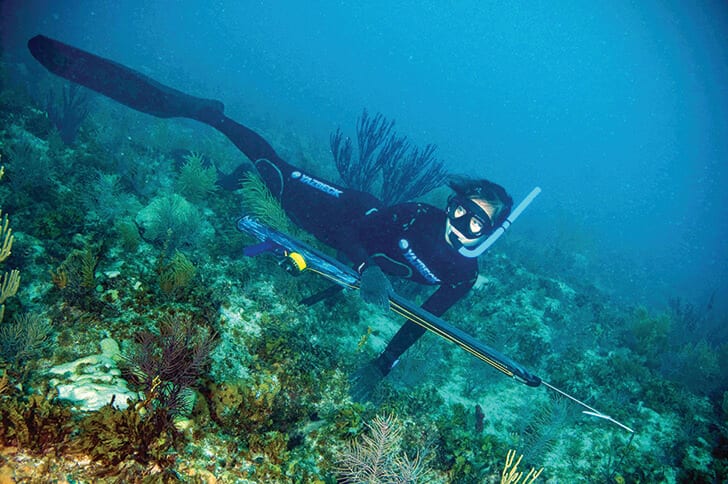 Who says you can't have it all? When it comes to wetsuits—whether man or woman, warm or cold water, scuba or freediver—there are many great choices on the market. They are more comfortable, better-fitting, and more fashionable than ever.
Pioneers in the dive world had to endure cold temperatures sometimes. Finally, in 1952, a University of California physicist invented the wetsuit. Water conducts heat away from the body about 20 times more efficiently than air, which is why an unprotected individual feels cold even in "warmish" water. The inventor created a foam-like material to cover the body, which reduced the water's ability to conduct heat away from the body. This, plus the fact that water is warmed by your body and trapped inside the suit, made for a more comfortable experience.
Previous materials were very fragile or very rigid. Due to product innovation, wetsuits are more flexible, warm, and come in many different colors—even camouflage patterns. Better-fitting designs and new methods of joining the seams make today's suits even more waterproof and reduce "flushing," which is the seeping in of cold water.
In the warmest parts of the world, divers may opt for a simple "lycra skin" for protection from jellyfish, coral and sunburns. However, even in the summer, most will still wear at least a 2-mil wetsuit. On the other end of the scale, my very admirable friends in northern California wear two-piece 8-mil wetsuits complemented by thick neoprene boots, gloves and hoods. As an example, someone in the Bahamas might wear a skin for the summer and a 2-mil in the winter. Someone in Florida might own a 3-mil for the summer and a two-piece 5-mil for the winter. A Californian would probably own a two-piece 5-mil for the summer and 8-mil for winter.
The rule of thumb is that you want to wear the thinnest possible wetsuit, but enough to feel comfortable throughout the dive. That's because you want to maintain maximum flexibility and reduce the amount of lead needed on your weight belt to submerge (wetsuit material is buoyant). The beauty of owning two-piece suits (hooded top and farmer john bottoms) is that you can switch pieces around for the perfect combination—such as wearing a 5-mil bottom with a 3-mil top. Along these lines, it's also possible to buy a sleeveless vest for more layering options. With just a few basic pieces, many different combinations are available. This is especially handy if traveling and exact conditions are unknown or could change.
The following brands are available at your local dive shop: Yazbeck, Mares, Riffe, Omer, Cressi and more. If an off-the-rack suit does not fit, there are several affordable custom manufacturers who will tailor one to your measurements, such as Polosub or Elios. These days, there's no reason to be uncomfortable in the water.
Happy diving!
Sheri is a world-record holder, host of Speargun Hunter, and producer of "The Blue Wild Ocean Adventure Expo" in Ft. Lauderdale, Florida. Follow "Sheri Daye" and "The Blue Wild" on Facebook and Instagram.