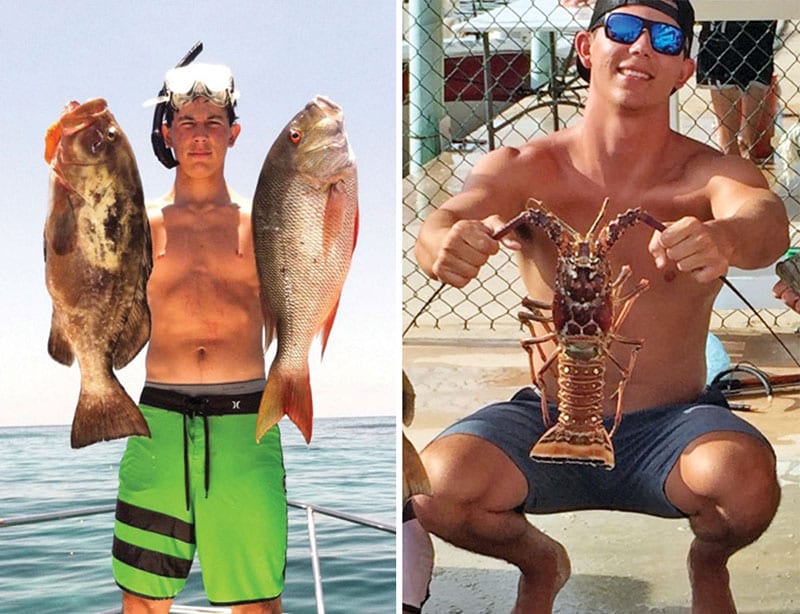 An ocean child since the beginning, John Michael Baker loved nothing more than being on or in the water. Whether he was fishing, diving or surfing, the ocean was his passion. Sadly, he lost his life in a tragic boating accident just over three years ago. He was 17 years old and just days away from beginning his senior year at St. Thomas Aquinas High School. According to his best friend, Brandan Kelly and other classmates, Johnny was a great friend with an infectious smile. "He was just the kind of kid that you wanted to be around."
Johnny's family and friends wanted to make sure that his name was never forgotten. Because of his passion for the ocean, the idea of a memorial fishing tournament came about. The third annual John Michael Baker Fishing Tournament was held in May of this year. Next year's tournament is scheduled for June 1st, 2019.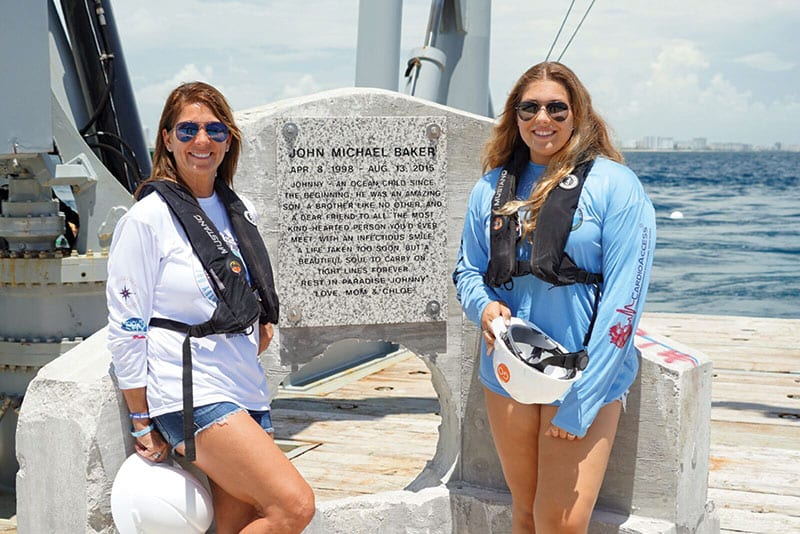 Through a partnership with Broward County, the Broward Chapter of Coastal Conservation Association Florida and the John Michael Baker Foundation, the CCA John Michael Baker Memorial Reef is now a reality. After a year of planning, 1.4 million pounds of concrete and memorial structures were deployed at two sites just off of Fort Lauderdale.
On August 7th, 1.2 million pounds of concrete, consisting of mostly old culvert pipe, was deployed and sent to the bottom in approximately 140 feet of water. This material will serve as an artificial reef that will attract many species of fish and other marine life. On August 14th, the second phase of the reef system was deployed in 70 feet of water, directly west of the deep water site. The material here consists of 12 large concrete structures that will serve as a diver's playground. The structures were lowered to the bottom by crane and placed in order to form a trail for divers to follow. A plaque listing all of the sponsors for the project is mounted to the first structure. A memorial plaque in Johnny's name is affixed to the last structure. Both reefs will be formally named in honor of John Michael Baker and will appear as such on future charts and GPS systems. The coordinates for the deep reef are N 26 09.4600 W 80 04.1300. The shallow reef is located at N 26 08.4865 W 80 04.7344.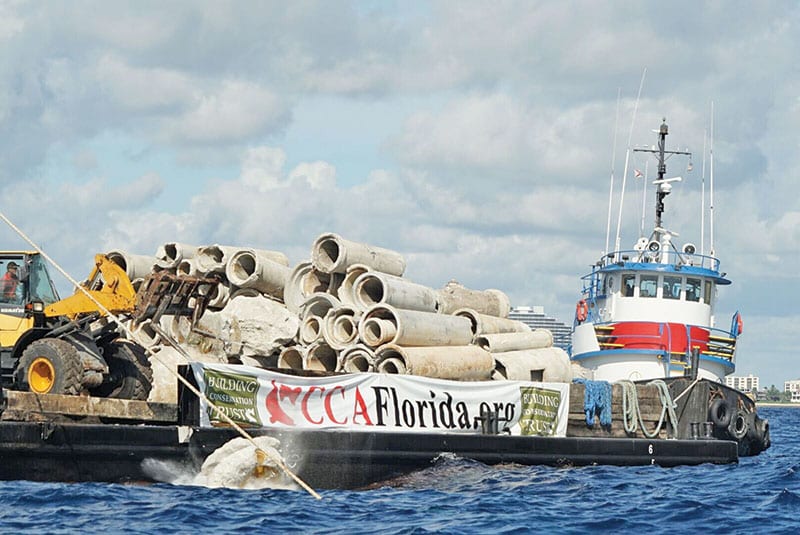 "It was somewhat overwhelming to say the least," said Brock Pecknold, CCA Broward Vice President and Habitat Chair, when I asked him about the scope of the project. He continued, "There are so many people to thank for steering me in the right direction. All those who donated funds or time making phone calls and getting questions answered as well as the hundreds of tons of material for both the deep site and dive site. When Johnny's mother, Jamie, was telling me the story, I fell apart and knew that I had to see this project through from start to finish. I'm thankful to the family for having having faith in me. To watch the pieces lowered into the sea was indescribable. The only thing I thought of was Johnny is back where he belongs. This project really gave me a sense of purpose. Every step we moved forward was enlightening and without any hiccups and that is how a memorial of any kind should be. Everything really came together perfectly to make this happen."
CCA Broward President, Mike Lambrechts said, "Our success in deploying this reef is the result of many great people that came together with the same motivation, to honor a young man who loved to fish and dive by memorializing his name with something that will benefit our waters for years to come. This project is a great example of the many things that the Coastal Conservation Association does for our environment, fishermen and outdoor enthusiasts."
With a permit in place for the next five years with Broward County, the John Michael Baker Foundation and the the Broward Chapter of the CCA Florida plan to add to this artificial reef system each year. According to Mike, upon completion, this artificial reef project will be the largest in all of Broward County and rival projects of scale all around the state.
Special thanks are in order to CCA Florida, U.S. Concrete, McCulley Marine, Broward County, St. Lucie County and Robert Carmichael of Brownie's Marine Group. Without these partners, the John Michael Baker Memorial Reef Project would not be possible.
For more information or to donate to the project, visit www.ccaflorida.org/CCA-Florida-Chapters/Broward or email Mike directly at [email protected]
~ Gene Dyer