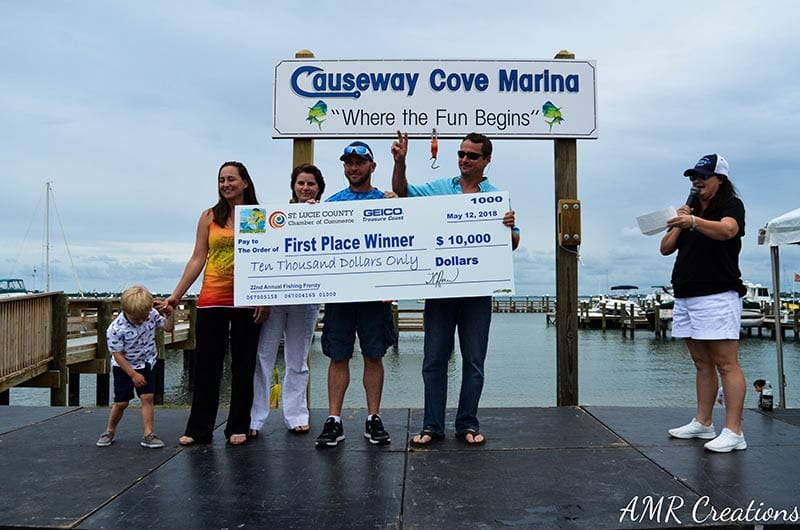 By Ed Killer of TCPalm.com and USA Today Network
Lyle Chandler wanted to keep fishing. That was his vote.
But after a 56.4-pound bull dolphin landed on the deck of Unreel, his Mercury-powered Fort Pierce-built 27-foot Ameracat, Chandler was outvoted 3-1.
It was only a few minutes after noon, and the scales at Causeway Cove didn't open until 3 p.m. Angler Stephanie Langel had just battled the raging bull for 45 minutes until husband Phil Langel could gaff it and haul it over the gunwale. Erin Chandler had just reeled in a smaller fish — a cow, or female, dolphin — and the whole crew was celebrating. They knew the big dolphin was big.
But was it big enough to win $10,000 — the top prize in the 22nd annual Fishing Frenzy tournament presented by Geico Treasure Coast and the St. Lucie Chamber of Commerce?
Chandler, of White City, said he and his wife had never entered a fishing tournament before. Erin, a breast cancer survivor, had not been on the boat in a long while, and one day while talking to their neighbors — the Langels — they all decided it would be fun to enter the Frenzy.
They waited until the week of the tournament to enter, keeping an eye on weather forecasts for Saturday.
"We took along some double-rigged ballyhoo," Chandler explained. "I was checking some apps to see where the offshore temperature breaks were and found some that looked good down off St. Lucie Inlet. So that's where we headed after checkout at Fort Pierce Inlet."
There were 131 boats entered in this year's Frenzy, Terissa Aronson said. The tournament paid out $10,000 to first place, $3,000 to second, $2,000 to third and $1,000 to fourth for heaviest dolphin, a fish better known on seafood restaurant menus as "mahi mahi."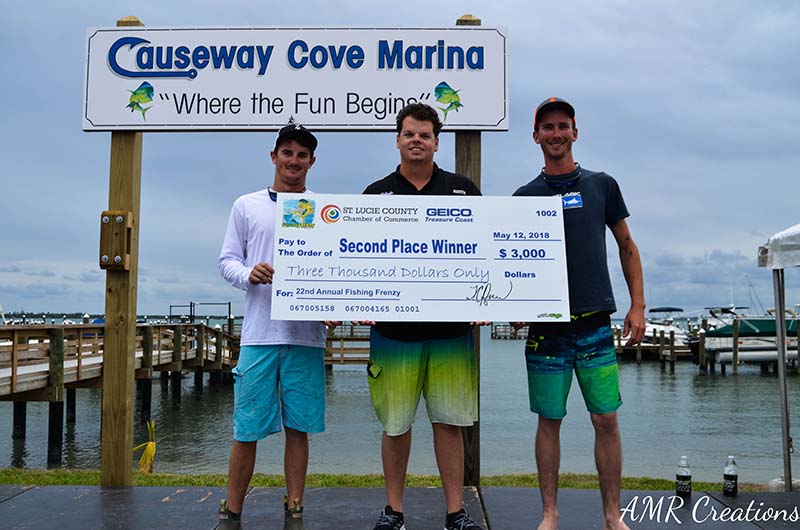 "In 10 minutes, we got a little schoolie and I thought that was a good sign," he said. "Then, for the next 2-3 hours it was nothing but weeds and bonitos."
Chandler trolled north along current edges and temperature breaks waiting for that one knockdown. The wives chose to take naps on the boat's bean bag chairs until something exciting happened.
Then, at about 11:15 a.m., in 150-200 feet of water northeast of Fort Pierce Inlet, they had two rods go off.
"My wife grabbed the one rod and began fighting her fish on the one side, but Stephanie was the only one who saw the other fish bite," Chandler said. "She said it was a big fish."
But no one knew for sure. What they did know was that the strike on that bait was so vicious, it buried the line into the outrigger clip. They had to break the clip to free the line and not lose the fish.
After a long battle, they saw the fish in the water. None of them could believe how big it was.
"Then it was like musical chairs with rods and gaffs," Chandler said. "It looked like if the fish had jumped one more time, it might have spit the hook. I don't think she could have battled it much longer. When we got it on board, it was the biggest fish we had ever caught on my boat."
And that's when Chandler suggested they keep fishing. But no one else agreed with that game plan. They wanted to make sure they had a chance to win the money.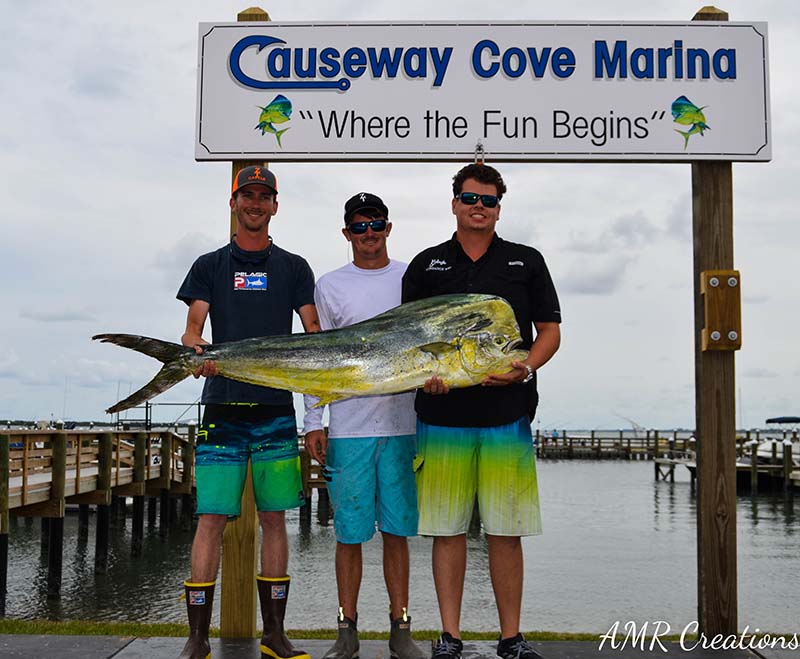 Sundance Kid and Adam Lambeth of Vero Beach took second place with a 44-pound dolphin to earn $3,000. Hot Pursuit with Doug McComas and Robert McComas took third place and $2,000 with a 30-pounder. Fourth place went to Pale House and Wayne Klekamp with a 29.20-pounder worth $1,000.
Tag Team's Erika Wright won the Lady Angler prize of $250 with a 31-pounder, while Jimmy Wright IV won the top junior angler $100 with a 22.40-pound dolphin.