Since 2013, the N.C. Wildlife Resources Commission, along with volunteers and other entities, has been enhancing native aquatic vegetation in Lake Gaston.  a 20,000-acre impoundment in Halifax, Northampton and Warren counties along the Virginia border.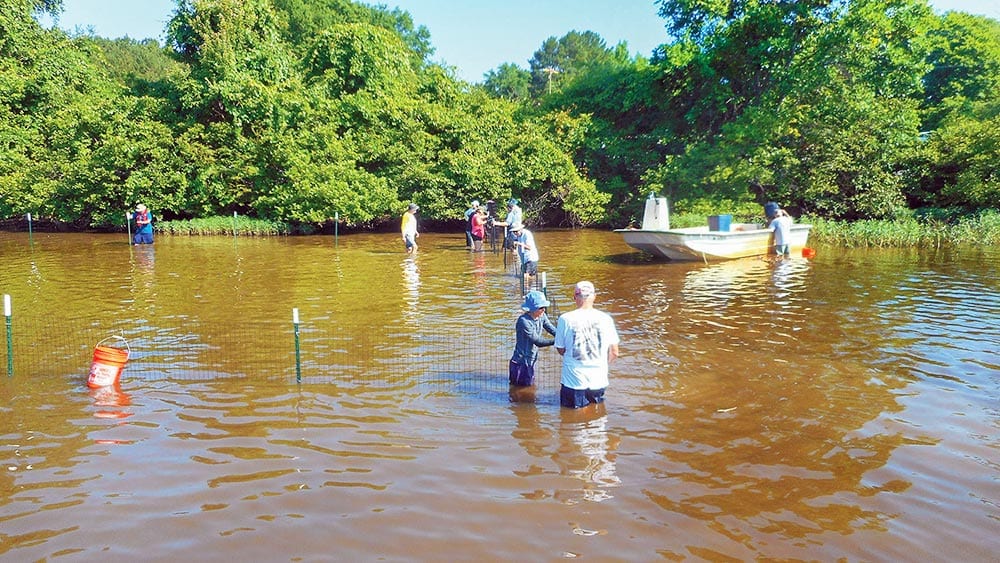 They have constructed fenced-in areas, called exclosures, around the lake and native aquatic vegetation planted both within and outside. Planting and maintaining native vegetation is particularly important due to the presence of hydrilla, a non-native, highly invasive plant. The Lake Gaston Weed Control Council has worked for years to control the spread. They use a combination of herbicides and triploid grass carp. Biologists hope the planted native vegetation will compete with hydrilla. This will improve fish habitat and providing anglers with better fishing opportunities in Lake Gaston.
The fenced exclosures protect against herbivores eating newly planted vegetation, such as turtles and triploid grass carp. Volunteers and staff have planted a variety of native vegetation, such as spatterdock, white water lily, watershield, eelgrass and pondweed. These plantings provide habitat for popular game fishes that prefer underwater vegetation—like largemouth bass and crappie.
In July, a work group repaired and expanded on existing exclosures and constructed 12 new exclosure sites. The group added native aquatic vegetation to both new and existing exclosures, including Beechwood above Interstate 85 bridge, the Flats, Poplar Creek, Stonehouse and Stillhouse.
With these newly built exclosures, Commission staff, partners and volunteers have put in more than 2,250 hours since 2014, building 67 exclosures and planting hundreds of native grasses and plants.
Lake Gaston Volunteers
None of this could have been done without the assistance of volunteers, N.C. State University, Virginia Department of Game and Inland Fisheries, Dominion Energy and the Lake Gaston Association, according to Mark Fowlkes, the Commission's Piedmont aquatic habitat coordinator.
"We had a very encouraging number of new volunteers this year, including Boy Scout Dillon Cook," Fowlkes said. "I would like to thank everyone for their continued support of this important effort. The Lake Gaston Association was once again given permission to use the Brunswick County workboat and without the use of this boat, it would have made things more difficult. I'd also like to thank the Lake Gaston Association for providing great volunteers and lunch to everyone."
The habitat enhancement project is funded by the Lake Gaston Weed Control Council, Dominion Energy, the N.C. State University Department of Crop Science and through the Sport Fish Restoration Program. The Sport Fish Restoration Program utilizes state fishing license money and federal grant funds derived from federal excise taxes on fishing equipment and motorboat fuels.
Fowlkes said the association still needs volunteers for a full lake survey which will be in September and October. Interested persons should contact Wally Sayko  (434-636-5393) with the Lake Gaston Association. You can visit their website here
Photo by Wally Sayko, Lake Gaston Association