By Dustin Stanberry:
The Zonker is a fly pattern that has been around for quite some time. It can be tied with many different materials but generally involves the use of a rabbit Zonker for the wing of the fly. When I first started using Zonker patterns, the fly was quite simple in construction. It had the classic rabbit Zonker strip wing, mylar piping for the body and a red throat.
Now this fly can be found tied in many different variations. The body can be built by using mylar cord or dubbed with many types of dubbing. The assortment of rabbit zonker colors available today, paired with the different types and colors of body materials open up infinite possibilities when tying this fly. With all of these material types and color variations, it can be tied to match the baitfish in your home waters or tied with different color combinations to try to trigger a strike from the fish.
The Original Zonker creator tied the fly with a fairly prominent set of eyes. I believe that the eyes on the fly provide a trigger point to predatory fish.  When I tie the Zonker I like to use the 3D eyes that are available to fly tiers today to create that prominent eye. In addition, I like to use red schlappen plumage for the throat to create a bit of a bleeding gill effect. I generally tie this fly in sizes 4-10. The smaller sizes tend to be quite productive when I see lots of smaller fry moving around. White zonker with pearl mylar and green zonker with gold mylar seem to be the most productive colors for me, but experiment with different color combinations to find out what will work best for you. This is how I tie this classic fly pattern. Best wishes and tight lines!
Hook:  Orvis 4x Streamer hook, #4
Thread: UNI-Thread 6/0, White
Weight: .030 Lead Free Round Wire
Body: Large Mylar Cord, Pearl
Wing: Rabbit Zonker Strip, White
Throat: Red Schlappen Plume Fibers
Eyes: Hareline Holographic Eyes, 3/16" Super Pearl
Head Coating: Clear Cure Goo, Tack Free

Optional info: Super glue the eyes in place and then cover with Clear Cure Goo Tack Free. After curing the CCG, top coat with clear finger nail polish to prevent other materials sticking to the CCG.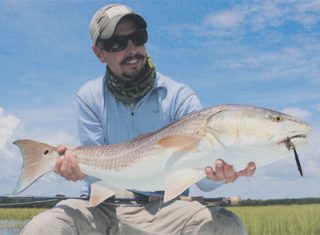 Dustin Stanberry is an instructor at Biltmore Fly Fishing and Sporting Clays school located in Asheville, NC.