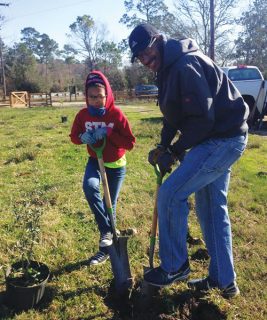 GALVESTON BAY FOUNDATION  
On a cold morning in January, a rare 22-degree day, 13 volunteers came to Turtle Bayou Nature Preserve in Anahuac to help plant trees.
The volunteers worked in pairs to shovel out holes, pat dirt down and hold trees upright to make sure they were properly planted until 100 new trees were in the ground at the Nature Preserve.
Skai Shadow drove two hours to the Nature Preserve to bring his three children to help with the planting.
"I wanted to do my part to help out with the new Nature Preserve," he said. "I brought my kids because it's not every day that they get to plant a tree and it's important for them to experience the outdoors."
Alexandra McCartney, Barbers Hill High School student, came with her three friends to the planting because it was a new experience for her.
"It's really fun, I enjoy it," she said. "I thought it was going to take forever to dig a hole, but it's going by surprisingly fast."
Galveston Bay Foundation has several opportunities to volunteer around the Bay throughout the year.
Our next tree planting will be on February 11 from 8am – 12pm at Exploration Green in the Clear Lake area.
On February 18, we will be collecting and smashing abandoned and derelict crab traps in two locations (Fort Anahuac Park in Anahuac, TX and Stingaree Restaurant in Bolivar, TX) during Texas Parks And Wildlife's Abandoned Crab Trap Removal.
Volunteers make our work protecting and enhancing the Bay possible at Galveston Bay Foundation. Visit www.galvbay.org to sign up to volunteer.