By Captain John Curry
Some days you just have to get your feet wet when chasing the elusive Charlotte Harbor Redfish.  Not every day is perfect for this approach, but when it is, the results can be worth the effort.
We had one such day a few weeks back.  I was pre fishing for an upcoming Redfish Tournament with my good friend from the Cape, Emir Smaykiewicz, his Dad and his regular fishing buddy, his son Braden.  While not a winter long Florida resident due to his landscaping business on Cape Cod, Emir does find the time to fish during Holiday Breaks and such. His 24' Pathfinder is always ready to drop into the Myakka River, right out his back door.  Se we kept the Grey Ghost at home and had a plan to make the run to Turtle Bay.  The wind was a steady 15-20kts out of the North East in the morning with thick fog so we waited till we had some better daylight to head out.  As we were about 10 miles into our run Emir and I looked at each other as the seas were nearing 3-4'' we both said "this may not work"?  Sure we could have found calm waters and fish in and among the many mangrove coves and creeks of Cape Haze, but the ride back would have been nasty for sure.    So the Pathfinder made a u-turn into the chop and we headed to the southern tip of Hog Island.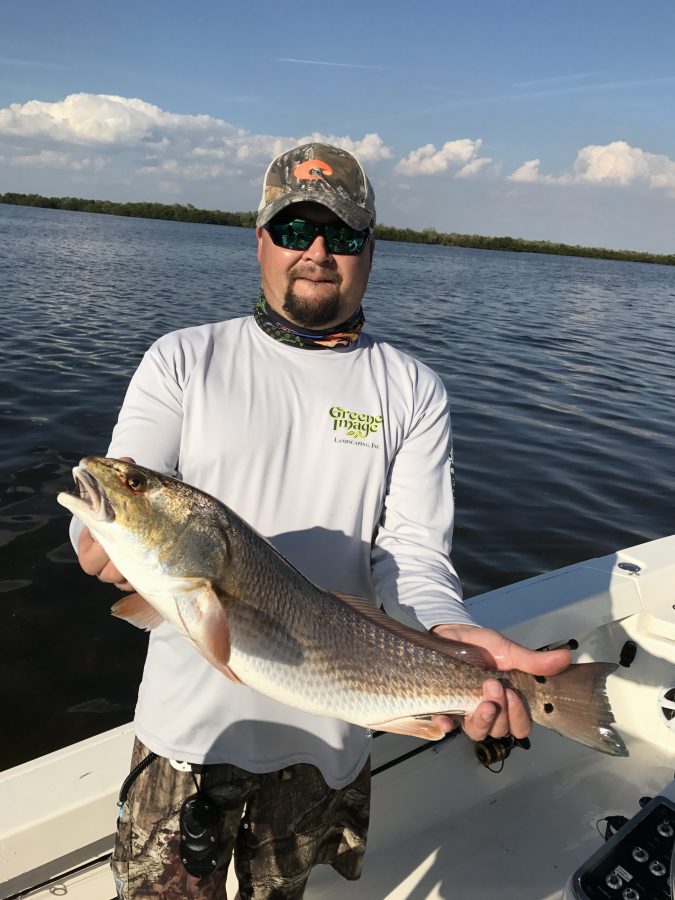 As we eased up to a big sand flat that borders the entire front side of the island the fog lifted and the trees sheltered the wind somewhat.  We started out tossing soft plastics like the Hogy 6" skinny and Emir's favorite, the Z-Man 4" mullet in the Houdini color.  As the sun became more overhead the wind started to subside and the tannin stained clear waters increased in temperature a few degrees.  I was the first to get tight on a decent Snook that took my Hogy after second attempt.  We kept moving with the incoming tide and Emir started (in that loud yet not so startling voice that only fisherman are familiar with) to shout out "there's a red"!  A few more minutes later and it's another, "there's two more"!  The problem
was, we haven't had any rain this winter so the water is very clear.  The fish could see us well before we knew they were cruising by.  Emir did catch a nice slot fish of around 26" with a long cast to a small point on his Z-Man bait.  Shortly after that we trolled up onto a hard sand hump and well you what's next.  Jump in and push.  While his dad stayed on the trolling motor we quickly made our way into deeper water…..of about 1.5'. Yes it's very skinny where these reds like to feed.   At that point we decided, what the heck were already wet let's wade fish the rest of this flat.  Emir, Barden and I fanned out on the flat while his dad, Omar manned the trolling motor and stayed many yards behind as we fished. This proved to be the best strategy of the day and since we were in quit stealth mode we could easily see un-spooked fish and get a cast as they fed along on small baitfish and crustaceans. We picked up a few more nice fish to end the day as the wind came to a halt and the warm winter sun made for a nice somewhat wet ride back to the dock.  Sometimes you just have to get wet and dirty to put fish on the scale. You can bet we will be using this tactic on our upcoming Redfish Tournament and for any of my charter clients who want to get real close to those Charlotte Harbor reds.
Capt. John Curry can be reached at www.capefishing.net or jtcurry77@gmail.com.