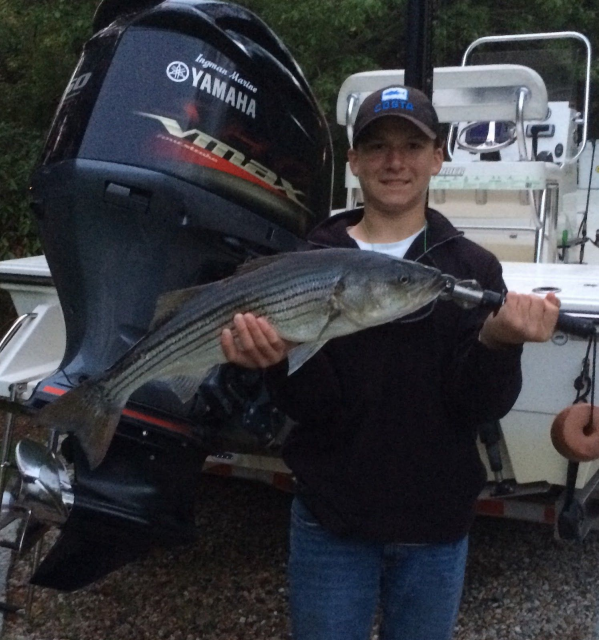 By Braeden Smaykiewicz
The Young Anglers' View
The frosty dew was built up on the white rocket. There were four of us going and we were all excited.
The rods were already on the boat and set up. So we set out of the driveway in the truck. We quickly go to the boat ramp to get a spot for the truck and trailer.
The boat was set free from the arms of the trailer and was tied on the dock while we waited for my dad so we could leave the dock.
We stopped at a spot and picked up a few schoolies and a monster bluefish. We continued though, in a search for some bigger fish.
We went to another spot that we fish hard. My dad spotted a big school of fish while up on the Yeti by a river that flows out into the bay. He was able to see them because they were rubbing on the sand to remove the sea lice. I cast my bait in the direction of the school of fish. It was not long before I felt something solid on the end of my line and I set the hook. The fish took off and was taking line. I fought him for a while before it came to the boat. My dad took the net out and pulled him out of the water. We put it on the measuring tape and it was a keeper. So, we put it in the box and tried to catch another but we couldn't.
We went to our last spot. The four of us were able to pick up some schoolies on light tackle and flies. It was late in the day when we stopped here and we only got to stay for a little while before we had to leave but it was really fun.
If you want a quick and easy hookup with a schoolie or even a bigger fish early in the season, go to Waquoit Bay on a windy day, or even a calm one.
---
Braeden Smaykiewicz is a 13-year-old avid fisherman. He began fishing at 4-years old and has experience catching everything from fresh water species to saltwater, inshore to offshore.