By: Capt. Blane Garrett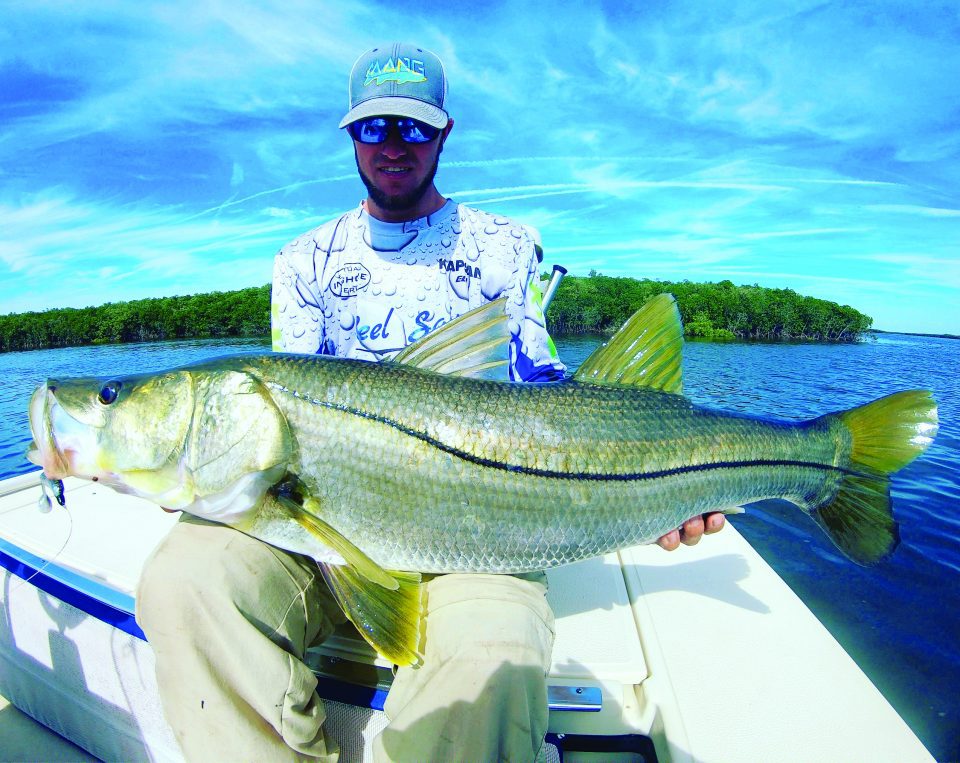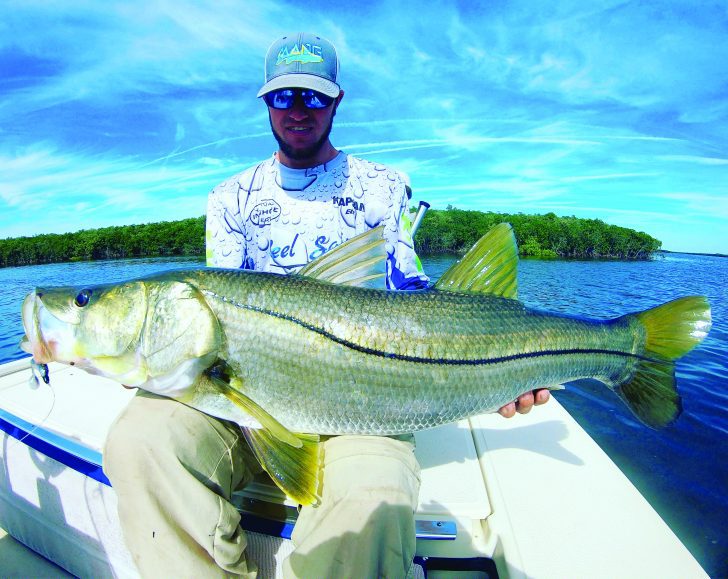 Fish are getting hungry and here is a story about the one that should have got away.  My fiancé and I got on the water at first light. I wanted to focus on covering as much ground as I could with artificial. Scouting around to see where the fish were congregating, I trolled around mangrove islands for hours with not much action. I was about to call it a day when I saw a nice mangrove shoreline on a small island with very good water movement flowing by.  My first cast near the mangroves got an immediate strike that had some power to it. The hook pulled. The very next cast with my Wyze Guyz Tackle paddle tail and it instantly got hammered. My reel began to scream that sweet music we all love, but my line was headed straight for the mangroves!
I began to tighten my drag and keep my rod tip in the water to try and prevent the line from getting caught in the mangrove roots. This fish just kept going and I felt helpless. I knew I had hooked a giant fish that I could not stop with my light tackle. My line became wrapped up deep in the mangroves. I flipped open my bail and trolled over to the island. I wasn't about to give up so easily. Looks like it's time to go for a swim!
I got out of the boat and luckily the water was only about 3ft deep. I began unraveling my line from the mangrove roots. Having to dunk the entire rod and reel under water to get under branches. I noticed while I was doing this the line was still coming off my spool. This fish continued to move down the shoreline. My fiancé helped me on the other side of branches to help pull the rod through. About a half hour in, I thought I was getting nowhere as I was exhausted and wasn't sure this fish was even still on the other end.
I untangled one last branch and noticed my line begin to head outwards from the island. I flipped my bail closed, reeled in the slack, and suddenly this huge head emerged out of the water thrashing. This was a beast of a snook!
I gave it everything I had while I was stuck in the mud. This fish was mine! My fiancé trolled the boat over to me and netted up the fish. I screamed with so much joy. My personal best snook, 46 inches! I may never catch a bigger snook in my life and that is perfectly fine by me.