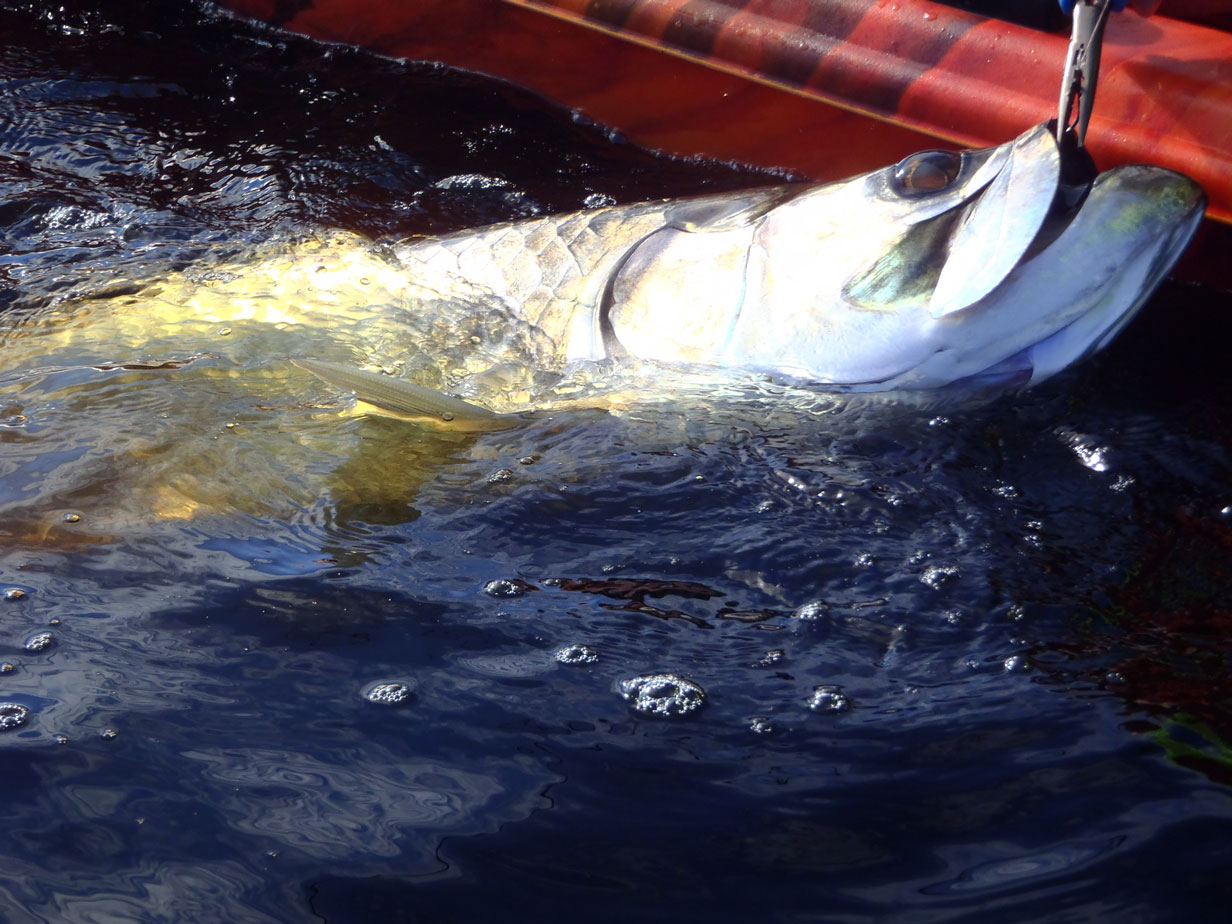 FISHING REPORT OVERVIEW
First the important stuff, Florida's new regulation on the harvesting of largemouth bass takes effect on Friday July 1st. Effective Friday, the daily bag limit changes to the taking of five (5) largemouth bass with ONLY 1 over 16-inches in total length. This is a major deviation from the present practice. The regulation is effective statewide so gone are most of the 42 site specific regulations currently in effect. To see the regulations in detail visit www.MyFWC.com.
On to the fishing! The Big 'O' and area lakes are fishing in summer-mode. The bite is real early and strong and then quickly falls off. Once the skies start filling with afternoon clouds, the overcast helps to renew the bite. Topwater baits and spinner baits are the go-to baits in the early morning. For darker stained waters, Colorado bladed spinners produce more wake and vibration in the water that gets the bass's attention while silver willow blade spinners are working well once the sun's rays penetrate the water. Once the fish retreat into the cover, swim baits and jigs become the lure of choice. When fishing area lakes, pay attention to the direction of the wind. The wind drives the water creating current and that pushes the smaller bait fish to shore. This morning there was a gentle but steady breeze on my lake and it drove the baitfish into the grass and pads lining the shore of my lake. The bass found the bait and had a great feeding period. I landed a nice 4-lbs bass caught on a topwater frog right off the docks along with 4 other 2-3 lb fish in just 1-hour as the sun was rising. So pay attention to the conditions on the lake.
WEATHER OUTLOOK
The weather for the July 4th holiday weekend will be typical south central Florida summer weather; hot, humid and a good chance for afternoon thunderstorms. Through the weekend high pressure in be building with winds generally light to moderate out of the southeast. As day time temperatures rise, convection will increase resulting in mid to late afternoon thunderstorms. For areas closer to the Gulf coast, where the eastern air mass meets the Gulf sea breeze, the storms could be intense so pay attention to building thunderstorms. Unfortunately for many locations, Mother Nature may bring her own brand of pyrotechnics to the local fireworks displays. For the entire weekend, the mornings will start warm and humid with temperatures in the mid to upper 70's. Daytime highs will reach into the lower 90's and the feel-like temperatures will exceed 100°. For each day, the chance of thunderstorms will be low in the mornings and jump to nearly 60% in the early afternoons and then fall off after the sun sets. Sunrise on Friday is at 6:32am and will set at 8:21pm. The moon will rise at 4:00am and set at 5:36pm and will be waning with 10% reflection. On Monday there will be a New Moon. The AM:Major for Friday will occur at 9:16am while the PM:Major will occur at 9:45pm. Remember to add approximately 50 minutes for the next day's major period. According to the Farmer's Almanac, Sunday and Monday morning should be the best times to fish this weekend.
WATER LEVELS: 06/28/2016
Lake Okeechobee: 14.91-ft ASL ↓ 0.01-ft
Lake Istokpoga: 38.25-ft ASL ↑0.05-ft
Istokpoga Canal S68: Head 38.26-ft, Tail 31.81-ft, Flow 867 cfs
Arbuckle Creek @ DeSoto: 4.1-ft ↓ 1.0-ft, Flow 650 cfs, Receding
Fisheating Creek @ US 27: 5.51-ft ↓ 0.17-ft, Flow 675 cfs, Receding
Fisheating Creek @ Lakeport: 15.36 ASL ↓ 0.55-ft Flow 959 cfs, Receding
Peace River @ Zolfo Springs: 8.15-ft ↓ 0.81-ft, Flow 658 cfs, Receding
Kissimmee River @ S-65E: Head 21.12-ft, Tail 14.68-ft, Flow 3,860 cfs
Caloosahatchee River
Moore Haven Locks S-77: Head 14.48-ft, Tail 10.71-ft, Flow 4087 cfs, 7-Day Avg 4,159 cfs
Ortona Locks S-78: Head 10.50-ft, Tail 3.19-ft, Flow 4241 cfs, 7-Day Avg 4,300 cfs
W.P Franklin Lock S-79: Head 3.07-ft, Tail 1.95-ft, Flow 7370 cfs, 7-Day Avg 7,135 cfs
Lake Okeechobee Locks
Port Mayaca Lock S-308: Head 14.84-ft, Tail 14.03-ft, Flow 1644 cfs, 7-Day Avg 1,636 cfs
St Lucie Lock S-80: Head 14.06-ft, Tail 0.19-ft, Flow 1855 cfs, 7-Day Avg 1,857 cfs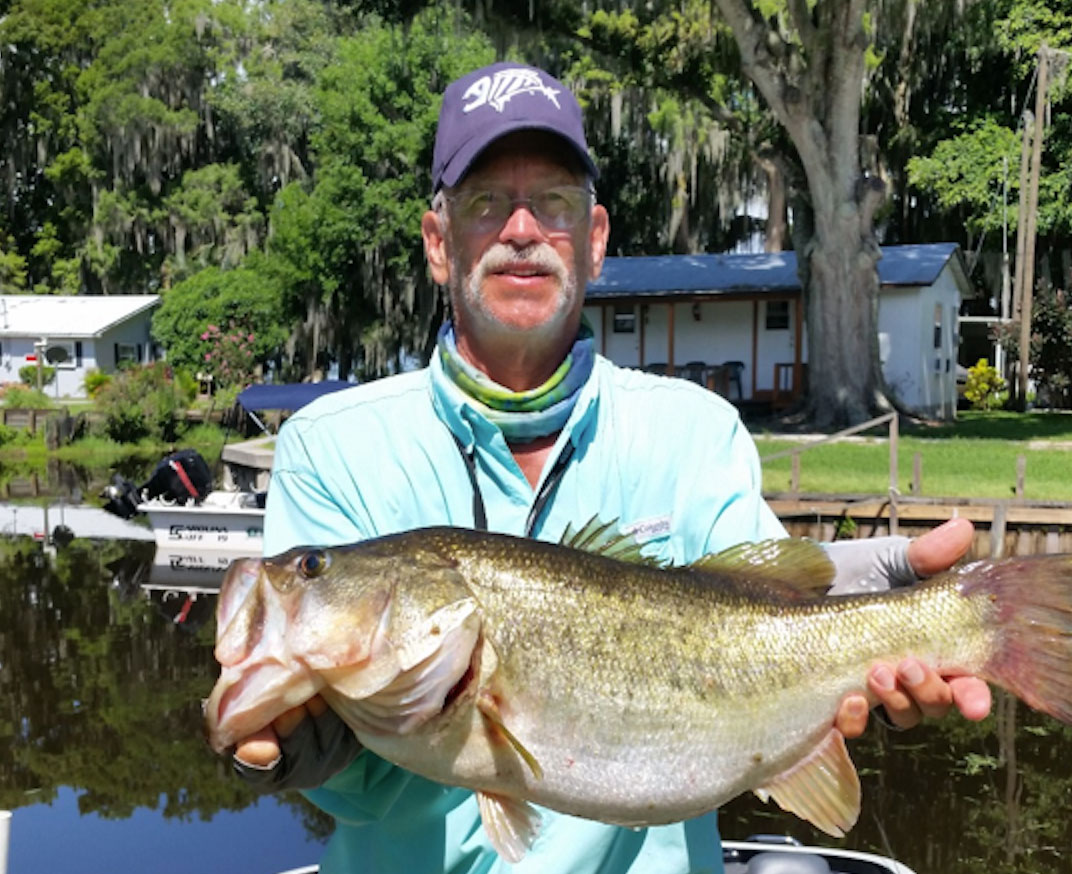 Lake Okeechobee South End
Slim's Fish Camp, Belle Glade; 561-996-3844: The fishing has been excellent for summertime conditions. Plenty of panfish such as bluegills, stumpknockers (spotted sunfish) and even a few specks are being caught. For bluegills and stumpknockers, crickets and red wriggler worms are the best bait while beetle-spins and small inline spinners also produce well. If you're using inline spinners or any lure with a treble hook, you may want to swap out your treble hook for a single hook. For fish with small mouths, it's often a pain in the butt to get the treble hooks out without tearing apart their whole mouth. If you're on a bed of stumpknockers you'll be out fished 3 to 1 by someone using a single hook set since you'll spend way too much time trying to get that treble hook out. Bass fishermen are also reporting great fishing. Anglers are catching good numbers of smaller fish and bass up to 6-lbs on both artificial and live baits. The early morning bite remains the best opportunity and then there is a good late afternoon bite as the sun starts to set. Productive artificials include Zoom Flukes, swim baits like the Gamble Big Ez, and ribbon worms. There is plenty of clear water when you look for it. Use the wind as a guide to locate clear water and current.
Roland Martin Marine Center, Clewiston; 863-983-2128: Fishing around Clewiston will be great summertime fishing this holiday weekend. The early morning bass bite is on topwater and spinner baits and can last until an hour or two after sunrise, longer if the skies are overcast. After that the bite turns to swimbaits and then onto pitch'n and flip'n. During the heat of the day dragging a frog across the lily pads can bring an explosive strike but you'll need stout gear to get the bass out of the vegetation. The key is to have no mercy, yank their butt right out of the pads. Panfish such as bluegills remain very active.
The Bait Shop at Harney Pond, Lakeport; 863-946-0170: The Bait Shop at Harney Pond reports a return of the bigger bass. In areas with clearer water (overall the water quality is poor) and stands of pepper grass and eel grass, anglers are boating some nice 8-9.5 lb bass. In these areas, they are also catching nice numbers of smaller fish in the 2-4lbs class. Fisheating Creek's flow is coming down but the water it is depositing into the lake is still ugly. We'll have east to southeast winds this weekend which will pile floating vegetation and dirty water onto the North Shore. As for bluegills, they are still pounding away at Bird Island and nearby weed islands. Crickets remain the best live bait for these panfish though don't overlook beetle-spins on ultra-lite tackle. Also keep in mind that the Highlands Bass Anglers Tournament Trail is holding a fundraiser for Wounded Warriors on July 16th. This is an artificial and live bait tournament open to all boats with a working live well. If you want to fish live bait, contact the Bait Shop a few days before the tournament so they can reserve some for you. You can find more details about the tournament on Facebook at FB/HighlandsBassAnglers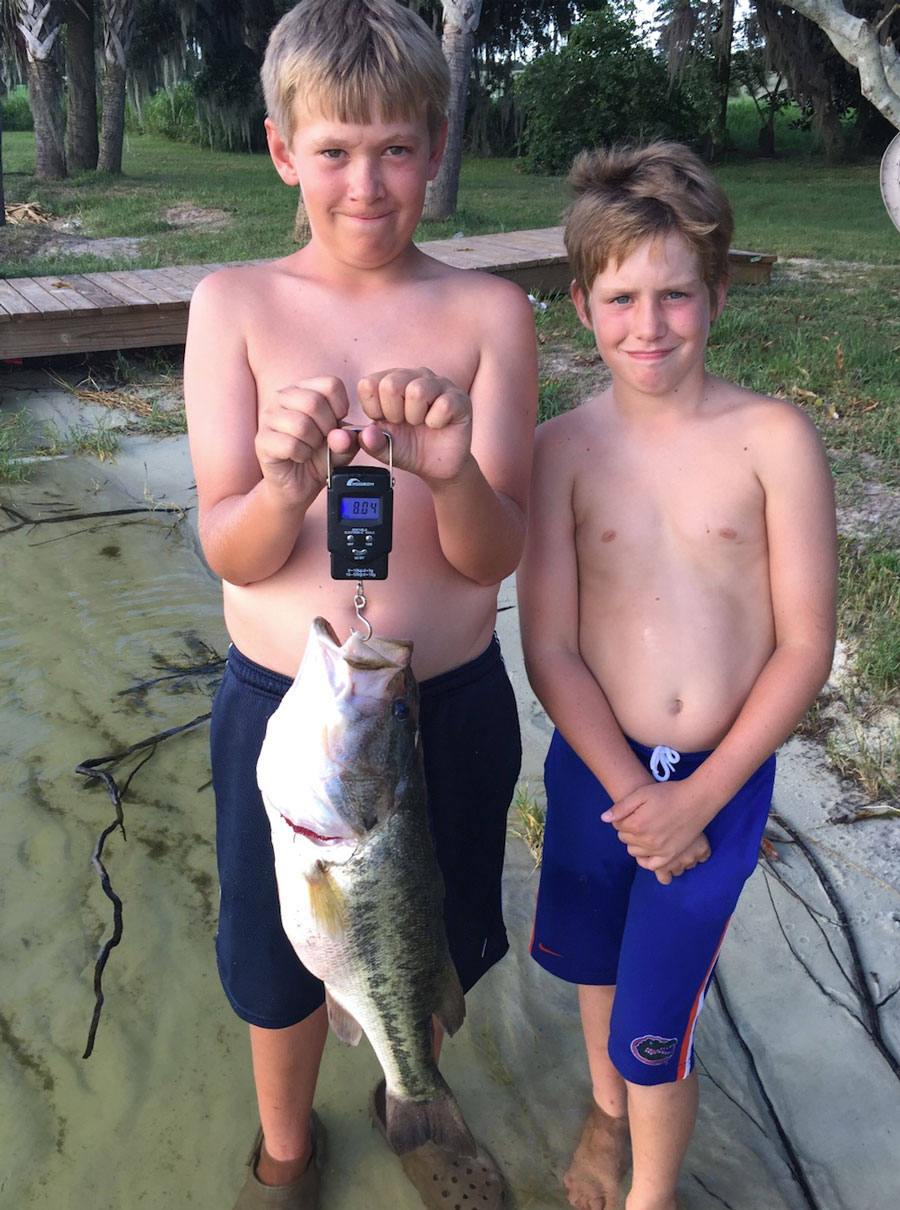 Lake Okeechobee North End
Garrard's Bait & Tackle, Okeechobee; 863-763-3416: Lief reports the fishing has been real good. Plenty of bass are being caught in the mornings on spinner baits, skinny dippers and similar swim baits. As the sun comes up and starts heating up the lake, the bass are retreating into the vegetation where flipping takes over. Most anglers are using darker color flipping baits and jigs. In industry news, word is circulating that Joe Medlock is no longer mass producing his famous double weed guard Medlock Jig. Lief is already stocking an alternative replacement by Jethro Baits, the Head Knocker Flipping Jig. These jigs have a double weed guard similar to the Medlock Jig and they utilize a 6/0 Heavy Gamakatusu hook for the business end of the jig. At the moment Garrard's stocks a variety of ¾ oz and 1 oz weights. As for the better places to locate bass, Kings Bar, Little Grassy and Tin House Cove have been especially active in the past weeks. Bluegills still remain active through-out the lake with the area around Buckhead Ridge and the Kissimmee River being very active with bedding fish. Crickets remain the primary bait though the use of beetlespins in picking up momentum. Shellcrackers still remain elusive this year and with rising lake levels, these panfish will remain difficult to locate in numbers.
No Bad Daze Bait & Tackle, Okeechobee; 863-484-8126: Fishing on the northeast side of the lake has been steady. The bass that are being caught are generally smaller in size with plenty of 1-2 lbs fish being taken with a nice mix of 2-4 lbs fish. Fish bigger than 8-lbs have been scattered. The early morning bite remains the best time of day to catch some bass. The late afternoon bite can be good if you can get out there due to thunderstorms over the lake. Panfish remain active both outside in the lake's grass beds and inside the Rim Canal. Crickets and red wiggles work well for most panfish. Beetle-spins and small inline spinners will produce both panfish and the occasional bass. With the winds shifting to the east and southeast this weekend, water conditions and fishing should improve.
J&S Fish Camp, Okeechobee; 772-597-4455: Terri reports bluegill and bream remain very active. The bluegill continue to be of large size and crickets remain the best live bait for these slabs but don't overlook beetle-spins and small inline spinners as well. The water has been clean with the moderate E to SE breezes so that attracts the bass. Expect to find bass along the grass edges and trails in the morning and then deeper into the vegetation as the day heats up. For those wanting to try some kayaking, Terri has a few kayaks for rent so you can take them out into the Rim Canal for a nice paddle or out into the lake for those more experienced kayakers. Call before you go to reserve your boat or kayak for they go fast on the weekends.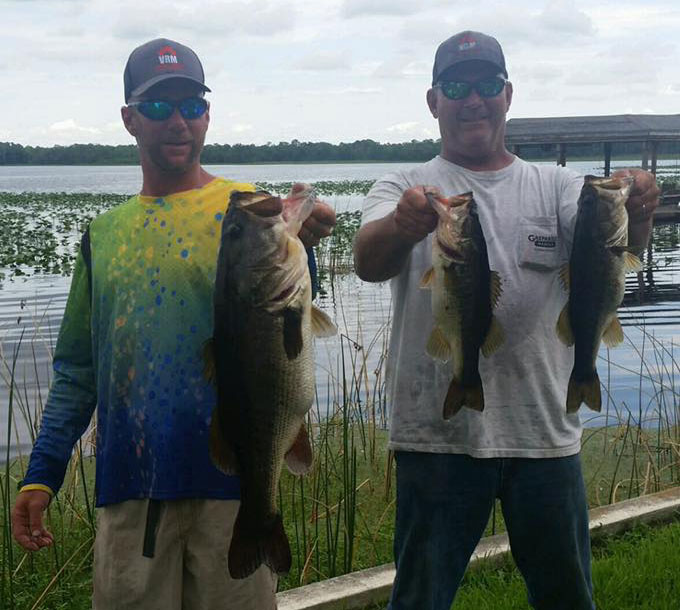 Highlands County
Admiral's Cove. Laker Placid; 863-465-0982: Ed reports hot conditions on the shallow water lakes. The morning bite is still good but look for bait being driven by even the slightest breeze. Where you find bait fish, you'll find the bass. Topwater baits such as frogs and buzz baits are producing before the sun comes up and spinners are producing as the sun hits the water. During the mid-morning, depending on the wind and cloud cover, switch over to soft plastic baits in either a swim jig or worm style bait.
Performance Marine, Lake Placid, 863-465-2814: The deeper lakes have been a little fickle as of late. Typically in the summer you'd expect to find bass holding near the brush piles and deeper ledges. Recently you'll spot the bass near these structures but they are not feeding. Generally when you find bass holding you can pick them off with deep crank baits or soft plastics on a Carolina or drop shot rig but for some reason they have not been as aggressive as they normally tend to be. Anglers in some of the recent tournaments on these lakes have produced more fish in the shallows along the edges of deep submersed vegetation in the early morning. Swim baits, spinner baits and shallow crankbaits have been working well. The summer time pattern is here though the deep water lakes help keep the fish cool and feeding. For the holiday weekend, get out early to avoid the rush of pleasure boaters and jet skiers.
Lorida Bait & Tackle, Lorida; 863-655-2323: The water temperatures on Lake Istokpoga are bordering hot which is making the fishing slow. The summer pattern is definitely here early this year. The early morning bite can be the only activity you'll see all day though jig masters can find fish later in the day within the thick pads. How hot is the water? In the afternoon it can easily reach into the mid-nineties so you need to cool down both your bait well and you live well. Tournaments this past weekend produced five dead fish during the weigh-ins so please moderate the temperatures in your tanks. On the panfish and catfish side of things, the spillway is releasing just under 1,000 cfs so there is plenty of action at these locations.
Tall Tales Bait & Tackle, Avon Park: Tall Tales has now moved into the storefront of Under Pressure Sports and G2 Outdoors in northern Sebring. Stop by to see the expanded operation at 5621 US Hwy 27 South. They are on the service road just west of the highway. As for fishing, tarpon fishing on a kayak in Charlotte Harbor was the big news of the week. Rob, Steve, and myself headed to Ponce De Leon Park where we met up with our guide, Dave Stephens, and he and his partner ferried our kayaks to the west wall of the harbor. Fishing with live threadfin herring, Rob boated two tarpon, the first a 60-70 lber while the second tarpon may have been 100-lbs plus. Each battle lasted well over 45 minutes with the tarpon taking Rob and his kayak for a sleigh ride. There were plenty of tarpon around and lots of bait but they were pretty fickle on Monday so the rest of us just caught some sailfin catfish.
Caloosahatchee River
Mickey's Bait & Tackle, Moore Haven; 863-946-3100: Fishing on the river has remained steady. Recent rains continue to feed the creeks and streams that enter the river so fish remain attracted to the fresh flowing water. Catfish can be found everywhere and bluegills remain very active. Bass are along the banks in the mornings feeding on forage fish within the vegetation and then move into shaded areas or deeper ledges during the day. The Corps' discharge rate continues to be high so fish continue to congregate at the spillways and current eddies. Expect to see an increase in boat traffic this holiday weekend.
IN-CLOSING
This a long holiday weekend and there will be an exceptional number of boaters on the area lakes and waterways. Be sure to pack some additional patience along with your bottled water and sun screen. Fishing on Lake Okeechobee remains very good through-out the lake though those 8 to 10-lb fish are getting harder to locate or pull from the thickest cover. Elsewhere, in Highland County expect to see Lake Placid and Lake June very busy this weekend with pleasure boaters and jet skiers. It may be a good weekend to try one of the many smaller lakes that see far less boat traffic. I'd go online to find a lake with plenty of bottom contours and vegetation along the shoreline. This should provide you with a good morning bite and plenty of places to fish as the temperatures rise. Remember the new largemouth bass regulations take effect on Friday. The new limit will be 5 bass with only 1 over 16-inches.