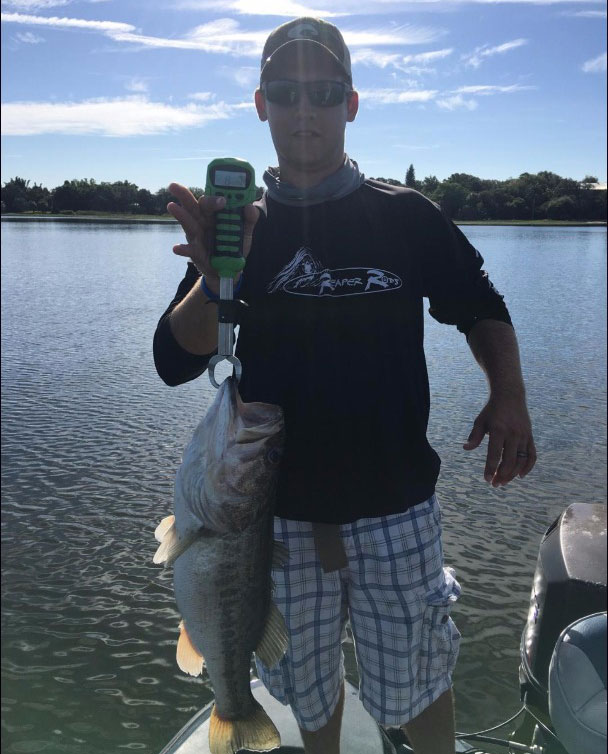 OVERVIEW
Water temperatures and oxygen content remain the driving forces during this period of excessive heat. For shallow water lakes search out lake currents and the deeper holes while in the deeper lakes search out the thermoclines, drop-offs and ledges. Unless we get some overcast skies, the shallow water emergent vegetation area heats up real fast so this should be an early morning bite area and then take off for deeper waters. In the heat slower presentations outperform faster swim baits. If you haven't yet, breakout those 10 and 12-inch ribbon worms and swim them slowly on the bottom for the bigger bass.
WEATHER OUTLOOK
This weekend's weather will be a continuation of our present pattern. Prevailing winds will be light and generally out of the east to southeast. Morning temperatures will begin in the mid 70's and climb up into the upper 80's and into the low 90's in some areas. Friday and Sunday will be the best chances for afternoon thunderstorms. Those living in the Highlands and closer to the Gulf coast should watch out for the afternoon gulf sea breeze for if it develops and pushes inland, strong thunderstorms will form along the boundaries of the eastern and western sea breezes. These types of storms are known to produce strong winds, driving rains and excessive lightning so be careful. It looks like Friday afternoon may be the best chance for these type of storms. Once again the barometer will be on rollercoaster ride with 12-hr peaks though the overall trend will be a rising barometer. Through-out the weekend, humidity levels will be quite high so be sure to keep you and your family well hydrated. On Friday sunrise will be at 6:45am and set at 8:13pm. The moon will rise at 2:45am and set at 4:27pm. The moon will be on the waning crescent and will be 20% luminescent. The New Moon will be on Tuesday August 2nd. On Friday the am:Major will occur at 1:58am while the pm:Major will occur at 8:41pm. This weekend add 50 minutes to advance each major activity period for the following day. Overall we should not see any major changes in our weather patterns this weekend so continue with the summer fishing pattern of getting out early and keeping an eye on the skies to watch for developing afternoon storms and get off the lake when they head your way.
WATER LEVELS: 07/27/2016
Lake Okeechobee: 14.72ft ASL ↑ 0.06-ft
Lake Istokpoga: 38.28-ft ASL ↓ 0.05-ft
Istokpoga Canal S68: Head 38.24-ft, Tail 32.05-ft, Flow 1691 cfs
Arbuckle Creek @ DeSoto: 5.12-ft ↑ 0.10-ft, Flow 1100 cfs,
Fisheating Creek @ US 27: 5.22-ft ↑ 0.17-ft, Flow 515 cfs, cresting
Fisheating Creek @ Lakeport: 15.02 ASL ↑ 0.07-ft Flow 610 cfs, crest 15.12
Peace River @ Zolfo Springs: 10.75-ft ↑ 1.97-ft, Flow 1180 cfs crest 11.90
Kissimmee River @ S-65E: Head 21.08-ft, Tail 14.49-ft, Flow 1,352 cfs
Caloosahatchee River
Moore Haven Locks S-77: Head 14.83-ft, Tail 10.88-ft, Flow -2 cfs, 7-Day Avg 294 cfs
Ortona Locks S-78: Head 10.94-ft, Tail 2.94-ft, Flow 862 cfs, 7-Day Avg 875 cfs
W.P Franklin Lock S-79: Head 3.10-ft, Tail 1.72-ft, Flow 3076 cfs, 7-Day Avg 3,283 cfs
Lake Okeechobee Locks
St Lucie Lock S-80: Head 14.40-ft, Tail -0.23-ft, Flow 557 cfs, 7-Day Avg 659 cfs
Port Mayaca Lock S-308: Head 14.63-ft, Tail 14.33-ft, Flow 422 cfs, 7-Day Avg 647 cfs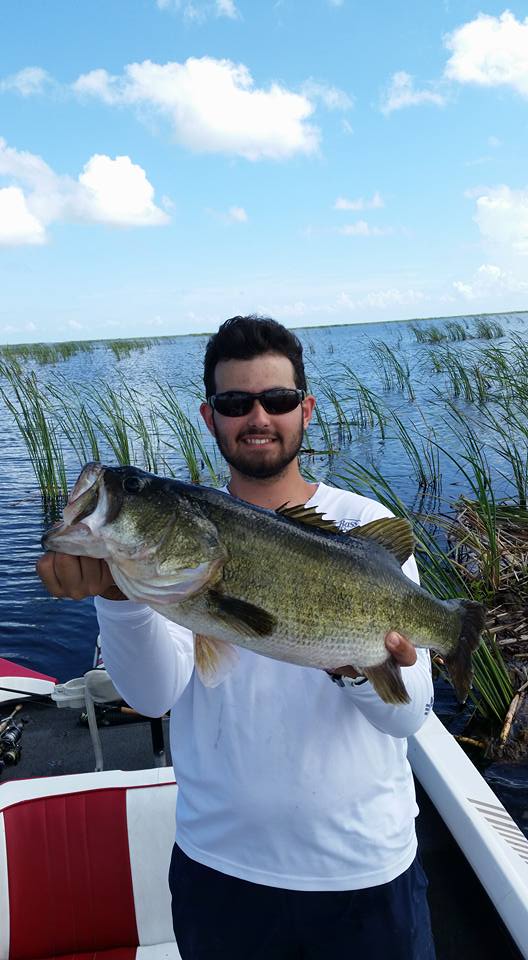 Lake Okeechobee South End
Slim's Fish Camp, Belle Glade; 561-996-3844: The bass fishing on the south end of the lake remains steady. Water temperatures are high so the bite slows down a few hours after sunrise. Once the heat of the day kicks in, fish will be seeking shade, shelter, and moving water to stay cool. Topwater and spinner baits still continue to produce fish in the mornings and shiners will produce fish throughout the day. Panfish are still abundant with bluegills being the predominant species. Crickets are their favorite choice for bait. There is plenty of clean water to be found.
The Bait Shop at Harney Pond, Lakeport; 863-946-0170: Ed from The Bait Shop at Harney Pond says the fishing has been more than fair. The morning and late afternoon bites have been really good on topwater baits. During the heat of the day, those pitching the reeds are finding the goings slow. With the water temperature over 91-degrees, it doesn't take much additional heat to get the bass to seek shelter. Panfish has been good with some night anglers limiting out on Specks in the canals and along the edges of the lake. In addition to Specks, Bluegills and Stumpknockers are also staying active in the canals and around the spoil islands.
Lake Okeechobee North End
Garrard's Bait & Tackle, Okeechobee; 863-763-3416: Lief reports the bass fishing remains good. The summer pattern still remains in affect with bass taking topwater, spinner and swim baits in the morning and then switching off to flipping in the late morning and through the afternoon. Most of the fish are in the 2-4lb class though some bigger bass will be found. Wild shiners always remain the best option for the larger fish. Kings Bar, 3rd Point and Tin House Cove remain good starting points. Bluegills remain the most active panfish and crickets are their primary bait though small inline spinners and beetlespins will also fill your cooler. Water conditions remain very warm and with the Kissimmee River reducing its flow, water clarity is improving.
No Bad Daze Bait & Tackle, Okeechobee; 863-484-8126: Most anglers that get out early report a good bite on topwater and sporadic action on spinner baits though this is probably more of a function of the proximity to submerged vegetation. Most anglers are changing over to flipping baits as soon as the morning bite shuts down. Black & Purple and dark green jigs and trailers have been producing well. Outside the dike in the Rim Canal and the Taylor and Henry Creek areas anglers are catching bass on fluke style baits in watermelon, reddish hues and white colors. Oscars and other panfish are also active.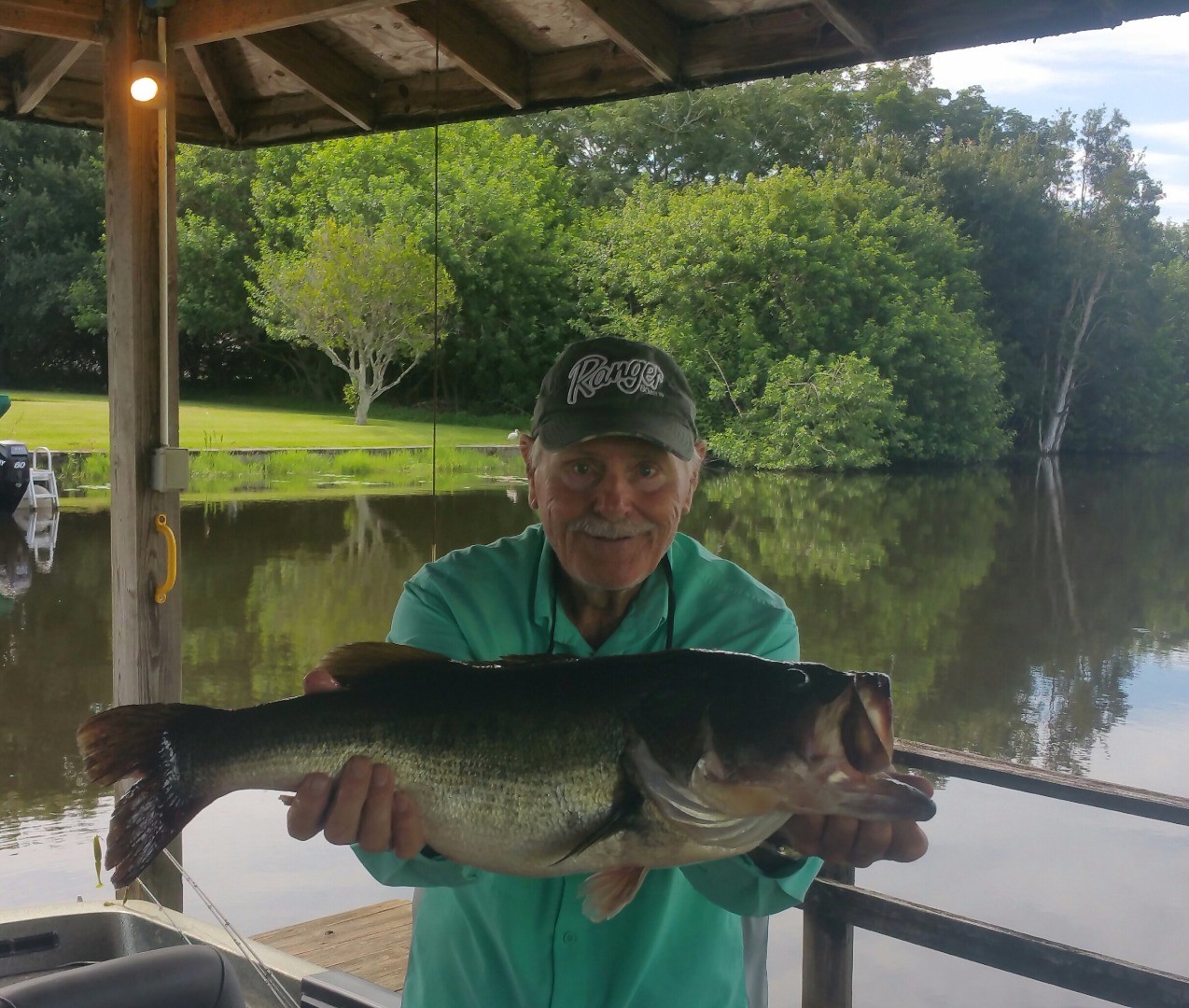 Highlands County
Admiral's Cove, Lake Placid; 863-465-0982: The shallow lakes are pretty hot and quite full. Recent rains have pushed water levels up. Many lakes are losing some of the more sensitive species of plants. This results in a loss of habit for many of the smaller forage fish and young fry which are a diet staple for bass. So both are on the move looking for new homes. The early morning bite remain the best period to being fishing these lakes.
Performance Marine, Lake Placid, 863-465-2814: The deeper lakes like Lake Placid and Lake June still offer better fishing than the shallow water lakes. Shell beds, ledges, brush piles are all good starting points when looking for bass. Also use your electronics to locate the school of bait fish and fish the edges of these bait balls.
Lorida Bait & Tackle, Lorida; 863-655-2323: Lake Istokpoga remains very warm and the bass bite is very scattered. If you catch the bite you'll do very well otherwise it's somewhat slow. The lake level surged a bit this past week so water levels are higher in the vegetation along the west wall. The spillways are open and there is a good flow (1691 cfs) so there is a lot of activity in this area. Some big catfish have been attracted to this moving water.
GS Outdoors, Tall Tales Bait & Tackle, Sebring: The lakes in the Avon Park area have been hit and miss. Biggest issue has been the recent high water levels. There has been a loss of shoreline vegetation which typically harbors bait and without bait, bass move on in search of food. So areas previously productive have faded away. In the deeper lakes bass still are holding to structure. For deep water presentations, Carolina rigs, Texas rigs and deep crank baits are your best option.
Caloosahatchee River
Mickey's Bait & Tackle, Moore Haven, 863-946-3100: River flows are down so some bigger bass are being caught near the spillways. Generally when the spillways are active the bass move out and the snook come in. So now that the Corps has reduced the flow the bass have moved back in. Specks and bluellgills are also showing up near Moore Have, Fisheating Creek and Indian Prairie Canal.
IN-CLOSING
Just as a last reminder, the Ashley Carter Charity Fishing Tournament is this Saturday. Ashley was one of the clerks at Okeechobee Fishing Headquarters and she was killed in an auto accident four days after she graduated high school. The tournament and the gathering afterwards is to celebrate her life. There will be plenty of food, music by Tom Jackson, and plenty of gifts to raffle off. There are even two baseball caps signed by your favorite fishing pros in attendance at the recent ICAST Expo in Orlando FL. You'll find signatures such as Roland Martin, Jimmy Houston, Bill Dance, Kevin Van Dam and many, many more. So even if you're not fishing, come out and join the fun. Due to the summer heat, high water temperatures, and a large amount of raffle prizes to give away, this will be a 3-fish limit tournament and weighs-in will be at 1:pm.