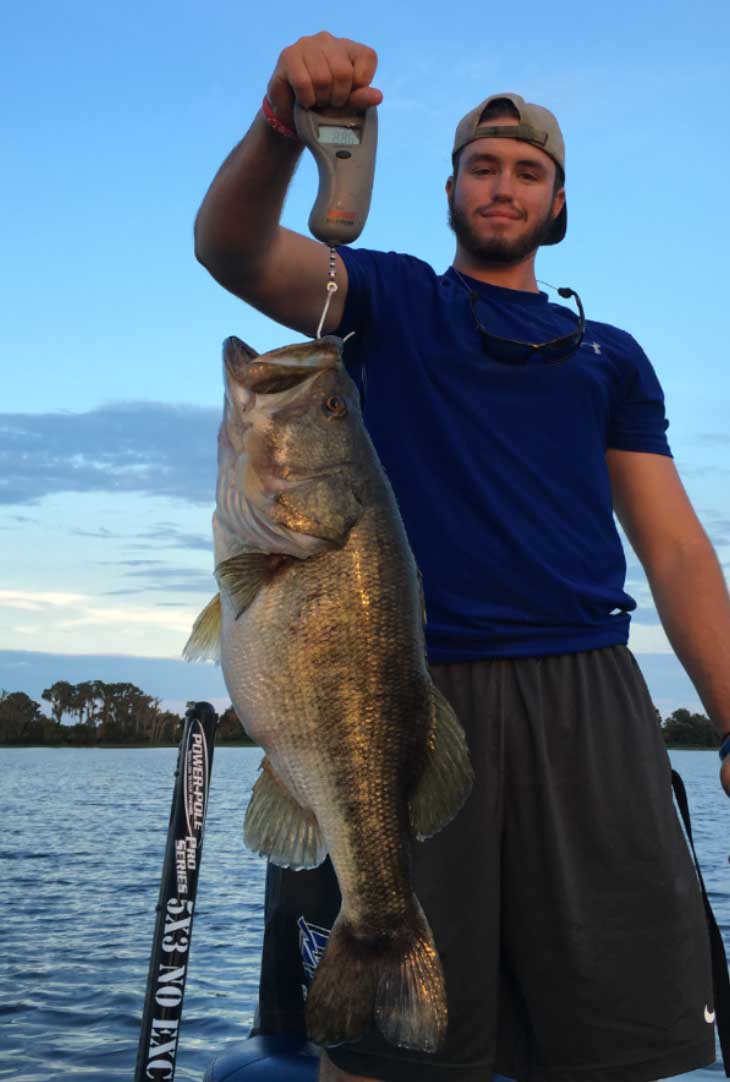 FISHING REPORT OVERVIEW
Like humans, fish seek out shelter from the intense rays of the sun so for this weekend get out before the sun rises to beat the heat and have the best chance of catching some bass. In the morning concentrate around vegetation that is holding small baitfish and provides easy access to deeper water or heavy cover. Since light conditions are low during the early morning, use baits that make noise or create a wake or displace water. Buzz baits, topwater frogs, and chatter-baits create enough of a disturbance to grab the attention of a sleepy bass.
As the sun comes up and light penetrates the water column you can switch to spinner baits, jerk baits and swim baits. Once the heat is on for the day, the bass will seek out thick cover to shade themselves from the intense sunlight so change up to jigs, plastic worms and other presentations that can punch through thick cover. Unless you're fishing a tournament or here on vacation, there is no reason to be on the water after 1 or 2pm, it's just too hot and the UV rays are not good for your skin and your health. When you're out there remember to drink plenty of fluids, wear sunscreen and cover up as much of your skin as you can. Lastly, don't forget about your bait and fish in the live wells. As the lake's surface water heats up, you'll need to cool down your wells to give your bait and bass a fighting chance to survive the heat.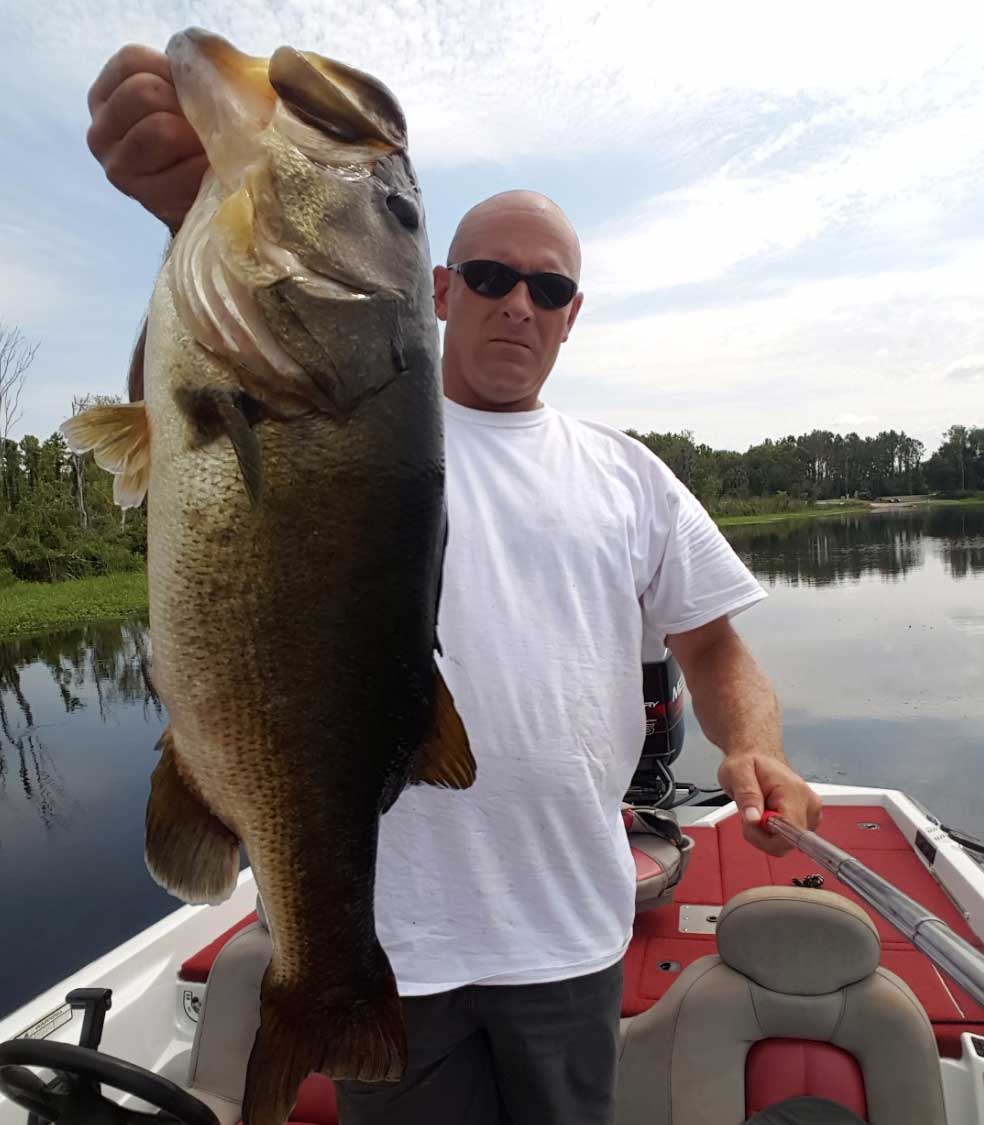 WEATHER OUTLOOK
The high pressure ridges off of both coasts that have been bringing us these hot temperatures and low probabilities of rain will be moving eastward through the weekend. Until then we remain under a dome of high pressure with light winds and hot temperatures. For the folks in the Highlands daily temperatures will remain in the mid to upper 90's with night time temperatures dropping in to the mid to upper 70's. Winds will be light and variable with winds shifting from the west to the NW and then back around to the SW. Closer to Lake Okeechobee the day time highs should reach the low 90's with nighttime temperatures dropping into the low 70's. Winds will shift from the west to the SE and remain less than 10mph. Chance of rain through-out the weekend remain low with the exception of scattered thunderstorms during the late afternoon. Sunrise on Friday will be at 6:34am and set at 8:20pm. The moon will rise at 10:40am and set at 11:30pm. The new moon was this past Tuesday so Friday's moon will be 20% reflective and gaining. The AM:Major for Friday will occur at 6:28am while the PM:Major occurs at 6:50pm so the morning and sunset bite should be pretty good this weekend.
WATER LEVELS: 07/6/2016
Lake Okeechobee: 14.94-ft ASL ↑ 0.04-ft
Lake Istokpoga: 38.21-ft ASL ↓0.07-ft
Istokpoga Canal S68: Head 38.20-ft, Tail 32.05-ft, Flow 951 cfs
Arbuckle Creek @ DeSoto: 3.9-ft ↓ 0.02-ft, Flow 560 cfs, Receding from 4.2
Fisheating Creek @ US 27: 5.58-ft ↑ 0.07-ft, Flow 729 cfs, Rising
Fisheating Creek @ Lakeport: 15.36 ASL ↓ 0.55-ft Flow 848 cfs, Receding
Peace River @ Zolfo Springs: 9.14-ft ↑ 0.99-ft, Flow 861 cfs, Receding from 10.2
Kissimmee River @ S-65E: Head 21.12-ft, Tail 14.68-ft, Flow 2,313 cfs
Caloosahatchee River
Moore Haven Locks S-77: Head 14.85-ft, Tail 10.56-ft, Flow 2436 cfs, 7-Day Avg 2,925 cfs
Ortona Locks S-78: Head 10.51-ft, Tail 3.11-ft, Flow 2869 cfs, 7-Day Avg 3,214 cfs
W.P Franklin Lock S-79: Head 3.04-ft, Tail 1.05-ft, Flow 5871 cfs, 7-Day Avg 6,095 cfs
Lake Okeechobee Locks
Port Mayaca Lock S-308: Head 14.85-ft, Tail 14.05-ft, Flow 881 cfs, 7-Day Avg 1,402 cfs
St Lucie Lock S-80: Head 14.11-ft, Tail 1.18-ft, Flow 1104 cfs, 7-Day Avg 1,733 cfs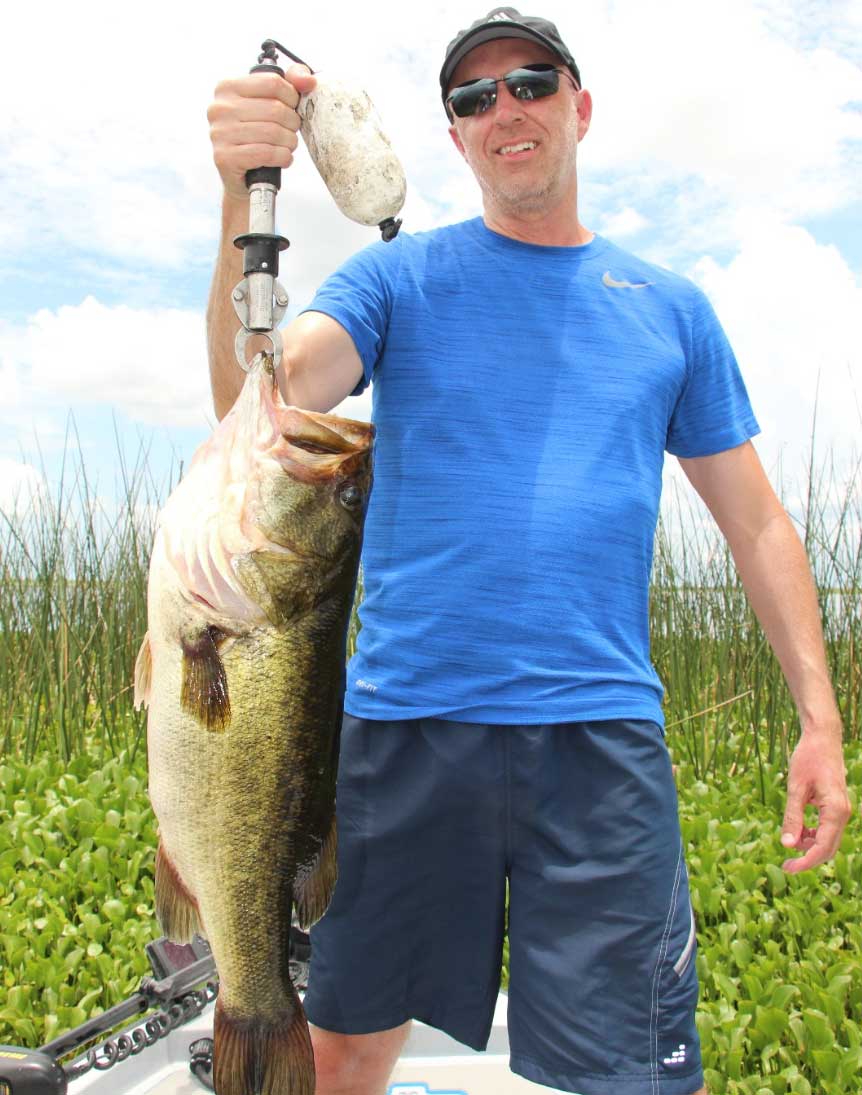 Lake Okeechobee South End
Slim's Fish Camp, Belle Glade; 561-996-3844: Fishing has been excellent down on the south side of the lake. Despite reports to the contrary, water conditions remain good. The massive algae blooms reported on the East Coast just aren't around here. Sure if you venture into the back waters you'll find some spots with green algae but its summertime and this is a natural occurrence. If the algae bloom is new then it could be sheltering some fish so try a buzz bait or frog across the top of the bloom. If the bloom is old and thicker, it could be deleting the oxygen levels below it so move on to better fishing grounds. Remember when algae grows it a producer of oxygen but when it dies it becomes a consumer of oxygen. Since fish require oxygen to breathe, they move quickly from areas depleted of oxygen. Anglers have been catching good numbers of bass on both artificials and shiners. The pre-dawn bite remains the best and then gets spotty as the fish hunker down for the heat of the day. The morning bite remains a topwater fishery with buzz baits and topwater frogs being steady producers. During this time of year anglers are reporting good numbers of fish being boated though the big females remain very scattered. Panfishing remains steady with Bluegills being the primary fish being targeted though spotted sunfish (stumpknockers) and scattered specks can also be found.
Roland Martin Marine Center, Clewiston; 863-983-2128: Anglers out early in the morning are boating some nice fish. After 10:am the bite turns to pitching and flipping and you'll have to work for the bigger fish. Concentrate in areas that lead into and out of deeper water or thicker patches of vegetation. Finding good beds of hydrilla will also produce some quality fish.
The Bait Shop at Harney Pond, Lakeport; 863-946-0170: Jonthan reports fishing remains steady during the heat wave. The bass seem to be on the move and you'll have to search for them each day. One day they are by the small islands off of Bird Island and the next they'll be along the Northshore or offshore. Getting out early is the key to a successful trip. Panfish has tapered off a bit but Bluegills are still being taken in good numbers. As a reminder, the Wounded Warriors Benefit Tournament presented by the Highlands Bass Anglers Tournament Trail being held on July 16th out of Harney Pond is a live bait optional tournament. For those wishing to fish live bait and wanting to buy bait at the shop, be sure to call ahead to reserve your bait. Otherwise you may find yourself without live bait.
Lake Okeechobee North End
Garrard's Bait & Tackle, Okeechobee; 863-763-3416: Lief reports the fishing has been real good as of late. He also reports water conditions are improving though there are patches of green alage in places. The bass bite remains an early morning bite so get out early to beat the heat. The usual places remain active including Kings Bar, Little Grassy Island, Tin House Cove and the Northshore areas. After the morning bite is over anglers are switching to flipping and pitching dark colored jigs and creature baits.
No Bad Daze Bait & Tackle, Okeechobee; 863-484-8126: Tyler reports bass fishing has been steady though scattered. A few nice sized bass were reported though the trend has been smaller fish in the 2-4lbs range. Like elsewhere on the lake the early morning hours provide the best opportunities. Panfishing for Bluegills has tapered some but they are still biting. Crickets remain the preferred bait for these panfish though beetlespins are also very effective.
J&S Fish Camp, Okeechobee; 772-597-4455: Terri reports fishing has been good outside the locks. Fishing the outside grass lines has produced some nice fish. With the lake levels high, the fish will be deeper into the grass as the daytime temperatures heat up. There are also reports of some Sunshine Bass being taken at the J&S Spillway. A few guys reported that some 6-lbs plus hybrid bass were showing up. These are great fighting and great tasting fish so catch'em up. In the Rim Canal panfish and catfish remain active.
Highlands County
Admiral's Cove. Laker Placid; 863-465-0982: Ed reports lake levels are on the rise and the early morning bite has pushed into these new areas of water. Once the sun comes up and heats the water the fish vacate the area for the day. Once the water heats up you'll find bass sheltering in the cooler parts of these small shallow lakes. You'll also notice the lakes are filling up with floating mats of duckweed and other vegetation. This provide great cover for both small bait fish and bass so don't overlook these areas. Fish them with topwater frogs and along the edges with swim baits and spinner baits.
Performance Marine, Lake Placid, 863-465-2814: Your typical summer pattern of fish holding near the deeper brush piles has yet to appear. You'll find fish holding but not as consistent as other years. It's best to transverse the deeper lakes with your fish finder to locate the roaming schools of bait and target the predators stalking the bait balls. Depending on where you find the bait, oversized deep diving crank baits can be very productive. In the mornings the shallow water bite can be good with bass favoring topwater and swim baits in the shoreline vegetation
Lorida Bait & Tackle, Lorida; 863-655-2323: Scott reports fishing is pretty scattered on the lake. The fish are moving about as the conditions change. Flipping swim jigs in the thicker cover are producing some of the bigger fish. Over the weekend, the Xtreme Bass Series fished their monthly tournament and the 1st Place team weighed in just over 27-lbs for a really nice showing. 2nd Place was 20-lbs followed by a few 19-lbs place finishers. So the bass are out there, just playing hard to catch. The outflows at the spillways have slowed but there is still some quality panfish and catfish action going on.
GS-Outdoors -Tall Tales Tackle, Sebring; 863-452-2248: Fishing in the Avon Park area remains steady. Though water temperatures are high, the lakes remain clear and very active. In the shallows most of the fish are less than 3-lbs though in the early mornings there are some bigger fish around. By mid-morning the fish begin to move offshore into deeper waters. When fishing deeper waters, crank baits and Carolina rigs seem to produce well.
IN-CLOSING
The past week or so the local air temperatures been very hot and water temperatures have spiked. In addition to the high temperatures, water levels are on the rise so bass have become scattered and limiting their feeding periods. Your best chance remains the pre-dawn period just before the sun peaks out over the horizon. During this period bass are still in the shallows and foraging the vegetation for small bait fish. After that the fish move into deeper water and in search of cooler water to withstand the heat of the day. Don't forget to mark July 16th on your calendar to fish Wound Warriors Benefit Tournament at Harney Pond. Visit Highland Bass Anglers Tournament Trail on Facebook for details.