OVERVIEW
This weekend Is looking to be a good weekend to get out on the water and begin searching for those early pre-spawn bass. All area lakes are experiencing high water levels and will for some time so this will allow you to get back into the trails and look for favorable spawning areas. Outside the trails look for submerge grasses with deep water access into the trails. Pre-spawners will use these areas to bulk up and prepare for their spawn. It's still a little early for the pre-spawn season to start but there should be some early arrivals in these areas. However don't forget your flippin stick as you drift through the cuts and channels leading into the backcountry. Just an FYI, there are plenty of tournaments this weekend so expect some company on the water this weekend.
WEATHER OUTLOOK
With the remnants of Tropical Storm Julia stuck off the coast of Georgia, our area will remain under the influence of southwesterly flows into the storm. This means moisture laden Gulf air will be streaming overhead and producing scattered thunderstorms. When Julia finally moves away from the mainland, our weather pattern will return to more seasonable conditions with winds coming out of the east. When this will happen is anyone's guess. Once the storm and its feeder flow leave, winds will shift to an eastwardly component and be light and under 10 mph. For the weekend expect morning lows to be in the mid 70's with daytime highs approaching 90-degrees. There will be a chance of afternoon showers and thunderstorms throughout the weekend. Sunrise on Friday will occur at 7:08am and set at 7:27pm. The full moon (the Hunter's Moon) will rise at 7:34pm and set at 6:50am. The AM:Major for Friday will occur at 11:33am while the PM:Major will occur at midnight. If Julia moves quickly away from the U.S. mainland, we'll be in for a nice weekend to be on the water.
WATER LEVELS: 09/14/2016
Lake Okeechobee: 15.30-ft ASL ↑ 0.20-ft, Last Year 13.78-ft
Lake Istokpoga: 38.79-ft ASL ↑ 0.17-ft
Istokpoga Canal S68: Head 38.78-ft, Tail 32.05-ft, Flow 646 cfs
Arbuckle Creek @ DeSoto: 5.0-ft ↓ 0.6-ft, Flow 900 cfs,
Fisheating Creek @ US 27: 5.60-ft ↓ 0.02-ft, Flow 777 cfs,
Fisheating Creek @ Lakeport: 15.82-ft ASL ↓ 0.48-ft Flow 1,130 cfs,
Peace River @ Zolfo Springs: 12.32-ft ↓ 3.06-ft, Flow 1,520 cfs
Kissimmee River @ S-65E: Head 21.07-ft, Tail 15.23-ft, Flow 5,302 cfs
Caloosahatchee River
Moore Haven Locks S-77: Head 15.35-ft, Tail 11.12-ft, Flow 291 cfs, 7-Day Avg 451 cfs
Ortona Locks S-78: Head 11.16-ft, Tail 3.35-ft, Flow 1524 cfs, 7-Day Avg 1,540 cfs
W.P Franklin Lock S-79: Head 3.45-ft, Tail 1.83-ft, Flow 2345 cfs, 7-Day Avg 4,104 cfs
St Lucie Lock S-80: Head 14.11-ft, Tail 1.03-ft, Flow 660 cfs, 7-Day Avg 901 cfs
Port Mayaca Lock S-308: Head 15.28-ft Tail 14.10-ft, Flow 252 cfs, 7-Day Avg 473 cfs
Lake Okeechobee South End
Slim's Fish Camp, Belle Glade; 561-996-3844: Fishing on the south side has been really good, especially for the shiner fishermen. There are a lot of happy anglers down there. Though water levels are still rising, the condition of the water is good with clean water easy to find. Active areas include Boy Scout and House Boat Cuts, Pelican Bay and Grassy Island. For anglers using artificials, the morning spinner bite in the submerged eel and pepper grass patches remains solid. Soft plastic swim baits are also being productive.
Roland Martin Marine Center, Clewiston; 863-983-2128: With the BFL fishing out of Clewiston this weekend, expect a lot of boat traffic and fishing pressure. Fishing remains good with spinnerbaits, swim jigs and swim baits producing in the morning and then onto flipping and pitching by late morning. Water conditions are good so it should be some heavy bag limits this weekend.
The Bait Shop at Harney Pond, Lakeport; 863-946-0170: Ed from the Bait Shop at Harney Pond reports water conditions as somewhat cloudy and still on the rise. Fisheating Creek and the canals are still flowing heavily but the bass still seem to be lingering around. The shiner fishing remains good with plenty of fish in the 2-4lb range being caught with a few 6's in the mix. He also expects to see plenty of BFL tournament anglers this weekend in the Harney Pond area. Bluegill fishermen are still doing well around Bird Island while those few schools of Specks and Sheelcrackers have moved out in search of cleaner water.
Lake Okeechobee North End
Garrard's Bait & Tackle, Okeechobee; 863-763-3416: Bass fishing on the north end remains steady. In this past weekend's Garrard's Team Trail Classic it took a weight of 27.10 lbs to grab a 1st Place finish with eleven teams weighing in a 5-fish limit of 20-lbs or better. That's some quality fishing. Using spinner baits and swim jigs over submerged grasses remains productive as well as pitching and flipping clean edges and hydrilla beds in the latter part of the morning. The Kissimmee River continues to flow heavily so finding cleaner water is important. Bluegills remain active with fewer reports of Specks being reported.
J&S Fish Camp, Okeechobee; 772-597-4455: Few anglers have been going out from the J&S side of the lake but those venturing across the lake to the east side have been finding good fishing. High water levels are pushing the fish back further into the grass fields creating more work for those flipping the grasses. With water levels high, the back trails are more accessible and could produce relocating fish.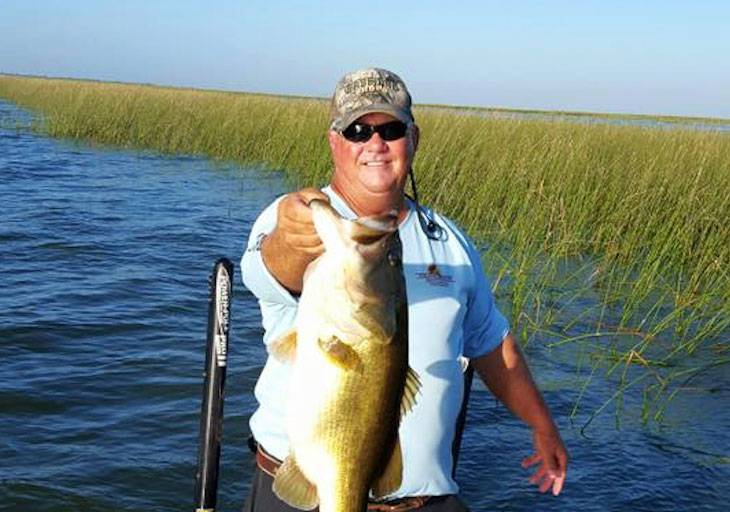 Highlands County
Admiral's Cove. Lake Placid; 863-465-0982: The lakes on the south end of Highlands County have high water levels which is scattering the bass. Mornings and late afternoons remain the best time to fish. Bass are still taking spinners and top water frogs and other baits in the mornings.
Performance Marine, Lake Placid, 863-465-2814: The deeper lakes have stabilized some with a return of fish to the brush piles. Drifting past these structures with deep diving crank baits and soft plastics are producing some nice sized fish. Locating and following schools of bait fish are always productive on these lakes.
Lorida Bait & Tackle, Lorida; 863-655-2323: The big bass bite on Istokpoga has been off for some time though there are still plenty of smaller fish being caught. With water inflow beginning to slow down, water conditions should begin to improve. This weekend should see improved fishing on the lake.
Caloosahatchee River
Mickey's Bait & Tackle, Moore Haven: The discharge at the Moore Haven locks remains slow which is favoring bass fishermen over snook fishermen. Further downstream more water is entering the river through run-off so the locks at Ortona and Franklin are flowing quicker so snook should be feeding there.
IN-CLOSING
This weekend should provide good weather and we're coming into a good time of year to be a fishermen. For those of you who follow the Atlantic Mullet run, now is the time to head to Sebastian Inlet and other points along the east coast. It looks like a good run this year and there are plenty of predators gorging themselves on the mullet. As for local bass fishermen, this is the time of year to beginning scouting for the pre-spawn bass. Not all fishing trips are about catching on that particular day. Scouting for areas where the big girls will be hanging out during the spawn will give you the best shot at a true trophy catch once the spawn begins. Best of Luck this weekend.