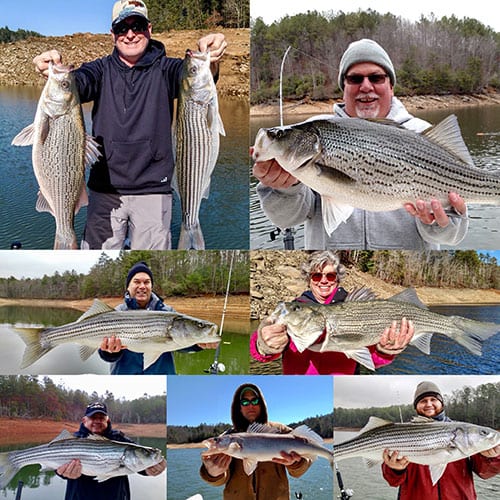 By Shane Goebel
February may not boast the warm temperatures of summer, especially if it's anything like last month, but it's an optimal time to hit the water for some huge trophy striped bass. Fortunately, we can help you score that monster Western North Carolina or North Georgia striper. It is also an exciting time of year for big smallmouth. Hiwassee Lake is Western North Carolina's hidden gem for catching some awesome stripers and smallmouth bass, and, as Murphy, NC's only professional full-time guide service, we are here to help put you on some hard-fighting fish.
Currently, water temperatures on Lake Hiwassee are in the low 40's and water levels are around 41 feet below full pool. Water clarity is moderately clear and stained in the creeks and rivers.
Striper fishing has been excellent recently. We've been catching some nice fish in the 20 to 40-pound range. These fish are shallow and pounding bait up on the banks and shallow flats in the backs of creeks. Pulling planer boards early in the morning has been working great. Make sure to stagger your baits behind your boards. I like to run my bluebacks, trout, and shad 15 to 25 feet behind the boards closest to the banks, and further back on my inside boards. While pulling planer boards, it's always a great idea to set out a couple of free lines behind the boat. While trolling, keep an eye on your electronics. We've also picked up some decent schools over deeper water, especially as the day progresses and the sun gets up over the tree lines. Most of our down line fish have been caught in the 30 to 40-foot range off points and ledges along the river channels in the mouths of creeks. This is also a great way to pick up a stray walleye or two.
Smallmouth and spotted bass have been off the hook out here lately. This beautiful mountain lake never ceases to fail me (knock on wood). We've been catching some large quantities of smallmouth and spots. These fish have been schooled up on shallow flats and off rocky points around the lake. Down lining live bluebacks has been the best technique for loading the boat with these great Hiwassee smallmouths.
February is a fantastic month for catching a lot of stripers and smallmouth on this Western North Carolina lake. Give Big Ol' Fish Guiding Service a call and let the area's #1-rated guide service put you on some of Lake Hiwassee's best trophy stripers during the fishing trip of a lifetime. We are Murphy, NC's premier full-time guide service, specializing in striped and hybrid bass. We also serve Lakes Nottely and Chatuge (in North Carolina), and Lake Blue Ridge in Blue Ridge, GA. And for all your live bait and tackle needs, check out Hughes General Store in Blairsville, GA. They carry everything you need for a successful day of fishing and have the best live herring around. So, come fish with the pros for the opportunity to be featured in Angler Magazine, and let us help you get your fish on!
Shane Goebel is the Owner of Big Ol' Fish Guiding Service and a member of The Angler Fishing Team. Contact him at www.bigolfish.com or (828) 361-2021 / 1-(844)-4-ANGLER.