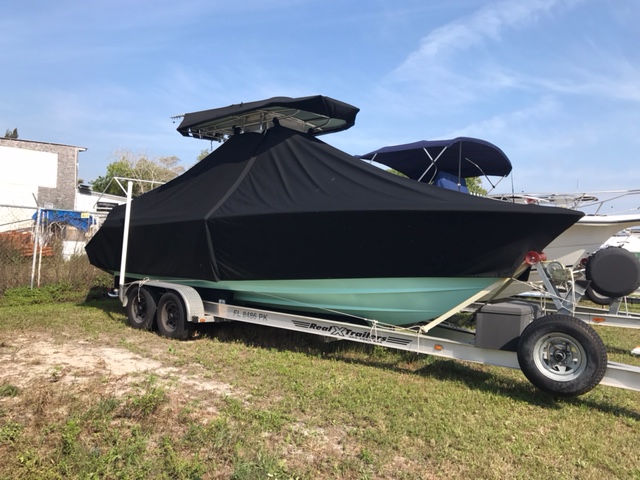 As seasonal residents and visitors leave Southern Florida for more temperate climates, many are leaving boats behind for the summer months. Lacking adequate garage or indoor storage space and unwilling to pay the cost of covered storage, the majority of these owners will be storing boats outdoors. Whether in a back yard, a field or a dedicated storage facility, Florida sun, wind, rain and humidity will take their toll on engines, gel coats, metal work and upholstery. The following are some tips to minimize the effects of weather on your stored property:
Give your boat and trailer a thorough wash down with fresh water to remove as much salt residue as possible. Spray all non-aluminum metal trailer parts with a water displacing lubricant such as WD-40.
A coat of wax on exposed areas of the hull and topsides will minimize the effects of the sun on the fiberglass gel coat and will slow fading and chalking of these surfaces.
Remove all drain plugs and park your boat stern down so that as much water as possible drains from the decks, lockers and bilge.
Remove all electronics and valuables that are tempting targets for thieves. Don't forget items like stainless props, coolers and detachable trolling motors! A good storage yard will provide a lockup area for these items while your boat is on their premises.
Disconnect your batteries! Although you may have a battery switch with the selector turned to "Off", it is still recommended that the cable is disconnected from all positive battery terminals.
To Cover or Not to Cover… that is the question! Although covering a stored boat is not essential, a good commercial boat cover, carefully installed, will slow sun fading and deterioration and add a lot of life to your otherwise exposed cushions and upholstery. A boat cover will not, however, keep the inside of your boat clean… expect to find virtually every surface covered with mildew and don't be surprised to uncover a few critters such as geckos, frogs and mud dauber  wasps that found a summer home. Note: Plastic tarps and lightweight covers that are not adequately tied down will not last through the summer.
Steps to "Summerize" your engines should include changing the lower unit oil, changing the oil on 4 stroke motors and inboard engines, and stabilizing the fuel. The engine should be "fogged" with a light weight oil where applicable to lubricate rings and cylinders. Don't forget to grease steering cables and lubrication points.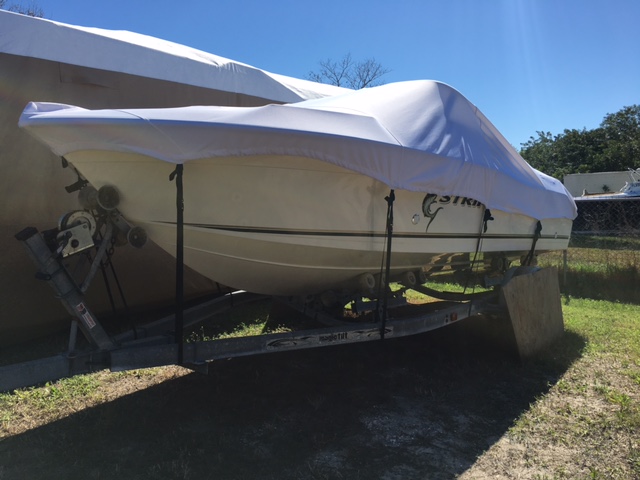 Have a nice summer… and we here at Sunset Dreams on Pine Island, Florida look forward to welcoming you back next season.