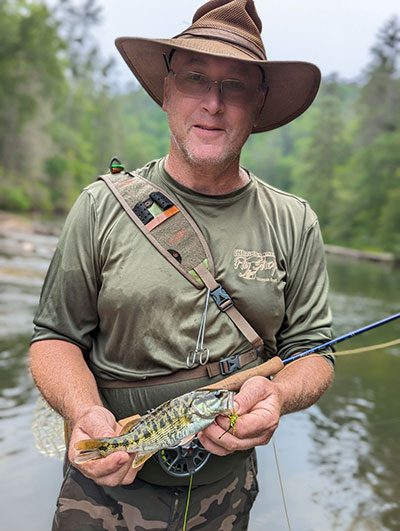 By Karl Ekberg
Summer heat, afternoon thunderstorms, and plenty of liquid to keep hydrated on the river seems to be the norm for the mountains of South Carolina this summer. The temperatures have hit the mid to high eighties here, with the evenings not dipping below sixty. These temperatures warm the water to a dangerous level for the trout, at which point it is time to fish the lower parts of the river for bass. Many great days of bass fishing are already in the book for this summer, and the way the weather outlook is, the pattern should continue.
How to know when it is too warm to fish for trout? When water temperatures are less than 64 degrees, the trout are just fine and can recover quickly. To practice catch and release with wet hands, limited handling, minimal to no time out of the water and rubber nets will aid in the fish having another day to fight again. Temperatures of water between 64-67 degrees, fish with caution.
Keep the fish wet at all times, fish with heavier tippet (3x or 4x) to minimize fight time and fish in the early mornings or late evenings to avoid the hottest part of the day. For water temperatures above 67 degrees, do not fish for trout! Trout cannot recover in warmer water temperatures. Let's go fish for warmer water species of fish. If we all practice this, our trout fisheries will have a healthier population when the water temperatures cool off in the fall months.
If the trout are being a little tough to catch, we can have a great day on the rivers fishing for bass and panfish. Lower sections of the river are fishing good now. Topwater lures and streamers seem to be the big hit now for a successful day. Wet wading is an enjoyable day to beat the heat of summer. A small pack, plenty of fluids (to keep hydrated), a small fly box and a good pair of polarized sunglasses for exploring waters you might not normally fish—what a way to spend a summer day catching fish on a fly rod. As river levels have been a little bit higher than normal, do not be surprised by catching a few trout in these lower sections of the river.
While out on your day of fishing, expect afternoon thunderstorms, and the river level to rise slightly. Although it may not be raining where you are fishing, the river level may start to rise as rain may come over the river upstream, so keep an eye on the water level around you.
Let's all pray for a little cooler weather and some rains to keep the rivers cooler and the water levels up. We look forward to a great Fall season, as the temperatures start to fall off from the summer heat. We also look forward to seeing everyone out on the rivers around us here at Chattooga River Fly Shop.
Karl and Karen Ekberg are co-owners of Chattooga River Fly Shop, located at 6832-A Highlands Hwy, Mountain Rest, SC 29664. Give them a call at (864) 638-2806 and visit their website at www.chattoogariverflyshop.com.