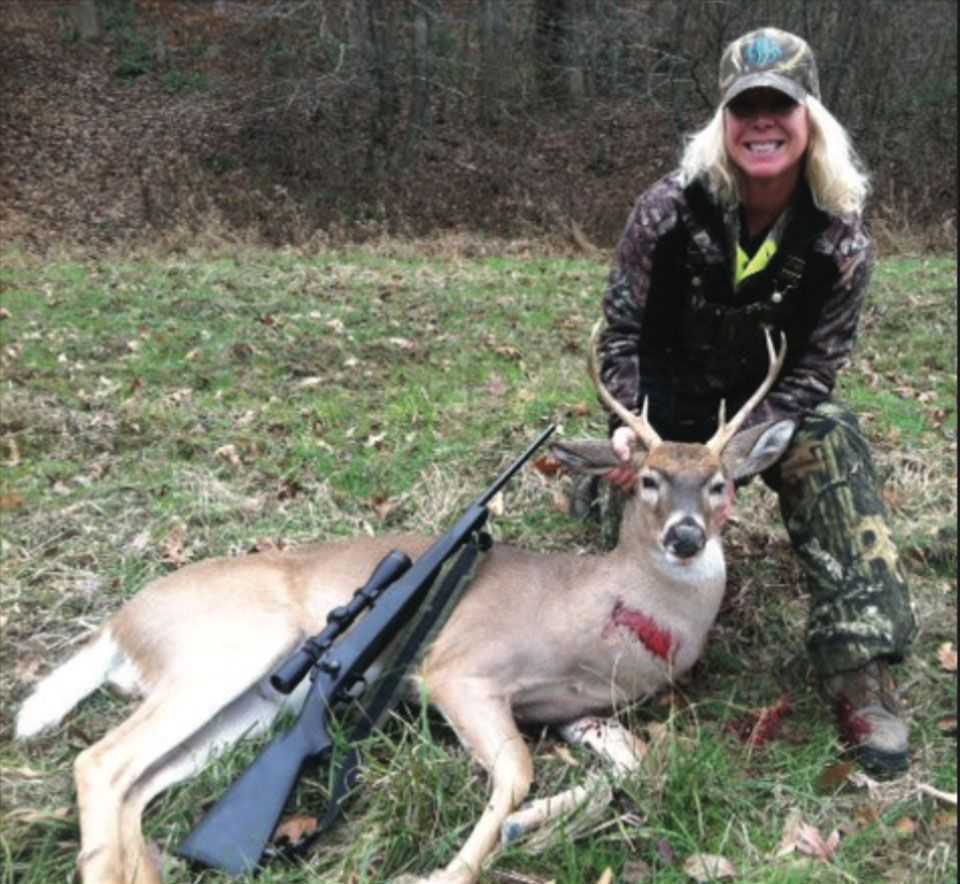 A good hunter or fisherman is always learning how to be a better sportsman or sportswoman and this season was no different for me. Actually I learned quite a bit more than I ever have thanks to some key folks in my life. Capt. Tommy LaRonge has been the most important person to me in my education of wildlife and pursuit of becoming a good hunter. Learning to identify tracks, trails, rubs, bedding areas and the overall nature of a White Tail Deer is fascinating. I feel the more we understand about these fine animals the better hunters we become and the better we can manage the quality of harvest.
While traveling up to Cedar Grove, Tennessee to see one of our dear friends, Brad
Cook, Tommy and I took some time to talk about our plan of action for our bow hunt. We were discussing where we had been last year, the type of deer we saw and what trails we thought they may be using this season. The weather was still pretty warm and as we all know, it does not make for the best hunting especially when the deer have not gone into rut yet. Good news however, it was cool enough not to be eaten alive by mosquitos and no-see-em's.
Tommy and I had both picked the spots where we wanted to hunt and headed off into the early morning darkness to get settled in. Tommy is a master tree climber, I on the other hand have not mastered that technique in the dark so I chose a ladder stand in a great spot with plenty of fresh tracks and heavily used trails. As the sun slowly starts to rise over the beautiful autumn colored leaves, you feel blessed just to be a part of nature and hopeful that you will be able to say you had a good harvest. About 2 hours into the hunt I spotted a nice looking spike coming out into the open and he walked right under my stand and starts to chew on the grass and look for acorns. Hegrazed under my stand for about 20 minutes and then decided he was ready to trot off into the woods. Not too long after, a nice looking button buck came out partaking in what the spike had left behind and grazed for about 5 minutes before he trotted off. Only being about 25 feet off the ground in that ladder stand I felt proud that neither one of the bucks saw, heard, or smelled me, which to me was a "big success." The company was great, the beer was cold and the moonshine was on hand "nocomplaints". I had no harvest in this trip to Tennessee, but I was on the way to Georgia and hoping to score a beast on the private plantation we were heading to.
After driving through the rain all night so we could get to the plantation and into the woods before sun up we were ready for some action. Hunting at this planation was a big honor for me, the quality of deer management is second to none at Whiskey Creek, and it is invitation only. We were under strict instructions that we were only able to harvest a doe unless we saw a buck that was 4 years old or older. I chose to sit that morning and educate myself on how to exactly identify a buck to be 4 years old or more. It was hard to watch big 8 and 10 point bucks walk by and not want to harvest them, but I needed to develop my deer aging technique first and I knew they were not the ones for me. White Tail bucks are very similar to men as they develop, they start to fill out as they get older,and their bodies change very much like men do. Amature buck will have his rack outside his ears, his neck will fill out, his belly will begin to grow, and last but not least his waist will begin to fill and he will look thick and handsome. I suggest to anyone that loves to hunt to learn how to age a buck on the hoof, once you can do that you've become a better sportsman or sportswoman.
It continued to rain for the first 2 days but when the rain let up the deer started moving around and eating the millions of acorns all over the property. I picked up some good tips from the guys that ran the plantation and I was ready to put my knowledge to the test and get me a wall hanger. I am happy to report that we did get some meat for the freezer with 2 doe but I will not have a taxidermy bill for that trip. It was unbelievable the quality of Whitetail we saw and the size of their bodies, but now that I understood how to "age a
deer on the hoof", I knew I had not found my buck yet. Whiskey Creek was an amazing experience and I want to thank Mr. Moore & Mr. Oakley for the invitation and the privilege of being able to hunt their plantation. The season is not over yet and I hope to be racking up an expensive taxidermy bill before it is all over. Whether I get a wall hanger or not this season, because of the knowledge that Tommy and others have shared with me I am a better hunter and sportsman, so stay tuned. "Let's take it outside."