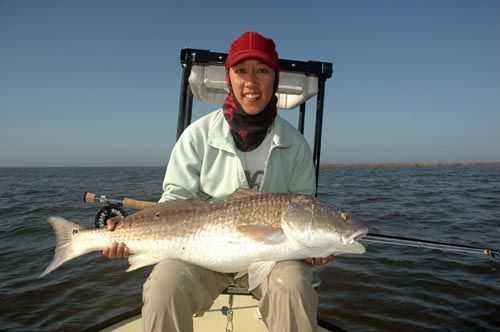 Wintertime is what a poet once called "the cruelest month." This is not the case if you're in pursuit of redfish in the fly. Wintertime is one of the finest times to target big bull reds in the Gulf of Mexico from Texas to the west coast of Florida.
Why the redfish?
Catching a redfish on the fly is one of saltwater fly-fishing greatest experiences. Not only are redfish very eager and willing to take a variety of flies and poppers, they also have a tendency to feed in very shallow water, making them the perfect saltwater fish for sight casting. There is something very special about seeing and casting to a redfish tailing along a grassy marsh bank and watching the fly disappear into its mouth and the line coming tight. For your first saltwater fly fishing experience, the redfish is the perfect fish to fine-tune your fly fishing skills.
The tackle
The redfish game is simple. All you need is a nine foot long 7 or 8 weight rod matched with a floating line and a fly reel that can carry 150 yards of backing. For the leader, a standard nine-foot leader with a tippet rating of 15 to 20-pound test works best. If fishing for tailing reds, a crab pattern or spoon fly will do the job. A good bet when surface fishing along the mangroves or grassy banks is a popper that creates surface noise and a highly-visible wake.
The set up
In your search for those areas where redfish are feeding, give special attention to oyster beds, mangrove shorelines and shallow flats, where more often than not you'll spot redfish rooting around and kicking up bottom mud in their search for crustaceans and other food. When redfish are focused on feeding it is possible to move in very close to them, making a long cast unnecessary.
Once you've spotted the fish, position the fly close to its head, make a one-handed steady strip of your line and hang on!