With fall finally upon us, here in Florida, we find ourselves out of our fishing kayaks as much as we are in them. Many days only using the kayaks as portage to the knee deep grass flats littered with potholes that are prime for wade fishing.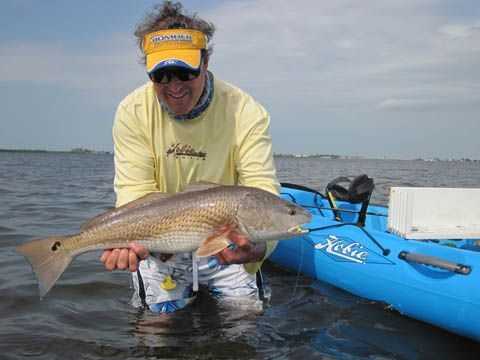 Before jumping in, it is essential to be prepared. The majority of the year we can wet wade. For this you need nothing more than a pair of booties with a solid bottom. Even here in Southwest Florida, waders are a must once nights plummet into the 40s. The stocking foot, breathable type is your best option. The stocking foot, as opposed to those with a built in boot will prevent your feet from slipping around inside the wader. If you are wading in softer mud and the boot sticks, your foot will pull halfway up the leg of the wader. The boots always run big. This effect will seriously impede your ability to move easily from one set of holes to the next. The breathable type will keep you from roasting on days when the temperature spikes once the sun is high in the sky.
As for tackle, there is no need to take more than you can fit into a Ziploc bag and can fit into your pocket. Included in my bag are a few one-eighth and one-quarter ounce chartreuse/white jigheads. I top this off with a handful of Saltwater Assassin soft plastic shadtails in Drunk Monkey and Mudbug. Actually, any small dark colored bait often proves quite effective in our gin clear winter water.
Also, make sure that you or one of your companions takes a spool of 20-pound fluorocarbon leader on the trek. Watching your buddies slay them as you trudge back to your kayak to retie can severely alter your mood. Having a pair of pliers with a cutting tool on your person is another must. This ensures a safer and easier release of the fish, as well as, the ability to retie without returning to your kayak.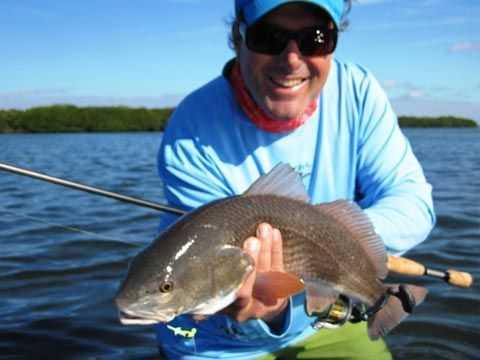 It is extremely important to know the terrain you are dealing with when deciding if the area is wadable. Most Florida and Texas inshore waters have fairly easy to navigate bottoms made of sand or harder mud. There are many areas from Jacksonville up through the Carolinas that consists of super soft marsh lands. If you get out on anything other than an oyster bar you may end up sinking to your waist. A potentially dangerous situation if you are by yourself and the tide is coming in. A quick poke with a stake out pole should help you evaluate the bottom, but seeking a little local information before heading out should better ensure your safety.
Finally, make sure to secure your boat before walking away. A stakeout pole through a scupper hole will secure it in place. If your paddle is not on a leash, strap it down. Chasing your kayak or paddle as it blows across a flat, while quite comical, is neither productive nor fun.
Once out of your kayak, you want to look for the two major indicators as to where the redfish and trout should be lurking. First, locate the frolicking mullet. They will be stirring up crustaceans and worms off the bottom. This is the redfish and trout dinner bell. Then zero in on the slightly deeper sand holes. You may even have to drag your kayak over a dry flat once all the water has been sucked out on the lowest of winter tides. A quality pair of polarized sunglasses, like the Hobie Polarized SeaScapes that I wear, is essential to spotting the holes. Once they are in view, pepper these potholes with a series of fan casts. Pay special attention to the edges as the trout love to use the grass edge as camouflage. A solid thud will quickly let you know if the game fish are hunkered down. If not, move on.
By wading, you will be able to use the brisk winter winds in your favor. A ripping northeast wind at your back can suddenly add distance and accuracy to your casts. Walking also keeps you from drifting over countless fish that you'd otherwise blow over. Spend a day hooked up to quality fish, as opposed to watching as they scatter from beneath your kayak, and you will be convinced to jump in and astonishingly increase your winter time catch.