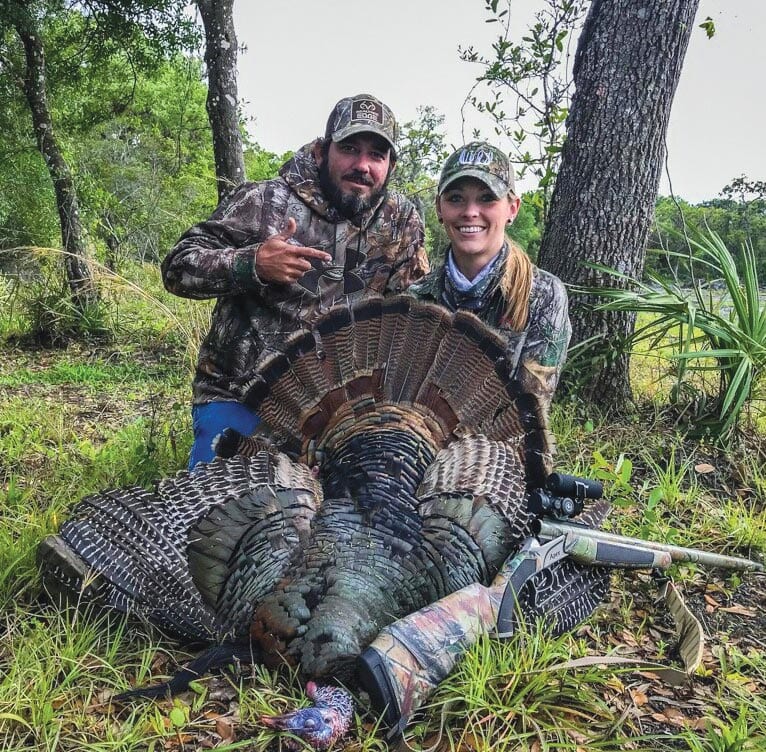 By Wayne Nichols
Nothing like spring in South Florida! Osceola turkey season is in full swing, hogs are out everywhere, fishing is on fire, the weather is warming up and stabilizing, endless ways to have a great time! Here at Red Eye we're focusing on the Osceola's, with hunters coming in and out every couple days, it's our busy time of year here and yes, we're still doing alligator and hog hunts at the same time. We've got plenty of tags coming in for gators already and a hog hunt makes a great addition to any hunt. I've lost count of how many we've already taken this season, but it's still on fire. These hunts absolutely wear us out, waking up at 4am, picking hunters up at 5am, running the woods all day til dark and roosting birds for the next day. I'm lucky to have some of the best and most reliable guides in SoFlo to help, not to mention the captains on the water.
An average morning is sitting in the woods well before daylight. Bugs haven't been too bad, yet. About the time the sun rises, we're listening to the sounds of Osceola's gobbling from a tree in the distance. That's when you start getting fired up, the anticipation is intense! A few yelps and cackles and they're usually on their way! They fly down, break into their strut gobbling and putting on a show! The hunters then continue softly calling to them, coaxing them into range for a shot. Once he's close enough and the hunter is confident he can make a clean shot we give them the go ahead, BOOM turkey down! That's what it's all about!
Our species of turkey is the highly-coveted Osceola. These are highly rewarding hunts for serious turkey hunters and the novice alike. The Osceola is the "Crown Jewel" of the turkey slam, and the only place you can find them is in Florida, leaving a high demand around the world for guides and outfitters. There are several WMA's that offer turkey hunting, some walk in, some draw quotas. Hiring guides can get expensive, from $1250 to from to $3000, putting in for a draw permit is your best bet for success if you can't hire a guide. Hiring a guide is your best chance at getting your bird by far, as most average a 75% success rate on private land. Public opportunities usually fall down to 35% with success at about 15%.
If you have any questions about hunting down here, need information on booking a hunt or would like to know more about what we offer, I can be reached at [email protected], through our website www.RedEyeSafaris.com  on Facebook-Red Eye Safaris, and by phone, (863) 990-7650. I'm heading back in the woods now y'all stay safe and remember to take a kid hunting or fishing anytime you get a chance!