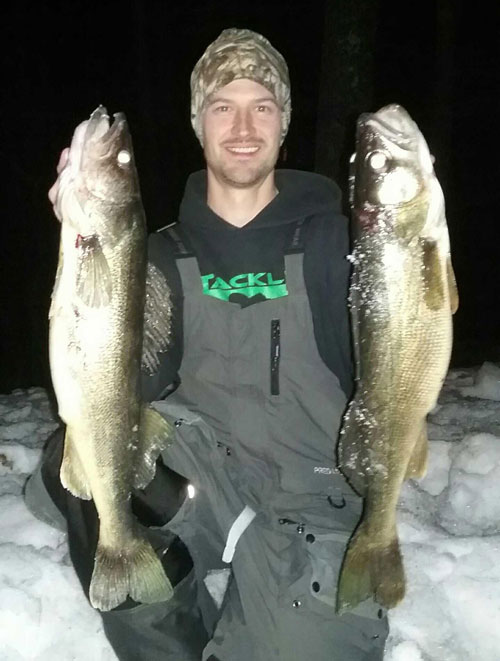 By Joe Greco of Justy-Joe Charters
The early ice bite on Saratoga has been HOT! First Ice began off Brown's beach and now with the new public parking area there has been an increase in anglers fishing this area. The North end of the lake is still questionable as the large area by the 9P bridge has been open due to dock bubblers and the Fitch Road weed beds have just recently iced over.  Ice fisherman reported having caught Large amounts of bass (which must be released immediately) and pickerel as well as some jumbo perch action and evening walleye.
Try fishing on and around the edges of weed lines in the 9 to 13 feet of water range. Medium shiners and hunts seem the be the hot tip-up bait and a variety of jigging lures tipped with either a minnow head or some grubs will keep you on the "edge of your bucket" as you're waiting for the flags to pop. My personal favorites for Jack perch and walleye are the classic jigging Rapala size 7 and 9, and the Lindy flyer spoons. Try gold, clown and chartreuse and don't be afraid to Jig aggressively to bring them in. If they look interested but will not commit, slowing down and using subtle jigging motions to tease them will often trigger the strike. The pan fish will be found in the 6 to 9 feet of water range in their usual early winter haunts. Look for green weeds just off the beach area and begin by drilling numerous holes. Fish each hole until you mark some fish, and don't be afraid to "sight fish" if your electronics aren't telling you much. Look down the hole and often the crappie and blue gill will be just under the ice making them difficult to see on your flasher unit. Try small tungsten jigs and grubs and don't be afraid to downsize when cold weather suddenly hits or the fish become less aggressive. If these fish are shallow and become fussy try kicking a little slush into your hole. This will keep a more natural looking environment to your presentation as light penetration will be much less. In this situation poke the tip of your rod into the slush before opening your bail to get the jig through the icy slush. This can be deadly on finicky pan fish. Favorite colors on the lake are white, pink, black and greens.
Perch and walleye can be found just off the weed lines and out in mud flats as well. If you're not catching perch in the weeds, try just off the weed lines in a little deeper water. Good action has been found in the 15-25 ft. range. The walleye bite has been pretty hot, which typical will slow down as ice gets thicker and the season wears on. Try shiners or hunts bait close to the bottom on tip-ups. Make sure to key in on green weed lines holding other species of fish and any hard bottom structure in close proximity. Many of these fish have come from the Brown's beach and Stony Point areas. Bait varieties have been slightly scarce this year and many anglers looking for non-shiner options have been a bit frustrated. Fish 307.com will have a great selection by now offering all the favorites such as large suckers and pike shiners. Here is my walleye "tip of the month"-try setting a tip-up close to your hut or area you will be jigging. Many times a fish that comes into the jig and gives you the lock-jaw routine will find your bait seconds later and hammer it. This is a fish that otherwise may have just slipped through the cracks (or weeds that is). Good luck out there, be safe and if you aren't catching fish where you are then move!
Joe Greco, NYS licensed guide operating with Justy-Joe Charters, www.newyorkfishing.com