ROCK THE DOCK 2018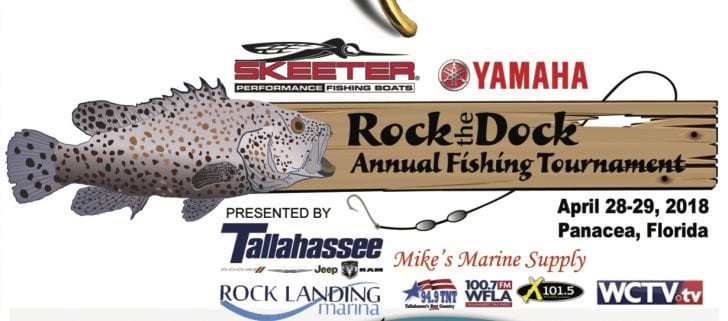 ****Rock the Dock 2018 will be on April 28-29th at Woolley Park in Panacea, FL!**** 
**Captains meeting: Friday, April 27, 2018. Registration from 4:00-7:00 pm**
 -Meeting @ 6:30 for important info and Dinner from 6:00-8:00 pm 

Official Weigh-In Station Location and Hours 
Woolley Park, Panacea, Florida 
Saturday, April 28, 2018 - 2:00PM to 6:00PM EDT 
You must be in line with your fish by 6:00 PM EDT 
Sunday, April 29, 2018 - Noon to 4:00PM EDT Y
ou must be in line with your fish by 4:00PM EDT
For the 10th anniversary there will be an additional $10,000 in payouts! There will be higher payouts and even more categories. You do not want to miss this year. The odds for winning are better than ever!
 As always, there will be a youth, lady, and a kayak division! Bring the whole family for a great weekend.
Similar to last year, Seatow members will have the opportunity to weigh in a fish for a chance at $1000.00! The odds at winning are high and it's not too late to become a member today!
BAY BOAT RAFFLE: $100 raffle ticket could win you a brand new 2018 SX200 Skeeter Bay Boat, Yamaha VF115LA Outboard, and an EZ Loader Aluminum Trailer (Value is $39,900). Only 300 tickets will be sold and the drawing will be April 29th, 2018. Call Laurie @ (850) 528- 7610 for tickets.
Rock the Dock is always an awesome time with even better people. There will be vendors, food, and entertainment by Old Soul Revival from  7:00 PM – 10:00 PM. Bring your family and friends, enjoy some friendly fishing competition and maybe even win some awesome prizes!
Visit www.panacearockthedock.com for more information!
-See ya'll there!
-Coastal Angler Team