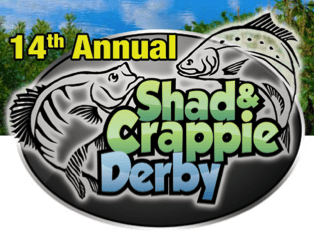 Shad and Crappie Derby Update
By the time you are reading this our 14th Annual Shad & Crappie Derby will be in the books. Visit our Facebook page for official results and pictures of the winners. We go to print weeks before our March magazine hits the shelves therefore official results will be printed in the April issue. While the shad have been biting this past month, we had several entries uploaded to our Derby site as plus a record 16" black crappie caught by youth angler Brandon Cordero. Brandon has fished the Derby for years now and winning the Youth Division is commonplace to him. Brandon is lucky to have his grandparents to take him crappie fishing often. He has already sent several other fish he caught this season. His grandfather Rick Hacker also a long time participant has several 15" plus crappie to his credit. Rick also won the Big Crappie and Big Shad of the month for January!
Please join us for our awards event on March 16th at 6:30 pm at Celery City Craft Beer Garden in Sanford, same place as early registration meeting and the registration for the Get Hook'd on Lake Monroe event. Lots of prizes will be given away to our monthly Big Fish winners as well as the Champs
for Adult and Youth Divisions for both Shad and Crappie.
This event is the longest running FREE to enter fishing derby in Central Florida and many thanks to all of our registered anglers. Thanks to all of our great product sponsors and Academy Sports and Outdoors for providing our winning anglers with lots of awesome products. We hope to see everyone at the awards event. Please tell any angler you know about our annual Derby – it will be here again before you know it. Special thanks to Celery City Craft for providing the venue for our Awards party, see you there!