by Capt. Mike McNamara
St Marks fishing in February is not a closed season. So far this year, fishing in the river systems out of the City of St Marks has been great. This winter has provided some great trout numbers, and some big trout being caught. Every year there is no way to tell how many fish will move into the river for winter refuge. This year seems to be an above average year.
Truth be told, not every day is a fishing homerun, but some days you can put some serious meat in the boat. I wish I could share a super guide secret about when to go, but my answer is, go when time allows. Fishing the warmer days in the week will be more pleasant for the fisherman, but it does not always equate to the hottest bite. It does, however, equate to having more patience, and that can produce more fish.
Both the St Marks and Wakulla Rivers can come alive with a hot bite on any given day. The bite has been best in the St Marks this season. The St Marks is a deeper and darker river that offers warm water refuge for all species. Fishing the areas with the best bottom structure is a great pattern. A good sonar machine will increase your success in finding these fish holding spots.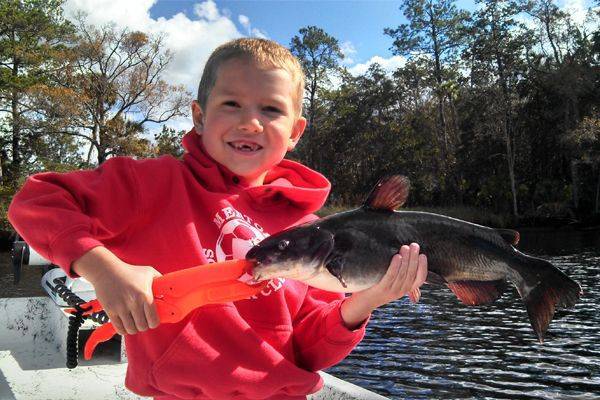 When the fish are awake and eating artificial baits will work just fine. A jig head with a paddle grub worked slowly on the bottom will catch reds and trout. I prefer to tail hook a live shrimp during the coldest months. The shrimp will catch trout and reds, and also put sheephead in the boat. This tasty striped fish adds another species worthy of February fishing.
If you happen to find a warm, calm day hit the refuge creeks this month. Find the mullet and you will find the redfish and big trout. The water should be as clear as we will see it in 2014. Work the edge of the grass lines and rock piles. Gold spoons and Mirrodines will catch both species. I also like to carry a bag of live shrimp, just in case I bump a big school of creek sheepies.
If you have not enjoyed a crisp winter fishing trip this season, February could be your month. Rent a kayak or hire a guide for the day, if needed. The Guide Shop has limited hours this month, but we are booking trips, and launching kayaks every day. Call/text/email if you need help finding the fish.
STAY WARM/STAY DRY/ENJOY