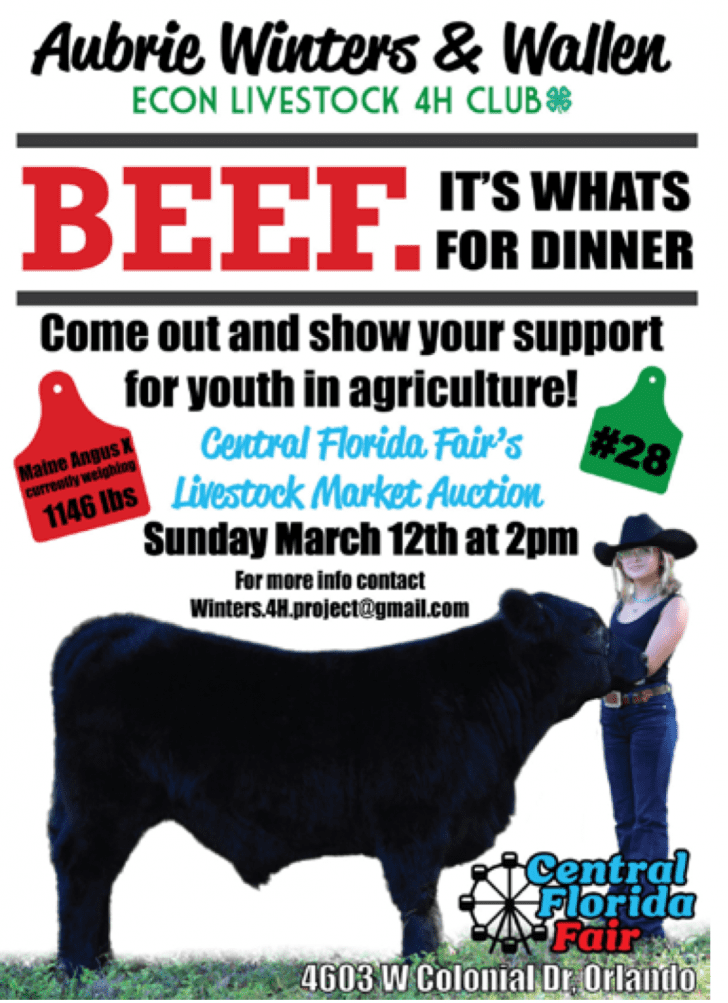 Head, Heart, Hands, and Health. These are the four Hs that stand for the values members try to work on in America's largest youth development organization. There are over six million members learning skills that will lead them for a lifetime. 4H club members range in age from kindergarten to seniors in high school. Members of 4-H market programs can participate in projects that include beef, lamb, and hogs. An important part of raising livestock as a 4-H project is learning valuable life skills such as basic animal science care, management and responsibility!
Aubrie Winters got involved with 4H at the age of five raising chickens. At the age of 8 Aubrie completed her first market project. She raised a pig that she sold at the Central Florida Fair market auction. During her swine project Aubrie learned how to train, feed, care, and market herself but this was never her end goal. Aubrie hasalwayslovedthecowsinthepasture.WiththemoneyAubrie's swine project brought and she had saved she purchased a young steer for her to raise and take to auction. Three years later she is growing her life skills and building her resume and savings account.
This year Aubrie picked out a Maine Angus steer to raise. She named him Wallen. Aubrie and Waller have been attending shows all season competing against other 4-H members. This early March Aubrie will round out this year's project at the Central Florida Fairgrounds. At the fair she will compete in events that judge her skills handling, grooming and livestock knowledge. Her project with Wallen will conclude on Sunday March 12th. There buyers can come and bid on Wallen at the auction or make a add-on donation and this will help Aubrie continue to learn and finance her project for the following year. Please join us at the event and see how 4-H is helping our youth set goals be responsible!
Interested in learning more on how you can help support Aubrie?
Contact winters.4H.project@gmail.com to find out more info! Hope to see you at the fair!