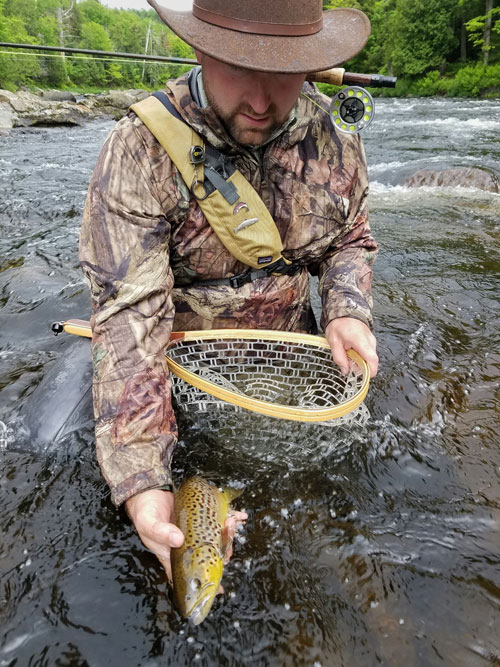 March's big snow certainly blanketed the whole state and Northeast with a late snowfall that guaranteed a later spring for everyone. Though it seemed as if we were weeks away from our boating season when we were basking in late February 70 degree weather, Mother Nature had her last laugh once again. Our opinion is this big widespread snow did us a huge fishing favor. Last year found us with low waters and higher than normal water temperatures. Long term these conditions are damaging to our fisheries that are dependent on cool water and a good deal of it. An early spring would have likely lead us to an early summer and a similar circumstance as last year's low and warm conditions during summer. When I see late snowfall, I get excited for the conditions that follow, snowmelt. This snowmelt is what produces our off-colored waters running off into our lakes, particularly but not limited to Lake Ontario.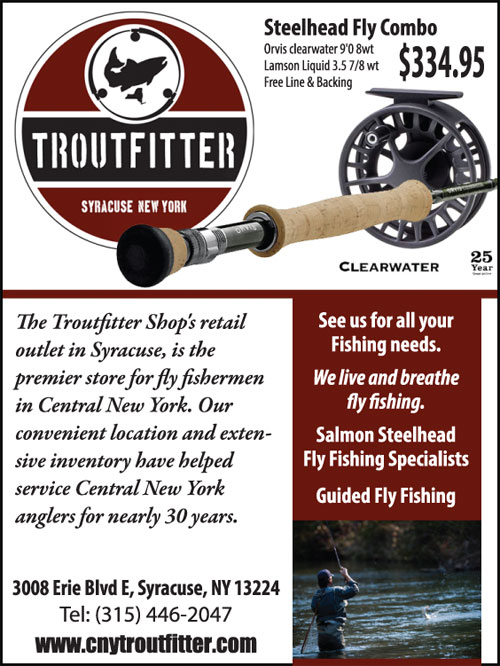 In this issue, we introduce a new Champlain writer Shawn Hayes, who has been consistently nailing early season browns and landlocks on Lake Champlain. The tactics that our contributors share for their home waters can be successfully applied on your pet water. I have always loved the freshness of the spring and the potential and energy that the winters snowmelt provide. I love trolling in front of small streams looking for packs of trout and salmon that are magnetized to this renewed flow, awaiting pods of baitfish to gorge on. For those just learning about Upstate NY fishing, the water entering open lakes from streams and rivers in spring have much more color and nutrients in them than the open lake water that are often gin clear. This becomes structure that gamefish and bait orient to. This water often warms quicker which also attracts both bait and all sorts of fish feeding on them. This is also why I prefer to fish small streams in April, early in the trout season. These streams warm up faster and are better suited for early season bait dunking and spinner tossing, saving the bigger waters for later spring and summer. That leads to our leadoff spring article… ANGLER MAGAZINE FIELD EXPERT FAVORITE SMALL STREAM TROUT WATERS, starting off is Dave Cramer of the Troutfitter of Syracuse, www.troutfitter.com.
Early Trout Streams of Central NY
By Dave CRAMER
Anglers who plan on fishing the trout streams of Central NY early in the season should keep two variables in mind. The first is water level. Our local streams tend to run high and off color on many spring days. If your favorite stretch of water is too high to fish productively consider heading upstream. Often you can get above many tributaries and you may find the water much less turbid and more suitable for fishing. Keep in mind that streams with a steep gradient tend to clear faster and streams behind a damn tend to clear fastest of all.   In the Syracuse area Butternut Creek below the Jamesville reservoir often runs clear when other local streams are still a mess.
Anglers who want success should also keep an eye on water temps. Trout will respond to even a modest increase in water temperature. On most spring days, the best fishing will occur during the warmest part of the day. Remember that smaller streams will have a greater swing in daily temps than a larger river, and plan accordingly! Early spring is a good time to find large fish in places you wouldn't ordinarily expect them. Don't be afraid to explore some new places and consider hitting the headwaters of your favorite stream.

CNY High Water Alternatives
Butternut creek below the Jamesville Reservoir
Limestone creek near rt. 80 below Deruyter Reservoir
Chenango canal near Bouckville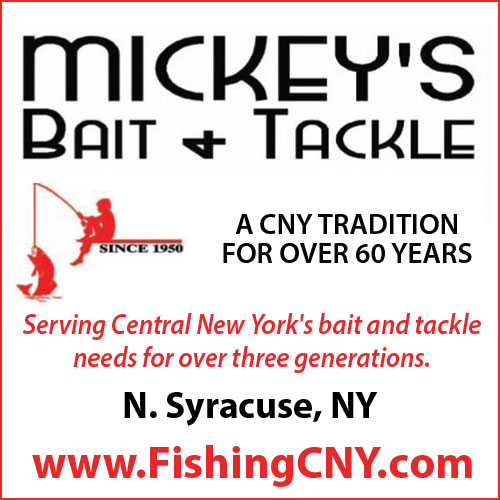 The next field expert is Jerrod Vila, multi-species fanatic who shared his Nymphing secrets in March issue of The Angler.
A Worthwile Early Season Trout Stream
By Jerrod Vila
Hans Creek, near the border of Saratoga and Fulton counties in the town of Fish House is a worthwhile early season trout stream to try your luck on. Access can be gained from a small pull off county route 110 where Hans Creek crosses the county road just south of Vunk Road and another access point is the upper reaches of Vunk Road along state land which requires a mild walk through the woods to reach the stream. It's tight and fairly small but with a little searching some nice pools, log piles, and undercut banks can be found. Dead drifting beadhead buggers has produced surprisingly nice fish over the years for me here. On a side note, the stream is closed to all fishing from the bridge at Route 110, downstream to the Great Sacandaga until the opening of Walleye and Pike season in May.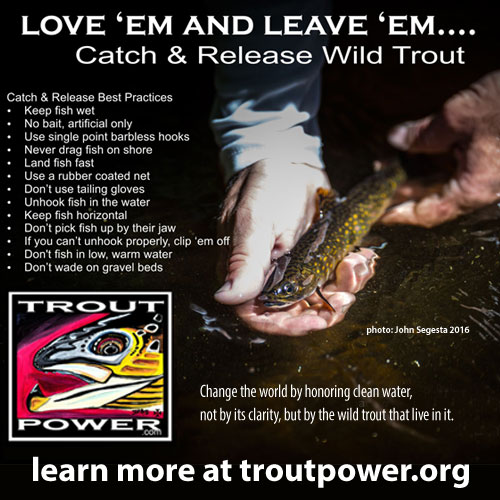 Our last field expert tip comes from Pete Lancaster. Pete is very stealthy on small streams and exclusively tosses salt minnows, preferably those bought at the WIGGLY WORM!!
A Stream for the Experienced Angler
By Pete Lancaster
Fabius brook is not a stream to start your trout fishing career…. it s a tough walk through thick brush with lots of twists and turns but if you are an experienced angler the rewards are worth the wait….. brown trout can reach 20-24 inches…. salted minnows are deadly early in the season hook your minnow threw its mouth and then threw its back for a life like presentation!!!! It's also a stream when other streams are running high in April,  Fabius will be at a perfect water level.