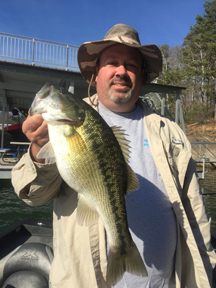 by Jimbo Mathley
Fishing during the spawn can provide some interesting opportunities and many different choices. Bed-fishing is very popular this time of year, especially for tournament anglers, and certainly can provide some outstanding catches. In most instances, I prefer to leave the fish to their reproductive cycle, and often shy away from bed fishing. In this article, I will focus on tips and techniques to catch fish during this sometimes challenging period that offer an alternative to the bed fishing option.
Optimal Conditions: In 2017 we are ahead of the curve in the timing for the spawn. The unusually warm winter has moved up the spawn calendar. The largemouth in the lake will physically go on the bed at water temperatures of 58-60 degrees. We have already seen those water temperatures in early March, and have also seen some largemouth spawning activity. The spotted bass tend to spawn a bit later when the water temperatures reach 62 degrees or above. The timing of the spots may not be affected as much given that we will experience some cold fronts in April this year. Typically, the fish spawn in "waves" rather than all at once. After the first "wave" of fish completes their spawning routine, there will be fish in all stages of the spawn (pre, spawn, and post) for the next 30-45 days, depending on the weather conditions and water temperatures. Many fish that spawn in "waves" do so during a favorable moon phase, given the noted water temperature requirements are met. The full and new moon phases often prompt fish to move into their bedding routine. Make sure to cross reference the moon calendar with water data to understand when fish will likely begin their spawning rituals.
Location: The largemouth in Lake Lanier tend to spawn shallower than do the spotted bass. The largemouth can be found bedding in creek pockets in a protected area often in 3 feet of water or less. The spotted bass can frequently be found in similar areas, but often prefer a hard bottom type area such as that a pebble rock/clay flat or sandy pocket can provide. The spots can generally be found in 6-12 feet of water and deeper, and there are a contingency of the spotted bass that will spawn on the main lake. These fish can be found on or around humps, points, islands and sandy saddles between islands on the main lake. These females are often some of the biggest fish in the lake. If you are looking for a trophy spot in the springtime, your efforts may be better spent on the main lake as opposed to the creeks. The creeks will offer greater numbers of fish and more action than will the main lake in most cases. Spots and largemouth both will stage around and under docks near likely spawning areas. Check those areas thoroughly.
Lures and Presentation: Now that we have explored the location that fish can be found during the spawn, I want to share some of the techniques and lures that can be used to catch these fish. Rather than focusing on specific "bed fishing" techniques, I am going to share some proven tactics that can be used to catch fish just before they actually lock down on the beds.
 Worm/jig – These baits are proven fish catchers year-round, and the spawn is no different. These are great baits to skip and pitch around docks for those staging fish we discussed earlier in this article. Use a 3/16 ounce Picasso Shakedown Head or Chattahoochee Cross Ball and tip it with a Zoom finesse worm. If the fish are ultra-finicky, don't forget the Carolina Rig to present your soft-plastics. This presentation method is often ideal for finicky spawning bass. Drag or drift this rig slowly over secondary points or the ends of spawning flats for some potentially awesome results. Also, when fishing a Picasso Shakedown Head and worm combo, consider using a lighter jig-head. I often choose a 1/8 ounce head or lighter to target these spawning fish. I will often tip this with a 4 inch worm as opposed to a traditional offering of 6 inches or more.
Super Spin – I like to downsize to a 1/4 ounce model with a small trailer and work the back 1/3 of creeks with this bait during the pre-spawn and just before the fish go on beds. It offers versatility in presentation and depth, a great combo. A traditional spinnerbait can be a good choice as well.
Swimbait – Swimbaits offer great versatility as they can, based on the model, be fished at any depth you wish. This a great bait with which to catch a monster bass just before they spawn. Often, the females will be out just off of the spawning area in slightly deeper water, but they are not far from the beds. Throwing a big 6 or 8 inch swimbait and slow rolling in these areas just off of spawning flats or around secondary points and docks can entice bites from very big fish. I recommend the Farley Swimbait options for this tactic. Keep in mind this approach will not garner you many bites on any given day, but the fish you do catch will likely be monsters!
While the spawn can be a challenging time of year to catch fish, focus on the immediate pre-spawn period with the tips and baits noted above for some outstanding results! See you on the water.
Jimbo is a full-time, year-round spotted bass guide on Lake Lanier. Contact him today to book a trip at 770-542-7764 or at www.jimboonlanier.com.