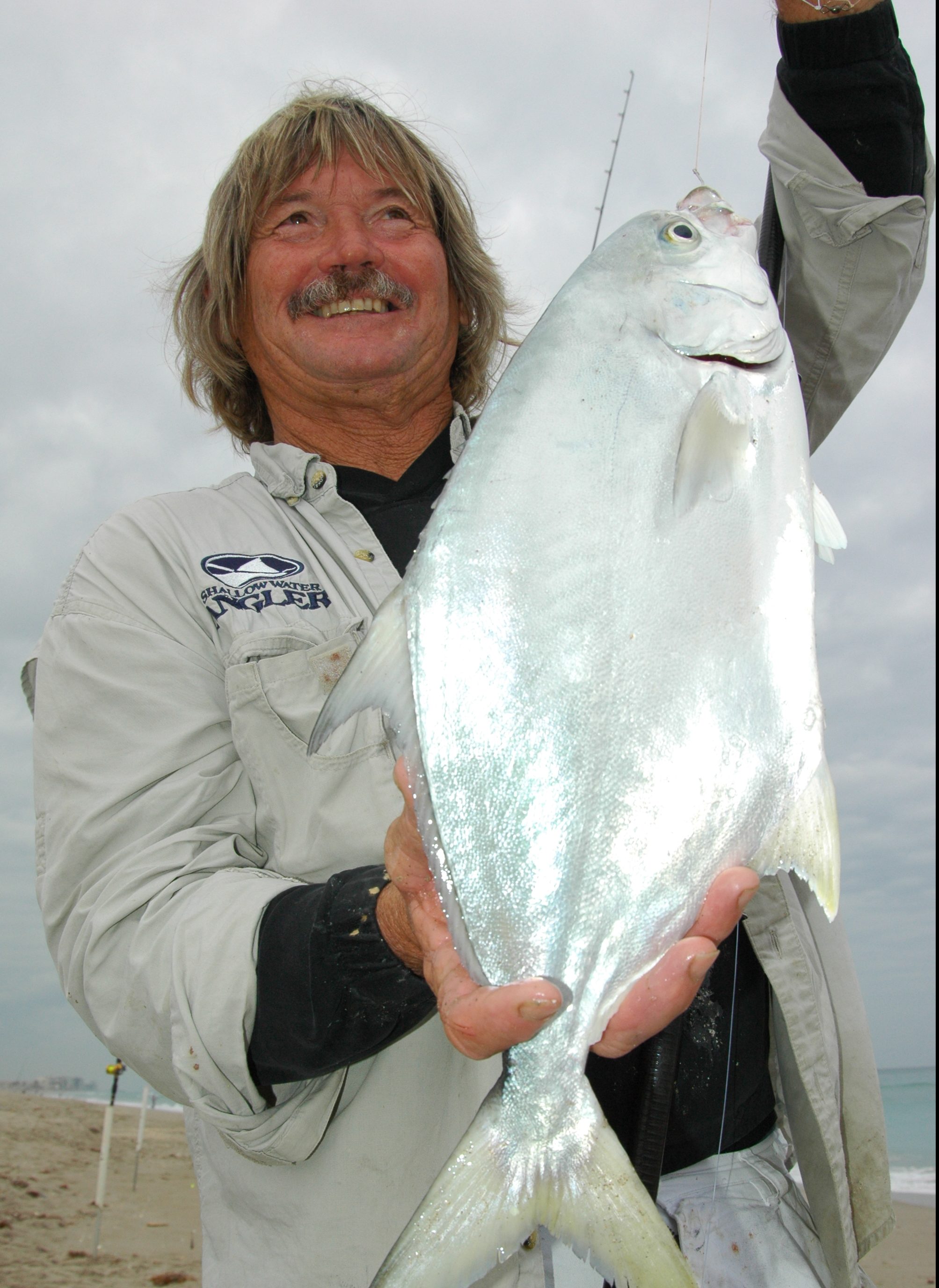 April's "Best Bet"
Record High Water Temperatures and an Early Florida Pompano Migration Triggers Non-stop Surf-fishing Action at Northeast Florida Beaches and Inlets   
By Terry Newsome
The annual migration of Florida Pompano is triggered exclusively by coastal water temperatures; and with the record high water temperatures in Northeast Florida, huge schools of Pompano have arrived!  The bite is on… but remember, the minimum size limit for Pompano is 11 inches (at the fork) and the daily bag limit is 6 per harvester per day. There is no closed season for Pompano and the official Florida Pompano state record is 8.4 pounds. It's time to hit the beach and catch your limit!
TIPS FROM LARRY "FISHMAN" FINCH ON CATCHING POMPANO…
When it comes to inshore fishing in Northeast Florida, few anglers can compare to Larry "Fishman" Finch; and for good reason.  Winner of over 50 local inshore fishing tournaments, Larry has been featured in a multitude of prestigious outdoor publications and is currently conducting surf-fishing seminars throughout the state of Florida for Pro Bass Shops and Florida Sportsman Magazine. I had the privilege of filming and producing an instructional DVD series with Larry several years ago, on how to catch Redfish, Speckled Trout, Flounder and Florida Pompano!  I have traveled the east coast with Larry chasing the Pompano "bite" as HUGE schools of Pompano migrate along the Florida east coast in search of the warmer water temperatures.  "The perfect coastal water temperature for catching Pompano is 68 degrees" says Larry "and I constantly monitor the weather conditions and water temperatures to anticipate where the Pompano schools will stop to feed next." Pompano are a timid and "nervous" species. When migrating, Pompano tend to stage and "stack-up" in the surf as they approach ocean inlets.  Larry targets these "staging areas" as they tend to hold a greater concentration of fish. "Pompano are nervous about migrating through the deeper water at the mouth of ocean inlets; especially those with jetties" adds Larry; "sharks and porpoise feed on schools of Pompano as they pass through deeper water."  When migrating north in the spring, look for Pompano to stage on the south side of the inlet or jetties in the surf.  When migrating south in early winter, look for Pompano to stage on the north side of the inlet or jetties.
Rod, Reel and Tackle Selection:  Larry recommends using up to 3 medium/heavy action graphite rods 10 to 14 feet in length (placed 20 yards apart) with an Ambassador bait-caster reel (with a premium drag-system) for optimum long-distance surfcasting.  Larry prefers 15-pound test monofilament line (orange or yellow Sufix) with a clear 36 inch "double-dropper" (knot-to-knot) leader with each drop-line 7 inches in length.  The first drop-line should be 14 inches from your (4 to 6 ounce) sputnik/spider sinker.  The second drop line should be 14 to 20 inches from the first drop line.  (The sputnik sinker allows you to keep a taught line raised above the breakers and whitewater.  This will help keep your rig stationary without drifting down the beach with the current.)  Larry also recommends using 1/0 to 2/0 Eagle Claw circle hooks.  He likes to use bright colored plastic beads that resemble small Coquina Clams (Donax Variabilis) threaded on to your leader drop-line near the hook and bait.  "I call it matching the hatch" explains Larry. "Pompano not only feed by smell… they also feed by sight and love to eat small crustaceans and mollusks like Donax (Coquina Clams.)  I try to match the colors of the Donax they are eating and by using red, yellow and blue beads.  With their keen eyesight, this helps to attract feeding Pompano to my bait. Attaching a small yellow float near your hook can also effective as it attracts more Pompano and suspends your bait off the bottom keeping it way from crabs."                                     
Bait Selection and Reading the Surf: Larry prefers using live sand fleas for catching Pompano but also uses fresh clams, fresh shrimp and small chunks (or "knuckles") of a live blue crab. One of the keys to Larry's success is his innate ability to "read the surf."  Larry scouts an area at low tide and evaluates the structure/contour of the beach, wave action, sandbars, sloughs and run-outs. "I prefer to fish the last half of the outgoing tide and the first half of the incoming tide" Larry explains. "For outgoing tide, I cast my bait to specific spots on the back-side or "down-slope" of the sandbar in least 18 to 24 inches of clean water.  For incoming tide, I cast my bait at the front side of the sandbar as it begins to slope down from the top into the slough. As the breakers crash down on the sandbar, it churns up sand fleas and other crustaceans from the bottom, creating an easy meal for the Pompano."  Depending on the slope of the beach, sandbars can be 20, 50 or even 100 yards or more away from the shoreline.
Florida Pompano State Record: The OFFICIAL state record for Florida Pompano is 8.4 pounds. For a state record to be "official," the fish must be identified by a Florida Fish and Wildlife Conservation Commission biologist and weighed on a certified scale.  Although it is not official, Larry Finch may hold the "unofficial" state record for Pompano. (Here's the story!)  A few years ago, Florida Sportsman Magazine was writing a feature article about Larry and "How to Catch Pompano."  The Florida Sportsman staff and photographer met Larry on location; and the quest for Pompano began! As the FS photographer started taking a few pictures, Larry hooked into a HUGE Pompano!  After a long, hard-fought battle, Larry landed a 24-inch Pompano that unofficially weighed 9 pounds! (See the photo in this article.)  So, what did Larry do next?  He briefly paused to measure the fish and take a few pictures, then he gently released the (possible state record) Pompano back into the Atlantic Ocean!  When asked how he was able to land such a powerful, hard-fighting fish, he replied "I just loosened my drag and let him run. I only took what the fish would give me."