Dr. Hendrickson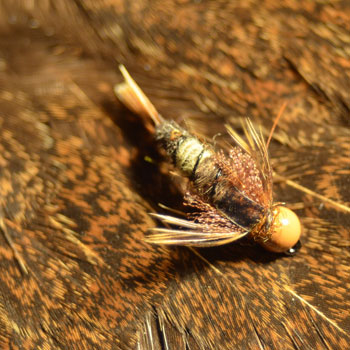 By Mathew Delorenzo
Matt is a full time Fly Fishing/Upland Hunting guide for the Hungry Trout Fly Shop in Wilmington, NY. He can be reached through the fly shop info@hungrytrout.com
Dry fly fishing is what its all about for most people, and for good reason. Few things are more exciting than seeing a trout rise to a well-presented fly and watching it sip it down. Fly Tyers understand this more than most as it is commonly argued that there is nothing better than catching a fish on a fly of your own making. Catching one on a dry fly that you made yourself, that brings it to a whole other level.
Early season however, I stick to the nymphs, fish can be caught during the first hatches of the year, sometimes in good numbers. But I find that they are not usually rising as consistently or for as long as they will later in the year, so I always stick to nymphs in all but the best of hatches. I wanted to present a fly this issue that most people don't think about during spring. Usually we get hyper focused on fishing the first hatches of the year.
The fly fishing market is inundated with flies available to purchase and with tutorials on how to make them yourself. That is for good reason, there are a huge variety of imitations that may be effective at one time or another, or that may work from one locale to another. The holy Grail of fly tying is the one fly that works all of the time. That fly surely does not exist but there are several that come close, and the fly you will see in this issue I believe to be one of them.
Dedicated fly tyers adhere to a few guidelines when designing flies, some take it to the extreme, particularly in the Catskills, and there is nothing wrong with that. With that said, there are a few things every fly should have whether you follow the rules or not. Size, color, and shape and the benchmarks that most designers adhere to, these three things are often written about and are vital to successful design. But rules are meant to be bent. Shape should certainly always ring true when designing a mayfly. Mot mayflies adhere to the same general shape. The size and color are where you have some wiggle room when designing an all-around fly. Many mayflies fall within a certain size range and that range will vary depending on where you call home. Regarding color, there is a lot of variable here, but in a general spectrum a cream, tan, or brown will get it done. I tend to stay in the brown colors and it has never failed me.
The general mayfly patterns I tie are all built around one concept…pop. I want my flies to stand out amidst thousands of natural patterns. That doesn't mean I tie the flashiest flies I can. It just means I like to add a little something extra. This pattern is my go to early season nymph and it possesses this quality. I also like to tie it one size larger than the naturals. This goes back to what I said about rules being bent. It has just the right combination of realism, bugginess, and flash, it stands out. When most of us are starting to hit the water, hendrickson nymphs are becoming more active and beginning their emergence. This fly gets it done for me year after year in the early season and I hope it can do the same for you. No matter how you tie it or how it comes out, enjoy the process and put it to work. Stay safe and good luck.
Hook: Daiichi 1167 #12-14
Bead: 1/8 Tungsten – Brown
Thread: Veevus 16/0 Brown
Tail: Turkey Tail Tip
Rib: UTC Brassie UltraWire – Black
Underbody: Whitlock's SLF Pattern Blend Dubbing – Brown Stone Nymph
Abdomen: Turkey Tail
Abdominal Segment: UNI-Yarn "Kaki"
Shellback: Thin Skin – Mottled Oak
Thorax: Craft Store Ribbon – Brown
Legs: Hen Back – Natural Brown
Collar: Whitlock's SLF Pattern Blend Dubbing – Brown Stone Nymph
We are going to start by using a Daiichi 1167 hook in a number 12-14. Pair it with a 1/8 brown tungsten bead and start the fly by wrapping a thread base. The first thing we are going to do is tie in some stacked Turkey tail fibers for the tail. Tie it forward a short distance and double it back on itself to the tie in point for the tail. Tie in a pice of wire and secure it.
Wrap the turkey tail forward to create the rear ¼ of the abdomen and tie it down tight. At the thread point, tie in a piece of UNI-Yarn and twist it into a tight rope. Wrap the rope forward three to four times and tie it off.
Create a dubbing rope and dub a body forward of the Turkey tail. This helps create a uniform body so that you don't have build up bulk using only the Turkey tail. It also creates a small amount of flash through any gaps in the body.
Wrap the remaining Turkey tail forward and tie it off, now you can wrap the wire forward to create a durable body and minimize the Turkey tail from fraying.
Tie in a pice of thin skin first, this will become the shellback. Next you tie in a piece of trimmed and stripped craft ribbon. This is a great material to add gills, flash, or just buggy movement. Once those are tied in add some more dubbing to help with the proportion.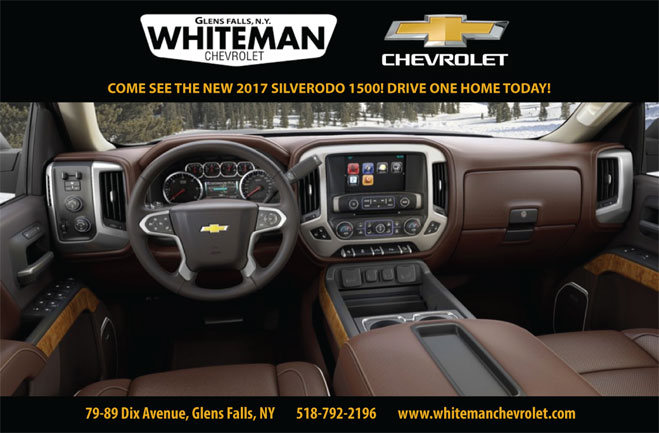 Wrap the craft ribbon forward and tightly, but leave very small spaces in between each wrap. The fly begins to look more and more unnatural the tighter you make the wraps to one another.
Tie in a few legs on each side. You can use Hungarian Partridge or any other like material. I choose to use natural Hen back for because I feel its the best match for color.
Pull the thin skin forward splitting the legs and tie it down tight. Now you fold it over towards the back as shown in the photo and lay down a couple wraps in front of the fold to encourage it to lie backwards.
Here you can choose to add a small amount of dubbing or not. I like to add a little bit of dubbing on the collar to encourage the shellback to lay flat. In this photo I show you what happens to the trimmed shellback if you just finish it with a thread head. It will work just fine this way or you can add the dubbing, careful not to add too much.
In the photo of the finished fly you can see how adding a small dubbing collar can improve the fly a great deal. If you a prone to having problems with bulk like a lot of people are, this is the step you leave out and finish the fly like the previous photo.

The Ausable River Two Fly Challenge
The Ausable River Two Fly Challenge starts at noon on Friday May 19th where anglers check-in and receive their fishing packet. Then it's off to fish for the day. There is smooth water, boulder pockets and pools, all waiting for you to flip a fly into.
After an afternoon of fly fishing, come join us Friday evening for our Fly Tier's Reception where you can share your day's experiences on the river, and maybe learn new skills from talented Tiers. There will be live music as usual.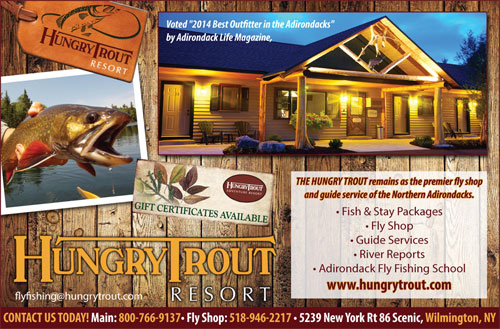 Saturday morning Check-in at 10:00 am, followed by another exciting day of fishing on the beautiful Ausable River. The Browns, Brookies and Bows await you. This event is for fun, so don't take life seriously, enjoy! We are all gonna die someday, so grab the rod by the horns and go fishing!
Finish your weekend Saturday Evening with a banquet complete with prizes, raffles, and back by popular demand….A Fly Casting competition! This year's Guest Speaker is a secret so far. You may register by calling Michelle at (518-946-2255).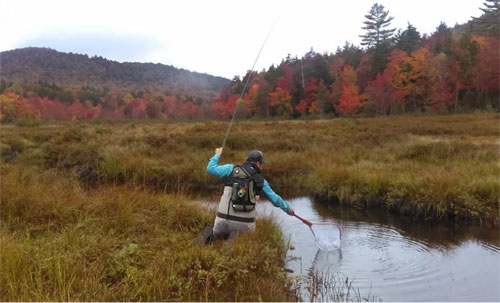 The Ausable River Region of Upstate NY
By Charlie Warfield, The Angler Magazine Fly Fishing Editor
The Adirondack State park was established in 1892 and it boasts 6 million+ acers of wild terrain and epic water. As a Native of the arid state of California, when I moved here 6 years ago I was immediately impressed by the sheer amount of water in the Adirondacks. The Adirondacks are famous for their majestic beauty and this alone is enough to keep me here despite the long cold winters. The great fishing opportunities, in the ponds, lakes and streams of the Adirondack Mountains has been the subject of many volumes. But none are as storied as The Ausable River.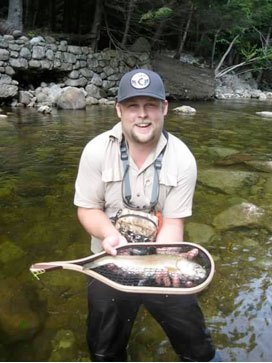 The Ausable (Aw-say-ble) starts in New York's High Peak region of the Adirondack Mountains, with the west branch starting high on the south side of beautiful Mt. Marcy near Lake Placid. The East branch starting as the outflow of the upper and lower Ausable lakes. From there it tumbles down the mountains towards Ausable forks were the two branches meet. The West branch attracts most of the fly fishing attention, due to its rich, cold, highly oxygenated waters along with its dramatic beauty and relative easy access. The trophy sections (Catch and release special regulations) are particularly good with a variety of plunge pools, deep runs and pocket water that keeps it interesting and diverse.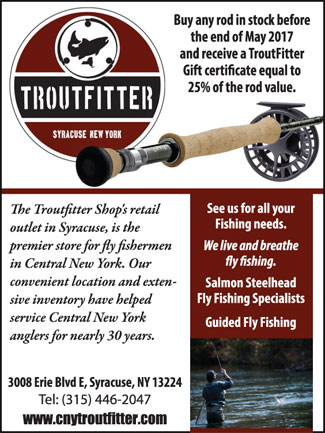 One of my favorite areas to fish on the West branch, is just up river from Whiteface Mountain Ski resort downstream to The Hungry Trout Resort www.hungrytrout.com. This section gets a fair amount of pressure but with seasonal stocking and natural reproduction the fishery is kept productive throughout the year. There is even a chance at trophy sized hold over fish. Although my largest fish in this stretch is just over 20" I have had my streamers followed by some very healthy 24" plus fish. The gorge section near Whiteface Ski Area is a favorite of mine. It is a beautiful gorge with steep granite walls and hard to access pools that have some of the larger fish living in its deep holes. There are great options for camping or lodging depending on your needs including the Notch campground overlooking a great technical section just below Monument falls.
The Hungry Trout Resort is a beautiful destination with its well stocked fly shop and plenty of knowledge from its local guides. The resort also has great package deals that include lodging, dinner at their restaurant, and a day's access to their "Dream Mile" which is a catch and release fly fishing only section of the river with a daily rod limit of 8 (call 1-800-766-9137 for information and booking) The Ausable has dependable hatches from April through October, and for the streamer junkies there are plenty of large territorial fish. I particularly like to fish the aggravatingly small (think size 24-30) Trico hatch in late summer with its ravenous and seemingly undiscriminating fish. Stone flies, terrestrials, and other large patterns like Stimulators or Ausable bombers are a good bet if there isn't an obvious hatch and during mid-day fishing.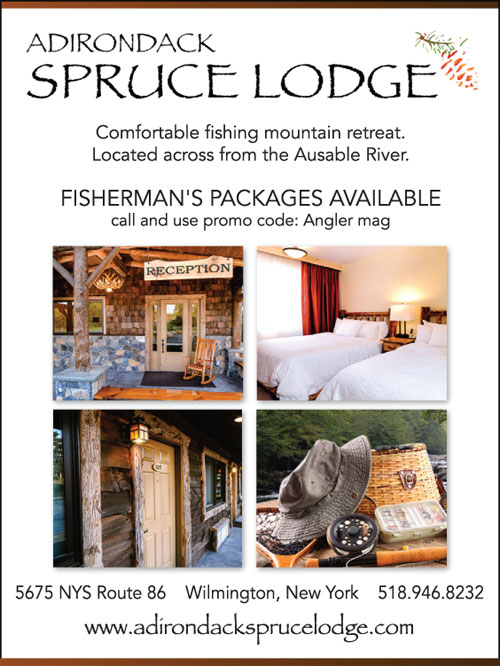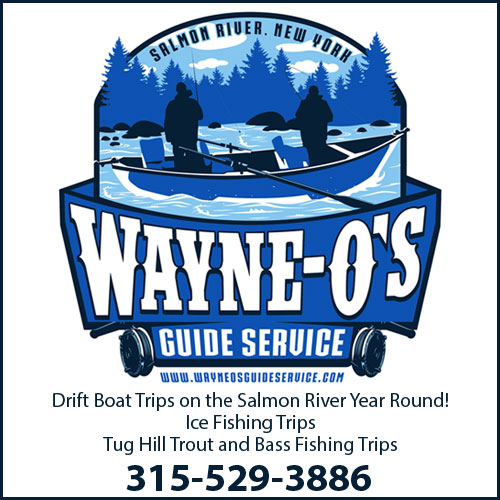 I love living near this area so I can visit frequently but for those of you further away I would definitely suggest that you take the time and make the trip to this beautiful river. The Adirondack Spruce Lodge in Wilmington, NY is a quaint, friendly resort who expressed interest in accommodating fishermen to The Angler Magazine by offering fisherman's packages, call 518-946-8232 and use promo code: Angler mag or go to www.adirondacksprucelodge.com for room availability.   The High Peaks region is also a great family destination with plenty of attractions and activities for everyone to enjoy. Catching beautiful trout among the breathtaking High Peaks is breathtaking. Experiencing it yourself is priceless and just a short ADK drive.

Fly Tying Struggles
By Mark Usyk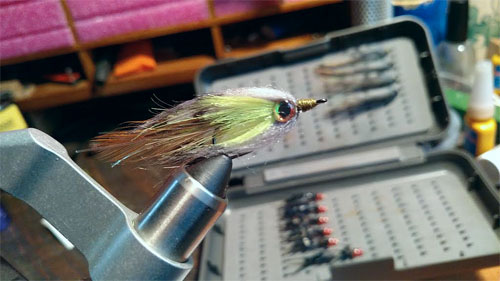 I sit at my tying bench because it's near white out conditions outside. Late last night the thought had entered my mind about hitting the Oriskany Creek today, but old man winter has other plans, and I'm not feeling like having a fist fight on a creek with an elderly man that always gets in the last swing. Not today anyways. So in between putting the finishing touches on a couple stories destined for various readers and finishing up reading the last chapter of a book about the guide who kick started all the bone fishing lodges in the Bahamas, I find myself in front of my vice tying up a buggy, nymphy looking thing one moment, a streamer the next, then staring out the window as the snow fall picks up. Reading about bone fishing in the Bahamas is something that does not help one cope well with the white stuff falling outside, in case you were wondering.

I'm tying for some peace of mind on a cold day, but I've got a couple planned trips coming up to great lakes tributaries that I need to be filling a box for, so I'm at least tying patterns that will get me ahead of the game on that front. Funny thing the way that works though. No matter how many I tie, the day before I'll decide I don't have enough and go into fly tying panic. Staying up late the night before is in my near future, it's almost a guarantee. And what's even funnier than that is that I'll tie in preparation, then tie in panic, and then when I'm actually on a river for a couple days, I'll only use a couple of them if the box has thirty in it. It's a viscous cycle that repeats itself all the time.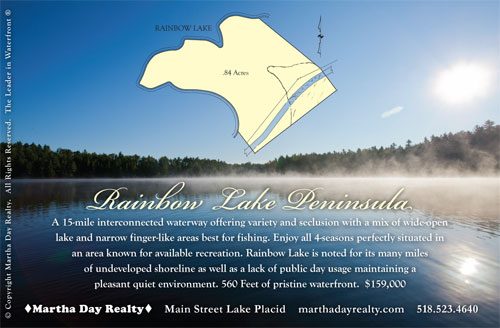 Fly tying was something I thought I wanted to do simply because I've always been the kind of person happy doing things for myself. I don't remember the last time I fished a fly I didn't tie. Actually in the beginning I used the excuse that I was going to tie them myself to save money, but if you don't know the truth to that one allow me let you in on a little secret before you try it for the same reason yourself. There is no way possible that you are going to get into tying flies and save money. Actually, there's one way, and that would be if you tied them, sold them, but never fly fished yourself.
You think you just want to tie Woolly Buggers so you buy a cheap vice, a package of hooks, some marabou and chenille, and a spool of thread. Then before you know it you've rebuilt a room in the house to hold a tying desk, a wall of drawers full of materials ranging from hackle capes from every known chicken and game bird known to modern ornithology, rabbit pelts, buck tails in more colors than the kids breakfast cereal with all the marshmallows, squares of elk hair in twelve different shades, and more tinsel that the past five years Christmas trees all put together. As a matter of fact, you actually kept some of the tinsel off this past year's tree because it was a different thickness than any you already had, and you can't stand to see possible fly tying materials go to waste. Some people might look at you as a type of hoarder, but you have plans for everything you stuff in a drawer or plastic storage bin, even if you don't know exactly what that plan is just yet.
I've got a small collection of books as well. Anything to do with fishing and especially fly fishing I scoop up when I come across it. My favorite books are just collections of stories, but I'll admit to having no less than ten which deal specifically with tying flies. I've flipped through them all, but never actually used one to tie a fly. At the most I might refer to a picture in one although even that's rare. But still, I'm a fly tier and there was a book on the subject, so I had to have it.
Fly tying relates to fly fishing in two ways. In one, the flies are what you cast to catch the fish. That's the simple one. The other is the fanaticism that's connected to both. It takes over just as the fishing itself does. I'm in Upstate NY, but last week I tied up a couple squid patterns that you'd use in salt water, the idea that I could fool my brain into feeling like I was in a warmer, sunnier, tropical environment. All I did was drink rum because of it instead. I don't know what's more alarming in this instance. The fact that I tied up a squid pattern in the frozen north, or the fact that I had the right materials to pull it off. The struggle is real.